There's a good chance you're aware of the MP3 audio format. After all, it is the most popular type of audio format in current use. But if you've ever heard an audiophile mention the term FLAC, you may begin to wonder how this file type differs from MP3.
FLAC music is a codec that compresses audio files without losing any audio quality. Although more complicated than the MP3 format, it delivers high-quality audio since it retains original data. Since it's a compression format, it requires half the storage space typical uncompressed music files do.
This article will discuss the FLAC audio format, how it stacks up against MP3 and streaming formats. We'll also discuss the apps you need to play FLAC music on iOS, Windows, Mac, and Android devices. We'll also review the best devices to help you enjoy superior sound quality.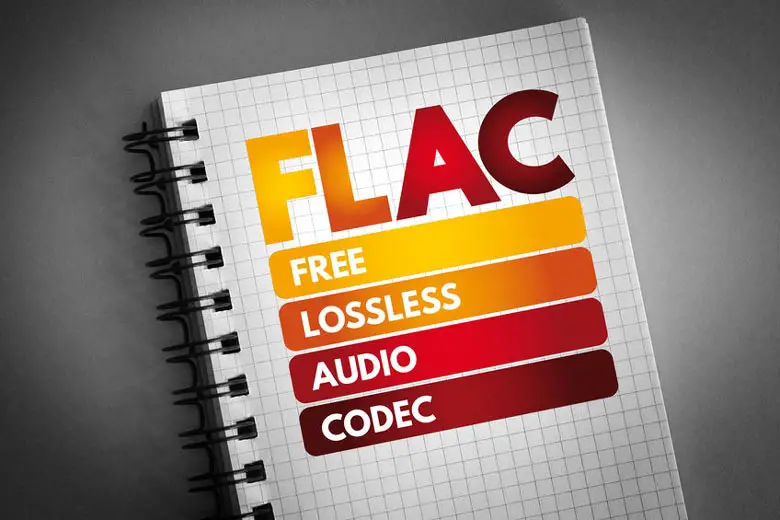 FLAC Music: An Overview
The Free Lossless Audio Codec (FLAC) format compresses audio files without losing data. It's quite sophisticated; hence, it's the least-used format.
It may even require audiophiles to download third-party applications on their devices to listen!
The beauty of this format is that it allows you to share audio files without compromising quality – you get the original audio quality at 60% of initial storage. That saves a lot of your device's precious storage space while reducing the upload and download time.
Due to its benefits, the FLAC format has become common among audiophiles and tech enthusiasts.
This format is compatible with macOS, iOs, and new-generation iPhones, thanks to QuickTime and third-party apps. You can also use it on Windows and Android devices by downloading the applications that support it.
Meaning of Lossless in FLAC
The "L" in FLAC stands for lossless – but what does it exactly mean? To understand it, let's take a look at the different audio formats
Audio files can be grouped into uncompressed, lossy, and lossless formats. Let's take a moment to review each type to understand how they differ.
Uncompressed Audio Formats
Uncompressed audio comprises sound waves that have been captured and converted to a digital form without further processing. Therefore, their size remains unchanged. 
All uncompressed audio formats are also lossless!
Consequently, this format tends to be more accurate, although that comes at a price – they take up to 34 MB per minute for a 24-bit, 96 kHz stereo.
Common uncompressed audio formats include:
Lossy Audio Formats
The downside to the uncompressed audio format is that it takes up huge disk space. To solve this problem, lossy audio formats were developed. 
These formats compress data during transmission. However, that compromises sound quality since the data doesn't decompress to its original size, leading to the loss of audio quality.
If you're an artist or sound engineer, we highly advise against using lossy formats – your files would degrade each time they're exported!
Lossy formats include:
Lossless Audio Formats
Unlike lossy audio formats, lossless standards use lossless compression, the method that reduces file sizes without losing any data between the source and the compressed files.
As a result, lossless format audio files require more space than lossy ones. Most notably, you may require up to 5 times more space to store an audio file in the lossless format.
Lossless formats include:
ALAC (compressed)
FLAC (compressed)
WAV (uncompressed)
PCM (uncompressed)
AIFF (uncompressed)
FLAC Vs. MP3
Now you're wondering: how does the FLAC standard compare to the most popular format, the MP3? The main distinction between FLAC and MP3 is that the former doesn't lose data during compression while the latter does.
Specifically, the creators of the MP3 decided to remove some information in the files to make them smaller. As a result, the format deteriorates sound quality. 
On the other hand, the FLAC format retains the original quality after compression since it doesn't lose any information during that process.
For a more in-depth comparison between the two formats, read our article 320 KBPS vs. Lossless Audio: The Differences Explained.
Does Better Quality Translate To Better Sound?
It is a huge difference for some, while others can't even notice any improvement in sound quality at all when listening to FLAC files instead of MP3 files.
In most cases, it depends heavily on how you listen to music and what kind of audio equipment you use.
On the one hand, you may notice a big difference when comparing the two sound formats using high-quality wired headphones or a good Hi-Fi sound system.
On the other hand, if you listen to FLAC files using the wrong type of audio gear, they may sound just like MP3 files.
For example, Bluetooth headphones can be a problem if your goal is to maximize audio quality. When listening to lossless music, be sure to use a wired connection for best results.
Read more: Bluetooth vs. Wired Headphones: Sound Quality Compared
Even though many audiophiles swear they hear a huge difference between the two audio files, not everyone will do that.
Regardless of the equipment used, some people just don't care enough for such small details in a song, meaning they will not notice a difference. Especially if they aren't comparing the audio files "side by side" and listen closely to the details of the two.
And even if they do care and really try to hear, it's not sure that they can tell the difference anyway.
Generally, it's counterproductive to buy a FLAC file and listen to it on a poor sound system. If you listen to your favorite music using your PC or phone that's running out of storage, it's better to use a format that requires less space. In this case, that's the MP3.
In my opinion, you deserve the best listening experience, and immersive sound quality is one way to achieve that. For that reason, we suggest getting high-quality gear to avoid locking yourself out of the benefits of FLAC files.
The best way to know if you will enjoy the benefits of FLAC files is to just try for yourself.
If you don't have the equipment needed, go to a Hi-Fi store and ask to test it out. Does it sound better to you? Great! If not, don't pay extra for that.
What do I need to play hi-res FLAC files?
To really get the benefits of the FLAC format, you need to have the right gear. Unfortunately, there is a lot of audio equipment that doesn't support this hi-res file format. And without the support, they're just unnecessary large audio files.
What kind of gear you need depends on how you would like to listen to the music. Do you want a home Hi-Fi stereo setup with big speakers, a small setup for headphone listening, or a portable solution to bring with you?
Here are some examples of what you may need to enjoy FLAC files superior sound quality:
For the iPhone user
The iPhone can't play FLAC files in hi-res natively, but that doesn't mean it's not possible.
First off, you need to download a separate media player that supports FLAC, e.g., VOX – MP3 & FLAC Music Player.
Then, you will have to use an external DAC (digital to analog converter) to be able to get the most sound quality out of the iPhone when using regular headphones. I recommend the DragonFly Cobalt from AudioQuest, which is a very portable but impressive DAC for both phones and computers. If you go for the Dragonfly, you will also need the Apple Lightning to USB Camera adapter to connect it to your iPhone.
Make sure you use a good pair of high-quality headphones. If you're on the go, you should opt for a closed-back over-ear model (like the Audio-Technica ATH-M50X) or a pair of noise isolating in-ear earphones (like the Klipsch T5 Wired). If you are going to listen at your house, in a quiet environment, you could instead go for a pair of open-back headphones (maybe Sennheiser HD 599) to maybe get that spacious feel and a better soundstage.
Read more: 11 Best FLAC Audio Players for iPhone
For the desktop/laptop user
If you use Windows 10, playing FLAC files should be easy since the native operating system can play this audio format. 
However, if you use an older version of Windows, you can install this plugin. Or, you can use MediaMonkey, Roon, or JRiver to play these files on Windows.
If you're a Mac user, you can use Roon, Fluke, JRiver or Songbird to support FLAC files.
When you plan to playback your FLAC files from your computer and listen to them with your headphones, you should definitely invest in an external DAC (digital to analog converter) to get the best audio quality possible.
There are a lot of options out there, but the DragonFly Cobalt from AudioQuest that I recommended for iPhone users works like a charm on a computer as well.
Of course, if you rather listen to speakers instead of headphones, there are just as many options for you. One great choice for a smaller room, though, would be the KEF LSX.
It's a pair of active speakers in a moderate size that works just as well on the desk as on the bookshelf. And the sound is really good!
For a home Hi-Fi Stereo Setup
If you don't want to use your computer or phone as the source when playing FLAC music through your Hi-Fi home system, there is another option; music streaming devices. With one of those, you're able to play both your local FLAC files and music from various streaming services online through your audio system.
Using a music streaming device is a great way to access all your music files wirelessly easily. Store your entire music collection on a NAS (Network-attached storage) and play it through your streamer with a click of a button.
When choosing a music streamer, there are some things to look out for. Many have hard drives built-in to store your music files, but some just let you connect an external storage device or connect to a NAS. Depending on your needs and your existing audio system, there are many different options to choose from.
One affordable yet impressive streamer is the Bluesound NODE 2i. It is a sophisticated preamp with a high-quality DAC that lets you stream both your local FLAC files and from multiple streaming services.
The Bluesound app makes it easy to control from your phone, iPad, and computer. It also features the hi-res Bluetooth codec aptX HD to let you listen to high-quality audio through your wireless headphones.
This streamer, of course, requires a complete audio system to actually work.
If you don't have an existing system but want something compact and simple, I have something to really recommend; the Bluesound POWERNODE (N330)!
Bluesound POWERNODE (N330) is an amazing all-in-one box with an integrated amplifier and a streaming DAC built-in.
It has a sleek design but it only requires a couple of loudspeakers to fill the room with hi-res music. This thing is an amazing alternative for any aspiring audiophile that wants great sound in an easy and compact format.
Also Read: 13 Best Ways To Improve Your Hi-Fi Sound
For portable use
Using your phone as a portable music player may not be the best option for everyone, especially not when listening to FLAC files.
Downloading FLAC music to your phone may take up all your phones storage and playing music for a longer period may cause the phone to discharge.
So, if you don't like to use your phone for listening to music, there are special portable music players available. It's essentially MP3 players but offers hi-res audio playback instead of just MP3.
These can without a problem play FLAC music and are at the same time better suited for audio playback in general.
The only thing you would need is a portable music player and a pair of good headphones; then you're good to go.
I would recommend checking out this model as it's a great choice without breaking the bank. Isn't money a problem? Check out this model instead!
Local FLAC Files vs. Streaming Lossless
Besides MP3, FLAC audio files face stiff competition from audio streaming platforms. Although music stores like HD Tracks and Bandcamp seem intent on sweeping the field, they're not the only options available to audiophiles who want quality music.
Streaming hi-res music is now easier than ever, and more and more services allow you to choose a lossless option.
The Best FLAC Streaming Platforms
Tidal has previously been the obvious choice for audiophiles who want to stream music in high quality. Now that more and more streaming services are starting to offer lossless streaming, Tidal is no longer an equally obvious choice.
Services like Apple Music, Amazon Music, and Qobuz all offer lossless streaming. That makes a choice quite hard. Suddenly it's not just sound quality that's a factor when choosing a streaming service.
There are even more streaming services available, but I would recommend that you should choose one of these four as they are all great!
The good thing is that all of them offer a free trial, making the decision a lot easier. Just try them all and decide which one you like the best!
Tidal
Apple Music
Amazon Music
Qobuz
Which Is Better?
How does FLAC stack up against streaming, then?
I would say that there is no difference in sound quality for most people. But other aspects are also very important when choosing between downloading FLAC music or streaming lossless music.
First, with FLAC files, you'll only pay once to access a song or an album. That can be great, but it also makes discovering new music very expensive because you have to buy every single song.
With a streaming service, you have access to around 70 million songs! But you must regularly pay a subscription fee for the service or lose access to all your collection.
Of course, the choice is up to you.
If you mostly like to listen to the same old songs and aren't that interested in having a huge variety of albums to choose from, then downloading FLAC files would be a good idea. On the other hand, if you want simplicity, unlimited access, and don't mind paying a subscription every month, choose the easy road; the streaming service.
Where Can I Get FLAC Audio?
To listen to your favorite hits in FLAC format, you can either rip them from CDs or buy them from these sites:
Read more: 29 Places Where You Can Download Hi-Fi Audio for Free
Ways To Get the Most Out of FLAC Music
As we mentioned earlier, you deserve clean, crisp audio. If you want to get the best listening experience when playing FLAC, we recommend that you follow these guidelines:
Use Devices That Support FLAC
Try a device with built-in hardware drivers for decoding FLAC files, which might provide better audio fidelity than software decoders found on computers and mobile devices. 
For example, an Android phone may have dedicated hardware such as Qualcomm's Snapdragon series chipset designed specifically for encoding/decoding digital audio formats like FLAC.
This means you can listen to music tracks from the cloud service without using up all your data plan.
Download Sample Audio
Download sample tracks before purchasing an album to make sure it's what you're looking for. If the samples sound good, then purchase and download the entire album in FLAC format at once. 
Some platforms let listeners preview a few seconds of each track from files available on their servers.
Use a Stable Network
Ensure your internet connection is stable. 
If you stream FLAC music, then I recommend using a stable internet connection with high speeds. This allows you to listen to music without the hassles that come with buffering.
To check your home internet speed, follow these steps:
Connect the device you're using for streaming to your Wi-Fi network or router.
Open your web browser
Go to www.speedtest.net
Tap or click "Go"
Suppose the speed is so slow that content keeps buffering. In that case, I recommend disconnecting unused devices from the internet, moving your router away from physical obstacles, or upgrading your router. 
Invest in Quality Gear
Invest in quality headphones or speakers to get the most out of your sound experience. Undoubtedly, using low-quality gear is a sure-fire way to miss out on the quality audio purists get from this lossless audio format.
Be sure to use wired connections between the source and the headphones/speakers as Bluetooth isn't regarded Hi-Fi compatible.
Be sure to have a decent DAC as well, especially if you use your phone or computer.
Pro Tip: Suppose you plan on listening in public spaces or outdoors. In that case, it's worth investing in headphones, or earbuds with noise-canceling technology.
Related article: 6 Best Hi-Fi Outdoor Speakers (Buyer's Guide)
Get Rid of Vibrations
Investing in quality audio gear isn't enough to get the best quality when listening to FLAC music. Vibrations from your room's walls and the platforms you've placed your audio equipment can hurt your listening experience. 
If your furniture transmits rumbles to and from your devices, chances are you won't hear the subtle details from music that make streaming or playing downloaded FLAC files worthwhile. Therefore, it's best to use quality speaker stands, carpet spikes, and floor discs to reduce speaker vibrations and bring out those finer details in audio.