There's nothing like blasting your favorite song through your headphones when you're at the gym or drowning out the annoying noise of your morning commute with a podcast. However, if you're doing this too much, you run the risk of damaging your hearing. That's why it's important to have a pair of headphones that are safe for your ears.
Some of the safest headphones for your ears include Bose Noise Cancelling Headphones and QuiteComfort Noise Cancelling Earbuds that have noise-canceling technology. Puro Sound Labs' BT2200s for kids have specific volume limits. Aftershokz Bone Conduction Headphones don't sit directly in the ear.
If you're worried about what listening to your music too loudly could be doing to your ears, keep reading. I'll be covering the following in this article:
Can headphones cause hearing loss?
Is it safe to wear headphones?
Recommendations for the safest headphones on the market.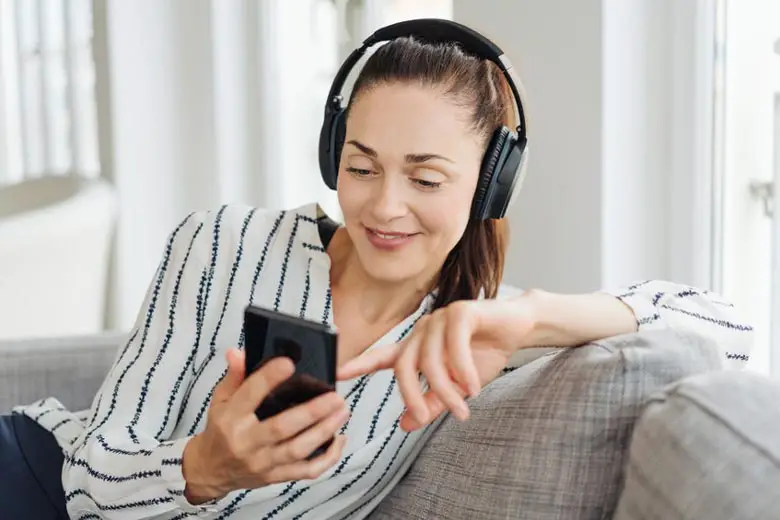 Can Headphones Cause Hearing Loss?
Will listening to loud music with headphones cause hearing loss, even if you're only doing it for a short time? Well, the answer is quite startling.
According to information released in 2015 by the WHO, approximately 1.1 billion young people are at risk of losing their hearing. 24% of Americans aged 20-69 years old are already showing signs of hearing loss. This hearing loss is noise-induced due to damaging activities like listening to music too loudly with headphones. 
Prolonged exposure to loud sounds can cause problems like tinnitus (like a ringing in the ears), and over time even cause enough damage to the ears to result in permanent hearing loss.
The way hearing loss occurs is by loud noise killing off too many of the tiny hairs in your ears. These transmit any sound signals to your brain, and without them, your ears are unable to send these signals anymore.  
So yes, it's a problem if you're listening to music too loudly through your headphones. Such a problem that it may even cost you your hearing if you aren't careful enough. 
Is It Safe To Wear Headphones?
Now that you know that headphones can hurt your ears quite badly by misusing headphones, you may be wondering if it's even safe to wear them at all.
Thankfully yes, it's safe to wear headphones – just as long as you take precautions to minimize any potential hearing damage. 
Turn the Volume Down
The best way to protect yourself from hearing loss when using headphones is to keep the volume at a reasonable level.
Experts recommend not having the volume on your headphones any higher than 80%, so you can either turn the volume down on your device or use the volume controls on your headphones (if they come with any). You can also set a maximum volume limit on your device or your computer.
If you're unsure if your volume is set too high, there are two easy ways to tell. Usually, there will be a volume warning from your device if you turn it up too high.
If there isn't, your volume is too high if someone else can hear what you're listening to through your headphones when you're wearing them. 
Don't Listen for Too Long
Most experts recommend using headphones to listen to music for no more than 90 minutes a day. If that's not possible for you (such as working in a profession where you have to be listening to things with headphones all the time), try to take breaks as much as possible (at least ten minutes in every hour) and keep the volume low. 
It's also a good idea to avoid using headphones if you've recently been in a noisy environment, such as a concert, a nightclub, or a construction site. 
Use Noise-Canceling Headphones
If you're using your headphones as a way to block out environmental noise, it's better to invest in a good pair of noise-canceling headphones rather than trying to crank up the volume to block out the noise. 
There are two types of noise-canceling headphones:
Active noise-canceling headphones: They get rid of any noise with noise-canceling circuitry. They can also cancel all low-to-mid frequency sounds.
Passive noise-canceling headphones: They get rid of noise by fitting tightly over your ears to block out any external sounds. 
But are noise-canceling headphones safe? Some worry that they can actually damage your hearing, but this isn't something to be worried about.
There can be a slight hissing sound with ANC headphones, but the only issue you might get from them is a bit of dizziness when using them – they won't damage your hearing at all.
Also Read: Are Open-Back Headphones Better for Your Ears?
Use Safer Headphones
It's important to note that not all headphones are created equal and that many options are safer than others, such as ones that have specific volume control limits or noise-canceling technology. 
Later on in this article, you'll see that I've put together a list of some of the safest headphones you can choose from.
What To Consider When Choosing a Pair of Headphones
There are many safe choices when it comes to picking the right pair of new headphones for you. When choosing, take into account the following:
What's your budget? You don't have to spend heaps of money to get a decent pair of headphones. There are many great budget-friendly options out there.
What's the reason you're using the headphones? For example, someone who only uses headphones on their morning commute may not need a pair with as extensive features as someone who uses headphones all day. Also, if you're using headphones when you're working out, consider getting waterproof ones. 
Are the headphones for an adult or a child? These days, there are specially designed headphones just for children and toddlers. These headphones have strict volume limits that are in line with the WHO recommendations for hearing health. 
What's the style of headphones you find most comfortable? Some people prefer earbuds; others find over-the-ear styles more appealing. 
Now you know that headphones can be bad for your hearing if you're not careful and not using the right pair. So, let's go through the safest options you do have from Amazon.com.
Related article: Can You Wear Headphones if You Have Tinnitus?
9 Great Headphones That Are Safe for Your Ears
These Bose noise-canceling headphones offer much more than just a sleek design (although that's great too). They're lightweight, sturdy, and provide great ANC quality. 
These headphones are wireless and connect to your device with Bluetooth, lasting for about 20 hours of continuous use. They also have a good-quality built-in microphone, making it easy to make calls or talk to people online. The headphones even have Alexa or Google Assistant connectivity. 
The ear cups also do a very good job of keeping your hearing safe because they have high-quality noise-canceling technology. They're also made of a more rigid material than some other noise-canceling headphones, meaning that less ambient noise will creep in. 
There are also a couple of other nifty features in the ear cups. They can be slid into place and rotated so the headphones can rest around your neck. They're also touch-sensitive, so you can swipe back and forth to skip between songs.
Not all of us like the feel of headphones, and sometimes they can be impractical too. The Bose QuietComfort Earbuds bring the noise-canceling technology of headphones into a much more compact package. 
There's some debate about whether or not earbuds are the safest way to listen to music, as the noise is channeled more directly to your ears. However, with the Bose QuietComfort earbuds, you don't have to worry. 
These earbuds utilize the Bose Acoustic Noise Cancelling Technology and are as good as any other ANC headphones for blocking unwanted noise. That means you don't have to turn them up too loud to drown out unwanted noise, making them much safer.
Another great feature about these earbuds is that they're water-resistant and wireless, making them perfect for exercise (no more annoying tangled wires when you're jogging!). They also have a stylish little traveling case that doubles as a charger and boast up to twelve hours of continuous battery life. 
These wireless Bluetooth headphones are a great option if you don't want to spend a lot of money but still want good quality. 
These AKG headphones will filter out ambient noise so well it'll leave you wondering if the rest of the world has gone silent. This makes them very safe for your ears for two reasons:
You won't have to worry about the noisy sounds of construction or a morning commute damaging your hearing.
You won't have to turn up the volume of your music way too loud to drown out anything going on in the background.
They also include the neat Ambient Aware and Talk Thru features which, if turned on, mean that you have more control around the amount of noise the headphones are letting in. For example, if you want to have a conversation, you don't have to take your headphones off. Or, if you wish to remain aware of your surroundings, you don't have to lower the volume of your music. 
The Sony WH-1000XMA noise-canceling headphones often feature on lists of the best headphones for a reason. They're a great choice for a safe, comfortable pair of noise-canceling headphones that'll last you a very long time.
These headphones use an HD Noise Cancelling Processor to ensure that you won't be bothered by annoying background noise, keeping your ears safe in the process. They also feature handy quality-of-life improvements such as touch sensors to control music playback and playback that pauses when you take the headphones off. 
Like some other types of noise-canceling headphones, the Sony WH-1000XMA headphones also have ambient noise control, meaning you can adjust how much noise they're blocking out. 
Another great thing about them is just how comfortable they are! Wearing them for a long time is very easy to do. 
It's very important to remember that noise protection isn't just for adults. In fact, it's probably even more important for kids because their ears are still developing. 
These Puro Sound Labs headphones are an excellent option for children because they're the right size and volume-limited. This means that they comply with the guidelines set out by the WHO and limit volume to 85 decibels. 
They also block out up to 82% of ambient background noise, meaning that your children's ears will be even safer because they won't have to turn up the volume to block out the sounds of a noisy classroom.
Finally, these headphones are wireless and lightweight, making it easy for children to take them wherever they need to. They also come in a range of vibrant colors so your kids can have a pair in their favorite shade.
From the same brand that offers the fantastic Puro Sound Labs kids' headphones comes the PuroGamer gaming headset. This headset functions the same way as the headphones by limiting volume to the WHO-recommended 85 decibels. 
This headset isn't just for kids, though. It's sized for all ages and is very comfortable. It also features a microphone that blocks out any ambient sounds and isolates your voice. This makes it safer for the person on the other end, too, because they can hear what you have to say. 
Most of us will be gaming for longer than 90 minutes (which experts recommend is the maximum amount of time you should use headphones per day). Therefore, it's good to invest in some gaming headphones with a volume limit to minimize any impact on your hearing caused by longer gaming sessions. 
Are these the cutest headphones in the world? Quite possibly. Designed specifically to protect the sensitive little ears of toddlers, these headphones may be small, but they're big in value. 
They operate in the same way as the other children's headphones on this list do, but what makes them stand out is that they're corded. This means that you don't need to worry about having to use a device capable of Bluetooth. Children with the know-how can simply plug in and use these without you needing to help them. Thankfully, the cord is also detachable in case it gets tangled up. 
These headphones are also highly customizable, coming in a wide range of colors and with decals that children can apply how they want. They're also really sturdy, meaning that there won't be issues if younger children drop them. 
The Aftershokz Titanium Bone Conduction Wireless headphones look a little like something out of a sci-fi movie, but their unique design serves a particular purpose.
These headphones don't actually go into your ears. Instead, you wear them with the headphones fitting snugly just above your ears, with the neckband going around the back of your head. As a result, the sound travels to -,opk ljdfoåidf+dfiåifdeo00iiur67r96890your eardrums by vibrating off your cheekbones instead of going directly into your ear, making them a lot safer because there's no chance of damaging the sensitive hairs inside of your ear. 
Read more in our article Are Bone Conduction Headphones Safe?
The sound quality is obviously not going to be as good as regular headphones because of this. However, these particular Aftershokz headphones are still worth it for two groups of people: those with hearing deficiencies and those who need a good pair of headphones for sport.
These headphones are particularly great for sport because they're wireless and more secure than earbuds. They're also waterproof, so you don't have to worry about damaging them when you get your sweat on. Finally, these headphones are perfect for those exercising in urban areas, as they don't block out the ambient noise of traffic. 
All of the great features of the AfterShokz bone conduction headphones come in a wireless Bluetooth headset, too. This is perfect for those who work in a corporate setting and need to be wearing one all day. It's not easy to take any breaks from your headset when you're working, and all of that time, listening to calls through it can damage your ears.
The AfterShokz headset can help reduce that problem with its bone conduction technology. It also makes things easy for you with its voice assistant controls and the ability to answer calls with the push of a button. 
It's also a sturdy, comfortable headset, and it has over 16 hours of continuous running time per charge. 
Final Words
Understanding the importance of using headphones correctly will ensure that you don't risk your hearing. Always make sure to listen to music at an appropriate volume and take breaks when possible.
Understandably, many of us use headphones for work, so it's even more crucial to take precautions to protect our ears. 
Also, make sure you're using a safe pair of headphones, particularly one with noise-canceling technology or specific volume limits and a pair that doesn't sit directly in the ear—making that investment now will save you from potential hearing problems in the future!