Podcasting is a long, hard-fought career with lots of competition. If you want to stand out in the crowd, it's essential that you get the best gear for the job. You might already have some of the gear for your podcast, but there are several pieces of the puzzle, and once you have everything you need, you'll be able to reach your full potential.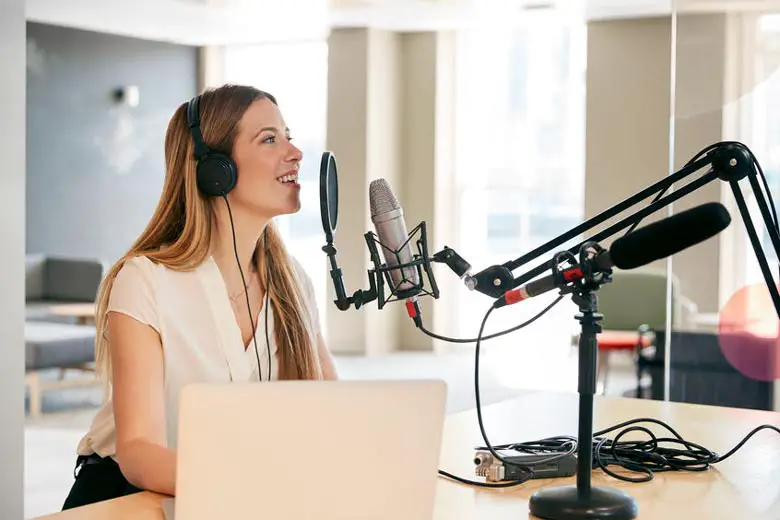 All of the equipment you'll ever need for a podcast includes a top-notch microphone, wired headphones, a stand for the microphone, and a computer. Additional suggestions include shock mounts, pop filters, SD cards, insulation foam, mixers, headphone amplifiers, and a website to host your podcast.
Throughout this article, you'll also learn the following information about the equipment you'll need for a podcast:
A list of essential gear for any podcast
Digital content suggestions to improve your setup
Details about each piece of equipment and why you need it
Find a High-Quality Microphone
Microphones are the first piece of equipment that comes to mind for most people thinking about starting a podcast. They're the tool required to transmit audio through websites and other platforms, so why wouldn't you want the best option available? The three types of microphones include condenser mics, ribbon mics, and dynamic mics.
There are many different kinds of microphone sources, so let's explore the most common solutions below.
USB Mics
USB microphones plug into a USB port on your laptop, PC, or any other devices you're using to record. They're some of the most popular microphones on the market because they're much more affordable than most XLR mics. Furthermore, they're more readily available since beginners lean toward them.
The Blue Yeti USB Mic is one of the most popular USB condenser microphones on the market. It's designed for streaming, podcasting, YouTubing, and more. The crystal-clear quality is as good as you'll find within the price range. You can choose from black, silver, and midnight blue while enjoying a two-year manufacturer's warranty.
XLR Mics
XLR microphones typically provide better quality than USB mics. They're used in high-end recording studios. If you want the best equipment, an XLR mic should be at the top of your list. You will need a recorder, mixer, or audio interface if you want to use one of these mics; they don't plug directly into the source (unlike USB mics).
The Audio-Technica AT2020 Cardioid Microphone is an excellent XLR mic you can use for your podcasting studio. It comes with a mount you can adjust whichever way you'd like. This setup provides top-of-the-line audio for your podcasts, but it's also perfect for streaming and other recording activities.
You'll also encounter microphones that record in different directions. Here's a list of microphone polar patterns to consider for your podcast:
Shotgun microphones record everything in front of them in a narrow cone. They're not the best choice for recording a whole studio, but you can use them for one-person podcasts.
Omnidirectional microphones are the opposite of shotgun mics. They record everything in every direction. Depending on the mic's quality, you can adjust the range to record sounds close or far away from the device.
Cardioid microphones record everything in front but in a wide cone. Shotguns mics have a narrow range, but cardioid mics record in a broad cone. These devices are great for podcasts with two or three people on a couch or bench.
Use Crystal-Clear Headphones
Headphones are equally as important as microphones if you're podcasting. You should be able to hear everything you're saying, potential commercials, guests, and more. Wired headphones provide the best transmission since they don't have to rely on Bluetooth technology. There are many different styles.
Read more: 8 Reasons You Need To Wear Headphones for a Podcast
Contrary to what many people believe, you shouldn't get a headset with a microphone. There's never enough space for these kinds of headphones to contain high-end mics, so you'll waste your time and money. Instead, get a wired headset without a mic or other attachments. Make sure your recorder, mixer, interface, or PC is compatible with the cables.
If you're searching for headphones, try the Audio-Technica ATH-M50X Studio Monitor Headphones. Everything from sound quality to comfort is covered. These headphones have a 90-degree swivel, customized adjustments, and a removable cable for quick and easy storage. Although wired headphones are always better for podcasts, they sell wireless variants, too.
Add a Mic Stand to the Bundle
Unless you choose something like the previously mentioned Blue Yeti mic that comes with a built-in stand, you'll need something to elevate the microphone. Most podcasters prefer a mic stand with a swivel so they can move it around with them. There are countless mic stands, most of which are worth trying.
Before you get a mic stand, you should ask yourself the following questions:
What kind of chair are you sitting in? If it rolls around, you'll need a stand that moves with you.
How many people will be on the podcast? You might need multiple mics stands with different functions if you have more than one guest.
What microphone do you have? Some mics come with stands; others require specific setups. Many combos aren't compatible, so ensure they have the correct dimensions before moving forward with the purchase.
What's your budget? Getting an expensive mic stand might dip into your budget, but stability is crucial to prevent audio issues.
The InnoGear Microphone Stand is adjustable in almost every direction. You can use a condenser and dynamic microphones. If you have a ribbon mic, there are a few attachments you can use instead of a mic stand. Regardless of which microphone stand you choose, it should secure your mic without wiggling or moving around. Subtle movements can drastically alter the audio quality.
Some people prefer purchasing bundles. If it seems too good to be true, it probably is. Don't think you can get a $30 microphone kit that has everything you need. These setups are typically made of cheap plastic and metal that quickly corrodes. If you want to operate your podcast for many years to come, you shouldn't skimp on the gear.
Get a Pop Filter for Voice Clarity
Pop filters are designed to remove sudden popping sounds from words with 'P's and 'S's. These sharp letters typically make a loud noise, distorting the audio and disrupting your podcast. If you want to improve your podcast, getting a pop filter is one of the cheapest products available. Instructables has a helpful tutorial on how to make a DIY pop filter.
The most important thing to remember when you're getting a pop filter is it has to fit your microphone. Some of them are curved, while most of them are flat. If your pop filter doesn't cover the audio coming from your mouth, it won't do its job. Those who prefer surround-sound mics should get a curved pop filter.
These days, most pop filters have an adjustable clamp you can hook onto the microphone's base. They're easy to attach since all you have to do is twist the knob to loosen and tighten it. The LILALIWA Microphone Pop Filter is incredibly affordable and works with most microphones, including both suggestions from the first section. Attach the clamp and adjust the neck however you'd like to.
A decent pop filter should remove hissing noises from fast-moving air. Whether it comes from 'P's and 'S's, sudden movements, sighs, heavy breathing, or anything else, your podcast's viewers won't have to suffer through a loud, uncomfortable popping noise. As long as you take care of it, your pop filter will last a long time.
Choose Your Computer Wisely
It might be tempting to grab the cheapest laptop since many well-known podcasts started low, but your computer directly impacts the performance. Fortunately, computers are more affordable than they've ever been. You can get a podcast-ready laptop for less than $1,000. There's no denying it might be the priciest piece of equipment, though.
So, how do you know if your computer is ready for podcasting?
I recommend about 16GB of RAM.
If you want to store everything on your computer, it should have at least 500GB to one terabyte. The good news is you can use SD cards for removable storage. We'll discuss them later in the article.
Check your DAW's requirements (Digital Audio Workstation). A DAW is a program you'll use to record your podcasts. They'll have minimum and recommended suggestions for everything from RAM to CPU and more.
Make sure you're comfortable with the operating system. Do you prefer Windows or Mac? They're the two most common setups. MacBook Pros have excellent tools for beginners and experts, including GarageBand and iMovie.
Other considerations include computer fans, battery life, and latency. If your laptop starts humming in the middle of a recording session, you don't want your audience to take note. Keep it out of sight and out of mind. Many experts recommend keeping a separate system for researching, taking notes, and so on.
For example, you could have a PC with all of the aforementioned requirements behind the scenes and a laptop on your desk to access potential content. You've probably noticed similar setups on professional podcasts, such as Joe Rogan or GaryVee.
Try a Podcast Mixer
Once you have your microphone, headphones, and additional accessories, it's time to consider a mixer. They're found in almost every podcaster's room. They might seem confusing, but mixers are relatively straightforward. They have inputs and outputs, along with switches that regulate which source goes where.
Mixers are optional, but many podcasters have them for one of three reasons:
They allow you to blend multiple audio sources. If you have more than one microphone, a mixer can make a world of difference. They're also great if you have a separate device for adding sound effects and other audio clips.
If you're making music on your podcast, you should get a mixer. There's no denying the quality of mixing multiple inputs into one output. You can use a mixer between several microphones and a laptop, allowing them to be edited without cutting each other out.
Those who have an XLR mic can benefit from mixers. They often have inputs for XLR microphones, so you'll be able to use them without needing additional equipment. You never know if you might switch your setup.
There are two types of mixers: digital and analog. Digital mixers often provide better quality, but they can be more expensive. They convert the original source into a digital format, allowing for easier editing. The Rode RodeCaster is a top-notch example of a digital mixer. It comes with eight programmable buttons for sound effects, four mic channels, USB connectivity, and more.
Pick the Best Software Available
Podcasting software is the interface you'll use to record and edit your content. You need it to view everything going through the microphone setup. Using low-end podcast software can ruin your audio, even if you have all of the best equipment. Fortunately, there are plenty of options, some of which are cheap or free.
Here's a list of the best software you can choose:
Audacity is the best free audio recording software for podcasts. It has everything you need for a simple setup, making it the perfect choice for beginners and those who aren't versed in editing sound clips. However, it lacks some of the in-depth editing options found in a few others on the list.
Investopedia states Auphonic is the best overall selection. One of the primary reasons many people choose Auphonic is it takes the guesswork out of podcasting. You don't have to be an expert to use this software. You can normalize volume to prevent highs and lows, reduce white noise, and work with almost any format around.
Honorable mentions include Logic Pro X for Mac users, Adobe Audition, and Reaper. As long as you can customize the setup, adjust white noise, and download/upload content with different file types, you can give it a chance.
Check the software's download requirements to see if you have enough RAM and available storage. Some of them have temporary online platforms, while others offer forums and free trials to learn more about each software.
Related article: Audacity vs. GarageBand: Which Is Right for Me?
Consider a Headphone Amplifier
If you have a lot of people on the podcast, you should consider a headphone amplifier. They allow you to split the headsets so everyone can hear what's going on without removing their headphones. It's a courtesy to your guests and hosts, but your viewers will appreciate everyone talking in sync.
Behringer is a well-known company in the industry. The Behringer Microamp HA400 offers everything you need to split up to four headsets without any interference. Each headset can be controlled individually, allowing every user to decide the amplification without overriding other headphones on the channel.
Note: Some mixers and interfaces have the ability to split headsets, so it's worth reviewing. Also, you might not need a headphone amplifier if you're running a one-man show. However, it doesn't hurt to have one with your podcasting equipment, so you can use it if you want to bring someone on board for an interview or as a new host.
Use Shock Mounts
Microphones are almost always ultra-sensitive, which is usually a good feature. However, they pick up every noise, which can be detrimental to a podcast. For example, if you bump the desk, knock something into the mic, or you want to move the stand, it'll make a loud thump. Fortunately, shock mounts eliminate the noise by dispersing the force.
The Auphonix Pro Microphone Shock Mount is compatible with most high-end microphones, including the Blue Yeti and similar models. It's adjustable, which means you can use it for almost any setup without having to purchase additional accessories. This type of shock mount can make a massive improvement.
Much like pop filters, shock mounts aren't too expensive. They're one of the cheapest, most effective components of all podcasts worldwide. They attach to many mic stands, while some of them come with a built-in stand. You can also find shock mounts that have built-in pop filters if you want to save money. These combo kits are one of the few times you should buy a 2-in-1 in the podcast industry.
Many modern microphones are made with built-in pop filters and shock-proof materials. However, if your setup doesn't have them, you're better off adding them to the kit. Keep the mic about six inches (15.24 cm) away from your face and at a 45-degree angle to limit popping and hissing sounds.
Use Sound Insulation Foam
Whether you live in a busy city or in the middle of nowhere, insulating your studio is crucial. It can make a significant improvement by limiting white noise and excess road sounds. You can use insulation foam, blankets, pads, and many other techniques to keep outside noise out of your studio.
Insulation also prevents sound waves from bouncing off the walls and echoing into the microphone. You can get loads of insulation for a low price. The key to proper insulation is to prevent gaps. If you're putting it on a wall, you should cover the entire wall edge-to-edge. This setup will limit excess noise.
The Burdurry Foam Panels are a fantastic solution without breaking the bank. They're much cheaper than high-quality insulation that requires removing drywall. You can set them up in a couple of hours, immediately upgrading your podcast to a professional setup. Combine them with pop filters, shock mounts, and mic stands for the best results.
For those living in apartments or with friends and family, insulation panels are an integral part of the setup. Bumps, yelling, and other loud noises easily penetrate thin walls. People are unlikely to stay on your podcast if they're constantly hearing thumping. By making a small upgrade, you'll show you're willing to make the experience more enjoyable.
Use SD Cards for Additional Storage
If you're not accustomed to using them, SD cards will become a regular item once you start podcasting. They're portable storage cards you can use to download or upload your audio files. Most podcasters recommend holding all of your episodes on portable storage drives, so you don't lose track of them.
Consider making a YouTube channel along with your website. Every time you upload a podcast, you can put it on your YouTube account to double your exposure. If you try this method, you should add a video to keep the viewers entertained. There are plenty of sizes to choose from. One of the best ways is to have a set of 10 to 20 (or more) per SD card.
Another option is to file them per season. If you base your podcast on seasons (i.e., S1, S2, S3, etc., or Spring, Summer, Fall, and Winter), you can label the cards. Also, feel free to switch to massive removable hard drives. They're much bigger, so they're not as portable. However, they offer more storage space.
Calculate how many GB/minute your podcast episodes require, then get a handful of SD cards to accommodate between 50 to 100 episodes. It's best to be prepared rather than running out of storage space in the middle of a recording session. You can save a reuse every episode, so SD cards are more than worth the investment.
Note: SD cards are small and fragile. It'd be best if you had a place to store them, such as a laptop bag, portable safe, or another storage container. While they're not a podcasting requirement, you'd do yourself a huge favor to sort them by date. You can go back and reference them whenever it's needed.
Consider Portable Recorders
Those who record all of their episodes in a studio can use mixers and audio interfaces to record their sessions. If you want to walk around or travel with your podcast, you should get a portable recorder. They allow you to record and store audio files connected to microphones. You can keep them in your pocket, so they don't take up too much space.
The Zoom H6 Portable Recorder allows you to use SD cards for storage purposes, cycle through six tracks, adjust the input and output, and record without an additional microphone. However, you can add a headset to listen better or another microphone according to your personal preferences.
If you don't need a portable recorder for mobile podcasts, there are plenty of other uses. For example, if you have more than one person hosting your podcast, one of you could go around interviewing people while the other says at the studio. These devices become valuable for almost any podcasting setup.
Portable recorders are one of the best methods for mobile studios. Portable recorders are better than smartphones because they offer more features, provide superior recording quality, and have better storage options. Some of them also allow you to use them as a USB interface.
Start a Website for Your Podcast
As you read earlier on the page, many people host their podcasts on Youtube and similar sites. However, you can be one step ahead of everyone else if you start with a website. Name the domain after yourself or your company, then upload all of your episodes to the website. It'll take a while to gain traction, but websites pay off in the long run.
Running a website will also provide a place to sell merchandise, answer questions from your audience, and interact with the community. Since interaction is often one of the sole reasons people succeed with their podcasts, websites are an ideal solution. The good news is it's quite easy to start a website.
Here's the step-by-step process:
Make an About page, so viewers know all about you, your podcast, and why they should consider listening every week (or however often you host a podcast).
Create an email list to update your viewers about new episodes, topics, and information regarding the podcast. You can use this platform to mention new guests and hosts, too.
Upload every recording session from the DAW you chose earlier. You can add them in a video or audio format to each post. Write a snippet under each podcast episode, so visitors know a brief summary of the topic.
Whether you want to upload your podcast to your website, YouTube, streaming services, or anywhere else on the internet, there's no denying the usefulness of podcasting on multiple platforms.
Conclusion
Now that you know all of the equipment you need to start a podcast, you'll be prepared to kick it off the right way. Those who already have an established podcast can benefit from some of the tips and suggestions found throughout the page. Getting the best gear points you in the direction for the best performance.
Here's a quick recap of the post:
Wired equipment leads to high-quality production since there's no interference.
Sound insulation foam can preserve your audio quality.
You should make a website or use YouTube to upload your podcast episodes for more exposure.