Audacity is a digital audio editor initially developed by Dominic Mazzoni and Roger Dannenberg. GarageBand is a digital audio workstation designed by Apple. Both are audio and music recording and editing software but with significant differences in their applications; which is the right one for you?   
Audacity is best for those who prefer open-source audio editing software for different operating systems. GarageBand is exclusively for Apple users (Mac and iOS). While both are free and immensely popular, GarageBand is more suitable for music recording and composition. 
GarageBand is a more robust software, courtesy of Apple, and Mac users will feel at home with the interface. Audacity has a daunting learning curve, but Windows and Linux users may also need time to get familiar with GarageBand. Read on to know which software is the right one for you.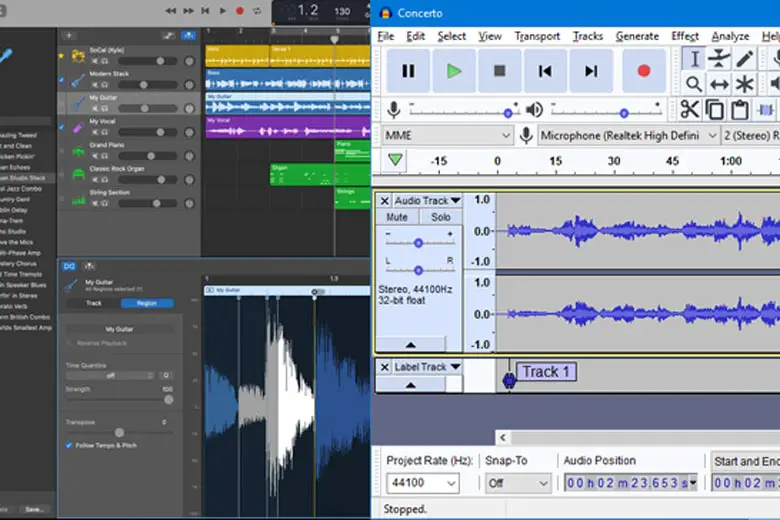 Audacity vs. GarageBand: An Overview
More than 100 million users have downloaded Audacity. The current user community is around 110 million, albeit not all may be active in real-time. However, the enormous global community implies you can seek prompt support and real-world help for the open-source software. 
GarageBand is integrated with macOS and available on iOS. The Apple Music & iTunes community is around 50 million strong currently. Furthermore, GarageBand is backed by Apple's technological prowess, so it's among the most reliable digital audio creation and editing tools.
Audacity works on Windows, Linux, and macOS but is incompatible with MIDI recording and editing. Buying a Mac for GarageBand may not be viable for everyone. Therefore, choose Audacity to edit music and podcasts or GarageBand for audio creation and processing. 
Is Audacity Better Than GarageBand?
Audacity is better than GarageBand if your primary requirement is audio editing. The free software has exceptional features to manipulate audio, whether music or vocals. The only shortcoming of the tool pertains to audio recording and creation. 
Benefits of Audacity
Audacity enables you to:
Record live audio using microphone and mixer and digitize sourced recordings. 
Import sound files for edits and further processing.
Try a plethora of edit effects.
Apply effects to a section or an entire track.
Export audio in different formats. 
Work on 16-bit, 24-bit, and 32-bit sample formats.
Use different sample rates for music recordings. 
Leverage various Audacity and third-party plug-ins.
Undo or redo as many times as necessary. 
Preview recordings in real-time.
Drawbacks of Audacity
A few significant drawbacks of Audacity are:
Doesn't support MIDI recording.
MIDI edit and export are evolving features.
No library of sound and music files or templates.
Not a full-suite Virtual Studio Technology (VST).
Complicated user interface for beginners.
System-specific performance issues.
Third-party plug-in interference in some cases.
No effects and dynamics processing presets. 
Is GarageBand Better Than Audacity?
GarageBand is better than Audacity if your primary objective is recording and creating music with concurrent access to an editing tool. The virtual resources of GarageBand and its intuitive interface are invaluable for beginners. 
Benefits of GarageBand
GarageBand enables you to:
Record live audio through a USB interface. 
Create and edit MIDI recordings. 
Use in-recording effects in real-time.
Explore a massive sound library.
Choose effects & dynamics processing presets.
Add drummer and percussion tracks.
Use virtual studio technology instruments like synths.
Leverage the Score Editor.
Incorporate genre-specific effects.
Design a bespoke bass rig.
Drawbacks of GarageBand
GarageBand has a few crucial drawbacks, including:
Cross-platform incompatibility (Windows, Linux).
A fixed 44.1 kHz sample rate. 
No vocal isolation.
Incompatible with third-party plug-ins.
Limited effects to edit audio or music.
Large files, typically 1 GB for a 30-minute podcast.
Advanced features only in the premium version.
The premium version, Logic Pro, costs around $200.
Is Audacity for Beginners?
Both Audacity and GarageBand are for beginners and those with intermediate editing requirements. Neither software has the advanced features necessary for professional or commercial audio and music creation, editing, or complex processing. 
Do Professionals Use GarageBand?
Some professionals use GarageBand. However, more advanced tools like Apple Logic Pro, Cubase Pro, Adobe Audition, and Studio One have exceptionally better features than those in the free version of GarageBand. 
Several successful artists of the day graduated to advanced editing software after honing their skills with free tools like GarageBand. 
Some famous productions are:
Umbrella by Rihanna
Cross by Justice
Damn and Ego Death of Kendrick Lamar by Steve Lacy
A Hundred Million Suns by Snow Patrol
In Rainbows by Radiohead
Love in This Club by Usher
Rappa Ternt Sanga by T-Pain
The first two studio albums of Wavves
Like producer Steve Lacy, many of these artists have interesting tales about how their initial exposure and subsequent use of tools like GarageBand paved the way for their debut or eventual success. 
Audacity vs. GarageBand: Audio Editing
Audacity is essentially an audio editing tool. Thus, the software has innumerable features, including edit effects, multiple tracks processing, and support for several file formats. You can control and manipulate everything from tempo and pitch to the tiniest section of a track. 
Once you're familiar with Audacity's features, you'll discover several gems like the color coding feature for different tracks for easy identification and navigation. This distinct feature isn't the same as Themes, which lets you choose one color for all waveforms on display. 
Here's how you can choose your favorite colors for tracks in Audacity:
GarageBand editing effects are limited and may restrict the creativity or the possibilities of producing a particular composition through processing and mastering. 
Let's consider a staple requirement like adding a particular effect in a specific portion of a track. Audacity allows you to do this with ease. GarageBand compels you to add the effect to the entire track; you cannot isolate a track's section for a neat and transient special effect. 
Apple's GarageBand is designed for beginners, like Audacity. However, Apple also intends to entice users to try Logic Pro, the premium version. Hence, the company is unlikely to introduce all or most of the advanced features in GarageBand.
Audacity's audio editing functions are immensely specific. You can practically work on the nitty-gritty of every track, whether voice or music.
If you need an editing tool for post-recording processing, production, and mastering, Audacity is more appropriate than GarageBand.
Audacity vs. GarageBand: Audio Recording
You can record audio, vocals and music, using both Audacity and GarageBand. If you have to work on MIDI creations, Audacity isn't an option. On the flip side, if you prefer a high sample rate during recording, GarageBand doesn't offer you a choice.
Audacity enables you to choose a sample format and rate. You can use a sample rate of 48 kHz or 96 kHz. You can reduce the sample rate to 44.1 kHz or lower to 41 kHz. GarageBand has only one sample rate, 44.1 kHz. 
There are a few such restrictions, which are characteristic of Apple. For instance, Audacity supports LAME MP3 encoder, but GarageBand doesn't. If you need to rely on third-party plug-ins during recording and later, Audacity is irrefutably more compatible.
The compatibility and flexibilities aside, GarageBand is the superior audio recording software.
Audacity doesn't have any of the valuable resources that GarageBand's virtual studio technology features offer.
Suppose you want to record a guitar live. GarageBand enables you to use amps, stompboxes, and cabinets, add effects as you play the instrument, use the sound library for templates or prerecorded audios and music, and choose presets or genre-specific style elements.  
Audacity vs. GarageBand: Music Creation
Like in the case of audio recording, GarageBand trumps Audacity in music creation, too. The drummer tracks and beats, synths, percussion sounds, and a bespoke bass rig, these virtual instruments are empowering resources for any beginner.
Not all beginners are experts at multiple instruments. Many artists don't have all the essential instruments either.
Apple's VST features in GarageBand can make music creation an effortless experience. 
GarageBand has numerous synth sounds, especially for Hip-Hop and EDM. The virtual session player Drummer enables users to jam with 28 drummers and 3 percussionists. There are beats for all major genres, be it Metal, Blues, or Dubstep. 
Furthermore, GarageBand has several music lessons across genres, including video demos and tutorials using animated instruments. Guitarists and pianists can refer to videos or guides from the original recording artists and teachers. 
These precious resources may not directly correlate with the immediate editing and processing needs of some users. However, it's worth noting that Audacity doesn't provide any such resource or feature for music creation and isn't a complete digital audio workstation.
Audacity vs. GarageBand: Convenience
Convenience is a prerequisite for all essential and significant features of any digital audio editing tool designed for beginners. The Audacity vs. GarageBand comparison is a bit of a mixed bag regarding convenience or ease of use.
User Interface
Apple's GarageBand has a much simpler interface with elegant features like the Touch Bar. The intuitive interface doesn't necessarily complicate the recording, editing, or music creation process. The publishing and distribution aspects are also pretty straightforward. 
Audacity isn't as polished as GarageBand. Some beginners may not be thoroughly familiar with the technical terms used in Audacity. The free and open-source software doesn't use regular words. However, the basic edit, cut, copy, paste, undo, and redo functions are convenient. 
Audio Recording
Both Audacity and GarageBand have a reasonably straightforward recording process. 
The import and export processes are a tad simpler with Audacity. You can combine files and export different formats simultaneously. 
GarageBand supports AIFF, WAV, MP3, MIDI, AAC, and Apple Lossless. 
Audacity supports AIFF, WAV, MP3, MP2, Ogg Vorbis, and FLAC. Additionally, you can use the FFmpeg library to export files in other formats like AC3, M4A(AAC), AMR(NB), WMA, and MP4.
Music Creation
Audacity applies the edit effects on the track, not separately. GarageBand's virtual synths and other similar turnkey features aren't always easy to use. While Audacity doesn't support MIDI creation, GarageBand's editing features for such files are limited. 
Notably, Audacity enables you to combine audio files, irrespective of sample rate and format. You can practically combine two or more sounds in different file formats and varying sample rates. GarageBand doesn't offer any such liberty.
Audacity also allows you to use a plethora of plug-ins, but all must be for effects. You cannot use any plug-in for a virtual instrument or digital synth.
GarageBand has these features integrated with the tool, providing a more convenient experience when creating music. 
Collaboration
GarageBand requires collaborators to have macOS or iOS. Audacity works equally well on Mac, Windows, Linux, and Unix-like systems. Thus, Audacity is the only option between the two for teams needing cross-platform compatibility. 
You need Windows 10 with a minimum 1 GHz processor and 2 GB RAM for the latest edition of Audacity. The recommended system specifications are a 2 GHz processor and 4 GB RAM. 
You may check this complete list of operating system requirements based on Audacity versions. GarageBand doesn't have any such issue as it's preloaded in macOS, so the system requirements aren't a qualifying criterion. 
Audacity vs. GarageBand: Special Differences
Users experience various glitches with both these tools. You may encounter recording problems such as no sound, file importing issues, hiccups while syncing different devices or users, and other editing-specific troubles.
Beyond the usual teething hurdles, the two software have several cool similarities. For instance, both Audacity and GarageBand allow you to extract audio from a video. 
The procedure varies, but you can work on the imported and extracted audio without causing any changes to the original video file. 
The useful features aside, Audacity and GarageBand have some notable differences, too. 
Types of Audio Production
Audacity may be more useful to record, edit, and master podcasts and other voice-based productions.
The software's noise cancellation, volume control, multiple track support, section-specific edits, pitch, and tempo calibrations are handy for podcasts, voice-overs, dubbing, and adding vocals to a prerecorded track.
Furthermore, Audacity has some turnkey features like Auto Duck. You can use this function to automatically reduce the volume of one or multiple tracks when the audio reaches a certain dB.
This feature is priceless if you record, edit, or produce a podcast with several speakers.  
GarageBand is more appropriate for songs and music productions. The plethora of music-related features, from virtual instruments to in-recording effects, are more useful for singers, composers, and producers. 
Additional Sounds and Music Effects
Apple is undoubtedly mightier than an open-source platform. Thus, GarageBand features plenty of incredible assets that aren't available in Audacity.  
Apple Loop, the producer and sound packs, remix sessions, guitar and bass effects, drum kits, and new touch instruments are precious tools if you want to create and mix music.
These features have less to do with editing but are beneficial for music production. 
Updates and Evolution
Audacity rolls out updates more frequently than GarageBand. Apple takes its time to make and eventually introduce any substantial change in its products. If a particular element of GarageBand impairs your work, Apple is unlikely to fix it until the next version.
The developers' community championing the open-source Audacity is more responsive to emerging glitches. Hence, you can expect it to evolve faster and more geared towards the expectations of users. 
The Verdict
Audacity and GarageBand are powerful solutions for beginners. You can correct everything from the mistiming of multiple audios in a track to immaculate fine-tuning of all the elements in a composition.
However, both fall short if you want a professional or full-suite digital audio workstation. 
Choose Audacity for audio editing and GarageBand for music recording and creation, the latter if you have a Mac, iPad, or iPhone.
Since both are free, you'll be able to hone your skills to unprecedented levels after you spend some time working on either or both software.