Apple's iMac makes a great work, study, and entertainment companion because it is an all-in-one tool. It promises a beautiful and intuitive design, with fast processors and graphics, stunning display, expanded storage and memory, and enhanced video and audio capabilities. But can an iMac accommodate an external or non-Apple speaker, sound system, or audio device?
An iMac does not have an optical digital audio output like the ones found on TVs and other computers, but it has USB ports and a headphone jack. The USB ports also work as digital audio outputs that you can use for USB-powered speakers. You can also plug headphones or speakers into the audio jack.
This article will talk in more detail about the iMac's featured connectivity ports and how to connect it to an external speaker or digital audio device to enjoy better sound. It will also explain what a digital audio output really is and the different types of digital audio output.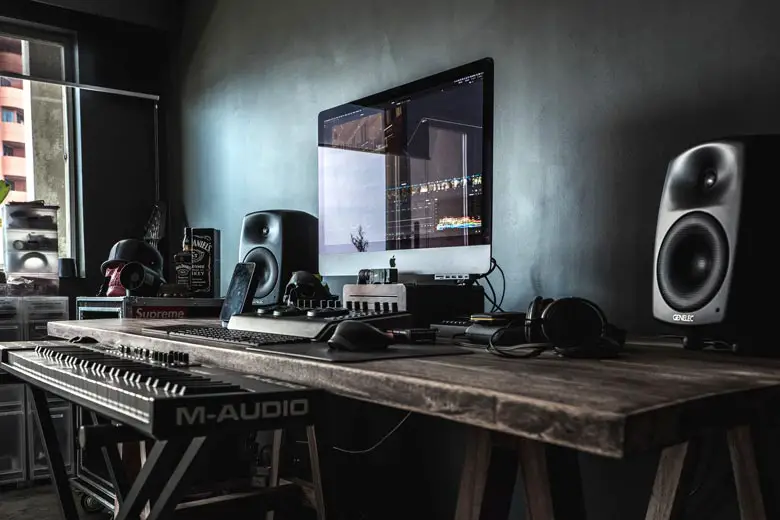 iMac Connectivity
According to Apple's website, the new iMac model is packed with ports and offers a host of possibilities for connectivity. For one, ultrafast Bluetooth and Wi-Fi are standard on all iMac models.
They all feature a 1Gb Ethernet port, and the 27-inch model can be configured with 10Gb Ethernet. The 27-inch iMac also boasts Bluetooth 5.0, allowing you to connect instantly to your wireless devices and your favorite content. 
What's more, an iMac has four USB-A ports and two superfast USB-C or Thunderbolt ports. These ports make it possible for you to connect external drives, displays, cameras, speakers, and other devices to your iMac.
It also has a slot for headphones, as well as a Secure Digital Extended Capacity or SDXC card slot, which allows you to read and write data to digital memory cards and other SD media.
Here's what these ports and slots look like at the back of an iMac (see more here):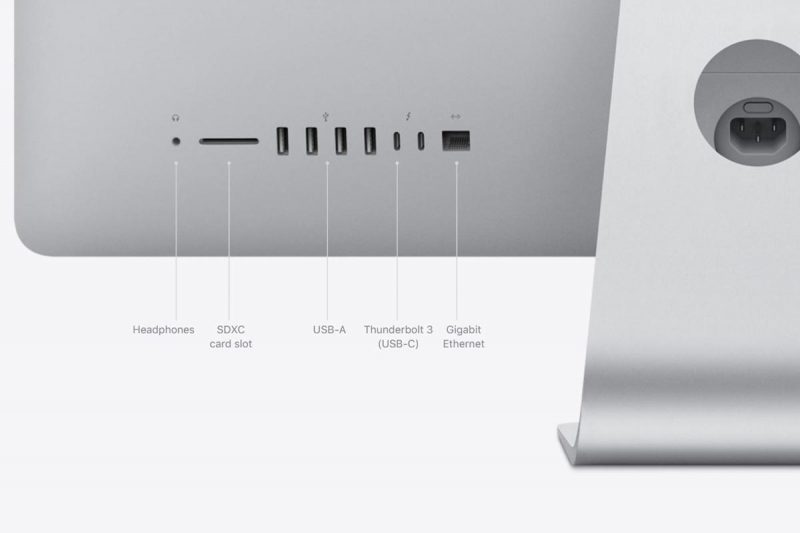 You can view this review video to check out the new iMac's design and its features:
What Is a Digital Audio Output?
A digital audio output drives digital sound signals into the audio input of another device. This output can be found on TVs, computers, and other devices that generate sound. 
For example, your computer, which typically does not have a built-in speaker, can play sound through a separate or an external speaker that you connect to it.
You can connect these two devices through a cable that goes into the computer's audio output and the speaker's audio input. The same thing goes for a TV, which may have built-in speakers but whose sound quality may not be as excellent as a surround sound system.
There are different types of digital audio output found on various devices:
Toslink (Optical)
High Definition Multimedia Interface or HDMI
USB audio
Displayport
Sony Philips Digital Interface or SPDIF coaxial
Check out our guide to audio connector types!
What Is an Optical Digital Audio Output?
Most of the time, however, people use the general term digital audio output when they are specifically referring to the optical digital audio output or Toslink audio output. 
A Toslink audio out is a fiber optic connection that utilizes LEDs to reliably send digital audio signals from their source to the receiver. A common or everyday use for this type of connection is the audio output found on the back of most TVs.
An optical digital audio output looks like this: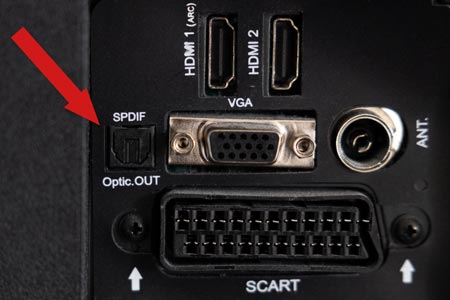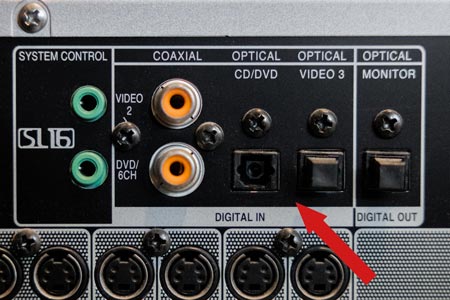 The good thing about Toslink audio output is that they send clear, crisp, high-quality sound between two devices with less EMI or electromagnetic interference.
This is because data, or sound, travels through fiber optics, limiting the loss of data. Toslink cables also last longer than common wires.
On the downside, Toslink has no support for high-quality sounds like DTS HD Master Audio, Dolby Digital Plus, and Dolby TrueHD. And if you play audio formats that are unsupported, your player or sound system will either play a version with lower resolution or will not play any sound at all.
It also cannot transmit data over long distances. It needs a repeater to be able to prevent the loss of data.
An iMac Does Not Have an Optical Digital Audio Output
An iMac does not have a digital audio output if what you are exactly referring to is an optical or Toslink audio output.
But while an optical digital audio out is not included in the iMac's suite of connectivity features, it has another digital audio output in the form of USB ports.
iMac's USB Port As Digital Audio Output
Your iMac's USB ports also serve as digital audio output and using them is one of the easiest ways for you to enjoy or listen to music or other types of audio. All you need is a USB-powered headphone or speaker and you'll be able to enjoy your sound.
One of the advantages of these USB audio outputs is that they are common for laptops and computers. They also support 5.1 and 7.1 surround sound.
The disadvantage, meanwhile, is that they are not common among TVs and other household devices and are currently limited to computers and smartphones. USB ports are also jitter-prone, and jitters do happen quite frequently during the conversion of audio data to electronic form.
Playing Audio on Your iMac
Unlike any regular desktop computer or PC, an iMac has built-in speakers. In fact, the audio quality of the iMac 27-inch is excellent, with its stereo speakers generating a dimensional sound and a robust bass.
Check out this YouTube video to see how the iMac Pro and the 5K iMac speakers sound like:
As such, even if you do not connect external speakers, amplifiers, or headphones to your iMac, you would still be able to hear the sound you are playing very clearly.
However, if you want an even more crisp sound and you want to listen to it privately, you can plug a pair of headphones into your iMac's headphone jack. You can also plug a speaker into this jack provided that it has a standard audio jack plug.
Another very easy way to listen to music or audio on your iMac is through a USB-powered speaker or headphones. Just plug the USB cable into the appropriate USB port on your iMac and you're good to go. It could be the Type-A or Type-C output, depending on your speaker.
You can also connect a Bluetooth speaker or soundbar to your iMac.
How To Connect a Speaker to Your iMac With an Optical Digital Audio Cable
If your sound system can only be connected using an optical digital audio cable, you will need a converter box with an optical digital audio or Toslink output and a USB input.
This way, you can connect your sound system to the converter box's Toslink output, and connect the converter box to your iMac's USB port.
There are converter boxes available on the market. One good example is the LiNKFOR USB DAC Audio Converter, which you can get from Amazon.
Conclusion
A lot of people are complaining about newer iMac models not having a digital audio output. Strictly speaking, this is not true because iMacs have USB ports and they can use these ports as digital audio outputs, too. Digital audio, after all, comes in different types and these include USB audio. 
However, most people refer to digital audio output as optical digital audio output or Toslink output. Toslink, just like USB, is just another type of digital audio. So if you are talking about Toslink output in particular, then the new iMac models unfortunately do not have one.