When developing your home theater system, you want the best of the best. You want to know that everything you use will be compatible with your TV. So, can you connect Hi-Fi speakers to a TV?
You can't connect your Hi-Fi speakers directly to your TV. You'll need to use a receiver and connect your speakers to that instead. That's why you'll want a receiver that supports both your speakers and your TV, with HDMI cables and RCA audio cables being the more popular options.
Let's take a closer look at how to connect Hi-Fi Speakers to your TV.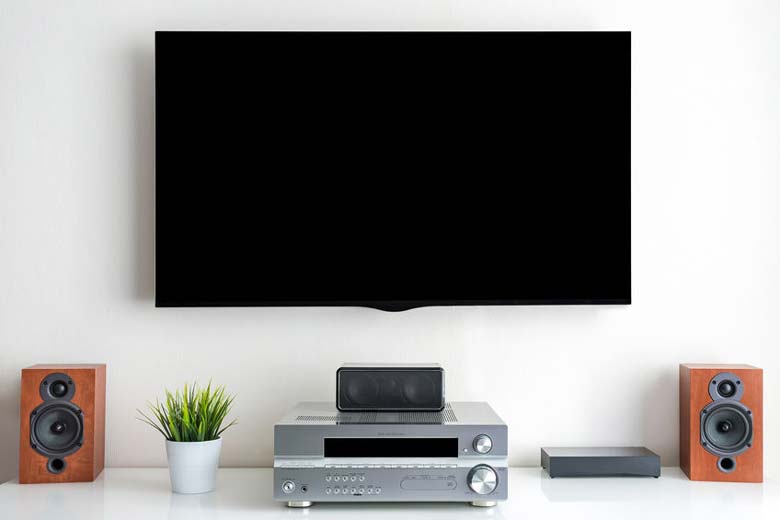 What Are Hi-Fi Speakers?
Hi-Fi speakers, also known as high-fidelity speakers, are made to enhance music enthusiasts' listening experience and home theaters. Simply put, high fidelity plays the sounds of your music, movies, or video games as they were initially recorded. 
When shopping for a set of Hi-Fi speakers, you want to consider the TV you wish to connect them to. There's a wide range of brands and options out there to choose from.
You also want to consider your available space. These Hi-Fi speakers can be on the larger size, so knowing your space limitations is essential.
Can Hi-Fi Speakers Connect to a TV?
The problem with TVs is that they don't come equipped with speaker outputs. TVs typically come with one or multiple audio outputs, connecting to an amplifier or receiver to play sound.
The receiver takes the audio from your TV and converts it into a format that your speakers understand. The Hi-Fi speakers will then play your audio as close to the original sound as possible.
How To Connect Hi-Fi Speakers to Your TV
There are three main ways to connect your Hi-Fi speakers to your TV.
The first is by using an HDMI cable connected to an amp or receiver and then connected to your TV.
The second way is to use RCA audio cables to connect the speakers to your receiver and your TV.
The third is similar to the second, but you use Digital Audio instead.
Use an HDMI cable
One of the most convenient and simple ways to connect your Hi-Fi speakers to your TV is to use an HDMI cable. This will typically require fewer cables and is extremely easy to do.
Below are the steps to take to connect your speakers to your TV.
Connect your HDMI cable to the HDMI port on your TV.
Put the speakers on the "Audio System" setting.
Turn on the "Control for HDMI" setting on both the receiver and the TV.
Some of the instructions will vary depending on your TV and receiver. Make sure you have the manual handy just in case.
If you still don't have any sound after following the steps above, try the steps below and see if that resolves the issue.
Restart your receiver or TV.
Disconnect, then reconnect the HDMI cable from the TV and receiver.
Check that the correct HDMI ports are used.
Complete a hard restart of the receiver, TV, and/ or soundbar. Follow the manuals for your specific devices for proper instructions.
Related article: Why Are Soundbars So Popular? 7 Reasons
Connect RCA Audio Cables to the TV
Audio outputs are standard on most TVs, so using this method isn't too difficult. However, it involves using more cables, and it's also easier to connect the wrong cables to the incorrect outputs.
Follow the steps below for a simplified way to use the audio outputs to connect your Hi-Fi speakers to your TV.
Connect the RCA cables to the audio output port on your TV.
Connect the other end of the audio cable into the matching inputs on your receiver or amp.
Turn on the TV and receiver.
Set both the receiver and the TV to the correct input setting.
Connect Speakers to the TV Using Digital Audio
Digital audio is another option you have when hooking up your Hi-Fi speakers. This option's steps are similar to the steps you would have taken to use the RCA audio cables.
Connect something like this AmazonBasics Coaxial Digital Cable or Optical Digital Cable to the audio output port on your TV. If using Optical Digital, you'll need to set your speakers to the "Audio System" setting.
Input the other end of the cable to the matching ports on your receiver.
Turn on the TV and the receiver.
Set all devices to the correct input setting.
Best Hi-Fi Speakers to Buy for TV
Now that you know how to connect your Hi-Fi speakers to your TV, let's take a look at some of the best speakers to buy. 
The KEF LS50 Meta are great little bookshelf speakers that pack a punch. If you can afford to spend the money, they're a great investment. They have a sleek and elegant design that will provide a clean aesthetic to your space. 
The sound they provide is extraordinary. They have the strength and power of the bigger speakers but nowhere near the size. The only downside is the price.
For a set of two, these speakers can be over $1,000. However, if that's not something that bothers you, these are definitely worth the money.
On the opposite side of the spectrum, the Elac Debut B5.2 is a much less expensive bookshelf speaker. For the price, these speakers are full of capabilities.
The tone is nearly perfect and can handle just about any sound you test on it.
The only thing these little speakers are lacking is extensive midrange warmth. They are still capable of handling that range, but there are other speakers available that provide a better sound.
However, with a price under $300 for a set, it's worth the sacrifice if you're hoping to save a little money.
Getting back into the higher price ranges, the Dali Oberon 1 C is another bookshelf speaker worth looking at.
Where the Elac Debut speakers lack midrange depth, the Dali Oberon more than makes up for it — the clarity on these speakers is superb.
However, even though it excels in the midrange, it suffers with the bass, though this isn't too unheard of in speakers this size. Despite the slight lack in bass quality, the overall sound from these speakers is clean and detailed.
The precision is excellent, and musical instruments can be heard accurately, which you want in Hi-Fi speakers.
If you're looking for a floor-standing speaker, the Wharfedale EVO 4.4 is a good consideration. These speakers are quite expensive. However, they are worth the money if you're looking to invest in a new piece of sound equipment with high quality.
The Wharfedale EVO speakers are huge, so to get the full effect of their sound, you'll need a large space.
You shouldn't buy these if you plan to use them in a small living room or bedroom. However, they'll make a great addition to a home theater.
The Wharfedale EVO speakers are easy to use and sound great. Perfectly capable of going loud, what sets these speakers apart is their capacity for presenting the more subtle sounds. It can handle both without any hiccups.
Another great floor-standing speaker is the Dali Oberon 5. On Amazon, you'll find that they can be pretty pricey.
You don't need a huge space to get the benefits of these speakers. They pack a significant amount of technology into the speakers, and the sound is high quality. Nothing too outstanding, though.
Summary
Hi-Fi speakers are a great way to listen to the audio on your TV. They work a lot better than your TV speakers do, making them ideal for home theaters and music fans.
Hopefully, this article has given you the best way to connect your Hi-Fi speakers to your TV.