An audiophile is a person who prioritizes sound quality above all else when they're listening to music. However, streaming services aren't always geared towards audiophiles and can drive them nuts with their mediocre quality audio. When it comes to two of the most popular streaming services out there, Tidal and Spotify, which one is better for audiophiles?
Audiophiles who are trying to choose between Tidal and Spotify will most likely prefer Tidal. While Spotify is easier to use and more popular, Tidal has significantly higher audio quality. That said, Spotify is introducing higher-quality audio tiers all the time, and this might change soon.
This article will go through each platform's pros and cons, so audiophiles can make an informed choice before purchasing either of these subscription streaming services. For non-audiophiles, you'll still learn about how these services are used and what they offer!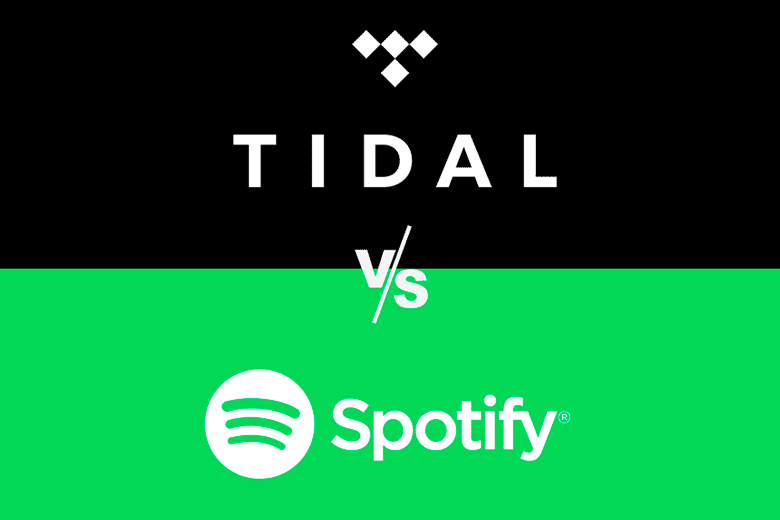 Platform Overviews
Before jumping into the specific qualities that will make each better and worse for each streaming platform, let's explore both of these platform's backgrounds. Spotify is a more established service, but that doesn't make it better, especially for people who want to hear high-quality sound.
Still, if you're an audiophile in search of a streaming service, don't think that your options are limited to just Tidal and Spotify. We'll also explore other streaming service options below.
Tidal
Tidal, sometimes stylized as TIDAL, was launched in Norway by the Swedish tech company Aspiro AB in 2014. In early 2015, Aspiro was taken over by British American company Project Panther Bidco Ltd., a holding company that's indirectly controlled by rapper Jay-Z, also known as Shawn Carter. That was when the service really took off.
On March 3, 2015, Carter announced the service's launch with a press conference that included famous musicians Madonna, Kanye West, and Carter's wife, Beyonce Knowles. The conference received mixed reviews, a sign of the service's many public relations issues to come.
Tidal initially struggled to find its footing. It received significant criticism, with a lot of ridicule aimed at Jay-Z for being "out of touch." However, its popularity grew as people realized that its superior audio quality did lead to a better experience. Many reviewers begrudgingly admit that while Tidal has a poor PR angle, it's one of the best streaming apps out there.
One main focus of Tidal was fair compensation for artists. Today, Tidal pays nearly three times per stream what Spotify pays. Fair payment for artists from streaming services has long been a hot topic since streaming sales are much lower than CD or record sales.
Users quickly realized that Tidal does have some advantages over most other major services. This article will explore these in more detail below, but here's a chart with a summary of its advantages and disadvantages:
| Pros | Cons |
| --- | --- |
| Audio Quality up to 9216 Kbps | Can be slow due to large data files |
| Option to stream in Standard definition | Has received criticism for messaging |
| Plenty of exclusive artist content | |
Spotify
Spotify is a Swedish company founded in 2006 by Daniel Ek. It's the largest music streaming company in the world, with 356 million active users each month as of March 2021.
Spotify started out as a reaction from Ek and his partner, Martin Lorentzon, to Napster, a peer-to-peer file-sharing service that was the subject of some controversy in
2000 when lawsuits from bands like Metallica and record companies like A&M Records ultimately changed music rights' laws for the streaming era.
In response, Ek launched Spotify as a service with both a paid tier and a "freemium" tier. The free tier was supported by ads, which appear every few songs, and has limited functionality compared to its paid tier. Spotify's business model proved to be lucrative, and other streaming services quickly cropped up with similar offerings.
Just because Spotify has been around longer than Tidal doesn't mean that it's automatically a better platform. That doesn't mean that people who value sound quality don't have a Spotify subscription either. In fact, there are many reasons that audiophiles choose Spotify over Tidal:
| Pros | Cons |
| --- | --- |
| Recently announced a new audio quality tier, Spotify HiFi (unreleased) | Only supports audio quality of 320 Kbps |
| Easy to use | Not much exclusive music content |
| Exclusive podcast content | |
| Overwhelmingly popular | |
Other Services
Keep in mind that Tidal and Spotify aren't the only streaming services out there! Plenty of people prefer Amazon Music, Deezer, Apple Music, or Pandora. Tidal and Spotify are two of the most popular and reliable services with a good reputation, so it's helpful for listeners to compare these two apples to apples.  
If you're interested in using any of these other services, here's a brief description of each one and whether audiophiles will find them worth looking into:
Amazon Music: Amazon Music is offered through the retail giant's Amazon Prime service. Amazon Music offers several tiers of HD audio, including Amazon Music HD and Amazon Music Ultra HD. The audio quality of Amazon Music Ultra HD is still not comparable to Tidal's highest sound quality, but it's leaps and bounds above Spotify's.
Deezer: Deezer delivers CD-quality audio, the same as Tidal's mid-tier HiFi audio. This is still a higher audio quality than Spotify. Deezer is much less popular than Spotify, but it's worth a try if you're looking for high-quality audio.
Apple Music: Apple Music streams with a slightly lower audio quality than Spotify's highest tier at 256 Kbps. However, for consumers with lots of Apple devices, the service works great within its ecosystem, so this might be a good option.
Pandora: Pandora streams at a high of 192 Kbps and has significantly less functionality than any of the other options on this list. For audiophiles looking for high audio quality and a high Kbps, Pandora might not be a good option.
Still, Tidal and Spotify are by far the most discussed by audiophiles. Tidal is known for its high sound quality, and Spotify is far and away the most popular streaming service out there. If you decide that Tidal or Spotify are still the best options for you, read on to discover their major benefits and drawbacks.
The Difference in Audio Quality Between Tidal and Spotify
By definition, an audiophile wants the highest sound quality possible when they're listening to music. High audio quality is determined by the bit rate and the sample rate. These are similar, but not exactly the same thing.
The bit rate is the number of bits, or audio data, transmitted each second. This is represented in Kilobits Per Sec or Kbps. The sample rate, on the other hand, refers to the number of samples transmitted each second. Samples are made up of bits. Different audio formats support different bit depths, such as 16bit, 24bit, and 32bit, and sample rate is represented by Kilohertz (kHz) by bit depth.
Higher bit and sample rates require higher bandwidth. This can actually create some problems, which we'll explore later on. It also makes music sound much more realistic and "natural." The more audio data you receive, the more you'll feel like sitting in the room next to the musicians.
So when looking at Spotify and Tidal, which one supports higher audio quality?
Tidal
Tidal's biggest selling point has long been its superior audio quality to any streaming service, not just Spotify. But is that really true?
In short, yes. Tidal supports several different audio formats, and several of them are high-quality audio. They support standard, or normal, streaming quality on their Premium and Family Premium plans, which run for $9.99 and $14.99 per month. Standard quality is 320 Kbps, comparable to Spotify's free tier.
Related Article: 320 KBPS vs. Lossless Audio: The Differences Explained
They also support a HiFi quality, called "lossless" streaming, or CD quality, with a bit rate of 1411 Kbps and a sample rate of 44.1kHz/16bit. If you purchase their HiFi or Family HiFi plans, which cost $19.99 and $29.99, you can switch between standard and HiFi quality at any time.
Finally, Tidal supports Master Quality, which can have a bit rate of 2304 through 9216 Kbps and a sample rate of 96kHz/24bit. They come in either FLAC (Free Lossless Audio Codec) or WAV (Waveform Audio File Format) files. 
Not all songs are available in Master Quality because the artist must authenticate the recording themselves. Master Quality songs will be marked as MQA, and they're also only available to users with a HiFi plan.
HiFi and MQA audio are both significantly higher quality than anything Spotify offers. However, keep in mind that you need to have high-quality headphones to get the benefits of lossless audio. On your average set of headphones, you won't be able to tell the difference between standard and high audio qualities.
If you're interested in hearing the difference between high-quality audio and standard audio, these over-ear headphones are an extremely popular option for home listening. Of course, there are many headphones to choose from, and even some cheaper alternatives can help you hear the difference between Hi-Fi and standard quality.
You might also need to have an amp and a DAC to get the best possible experience.
Tidal's audio quality tiers:
Standard, or Normal: 320 Kbps
HiFi: 1411 Kbps
Master Quality: 2304 – 9216 Kbps
Spotify
Subscribers to Spotify's free tier can only get 160 Kbps on its mobile app, half the audio quality of Tidal's lowest tier. However, premium subscribers can change their quality all the way from a Low setting, or 24 Kbps, to Very High, or 320 Kbps. Currently, Spotify doesn't offer any higher quality than that.
Premium subscribers might also be annoyed when they realize that paying for an account doesn't automatically put their audio quality settings up. Spotify's paid tier will still have the audio quality set to 160 Kbps unless the user goes into their settings and change it. This can be inconvenient but isn't all that difficult to adjust.
This is low-quality audio compared to most other popular streaming companies. For example, Amazon Music HD provides songs at an average bitrate of 850 Kbps, and their Ultra HD goes up to 3730 Kbps.
It's worth mentioning that in February 2021, Spotify announced that they would soon be releasing a Spotify HiFi tier. No news has been announced since, however, so it's safe to say that users shouldn't hold their breath to see if Spotify's HiFi tier will feature better quality audio than Tidal.
Spotify's audio quality tiers:
Low: 24 Kbps
Normal: 96 Kbps
High: 160 Kbps
Very High: 320 Kbps
If audio quality is your first and only priority, then Tidal is probably the service for you. That said, the answer isn't as automatic as you think. Audiophiles want high sound quality but also appreciate things like ease of use and featured content. 
For more on what Tidal and Spotify offer in these departments, read on.
Functionality & Ease of Use
No matter how much you love your music to sound good, that won't make a difference if the product itself is unusable. You want to make sure that you're comfortable using the app and that it has features you are interested in.
In some ways, this mostly depends on personal preference. Streaming services are not one-size-fits-all, and each of them focuses on different aspects of the music listening experience.
The benefit of Spotify's ad-supported tier is that you can test out the service for as long as you want without paying a dime before opting to upgrade to its Premium tier. Tidal doesn't have a free option, but it does offer a 30-day free trial period, so you'll be able to test out the app for free as well. Just remember to cancel your subscription if you decide you don't like it since you'll get charged once the 30 days are up.
Here's how both Spotify and Tidal compare in terms of usability and functionality.
Tidal
As far as the mobile app goes, Tidal users generally find it's easy to use. The app is set up with a black color scheme and a sidebar with a link to your Home page, your playlists, and several suggestions based on your listening habits.
Podcast listeners will be disappointed to find that Tidal doesn't host any podcasts. Podcasts make up a large portion of Spotify's library. If you found your favorite podcast on a different streaming platform, the odds are that it's also on Spotify.
A single audio track transmitted with Tidal's HiFi audio quality will come out to as much as 50MB in size. If you like to listen to music on your commute, you'll probably have to spend a lot on mobile data or might end up using it all. Additionally, if you don't have an unlimited data plan, this can add up; 1GB comes out to just 20 songs!  
There are some ways to combat this. You can download songs, but that's quite a bit of data to hold on your phone. Besides, if you need to download music simply to use the service, it defeats the point of streaming at all.
You can also switch to Standard audio quality when you're on the go. However, keep in mind that Tidal's Standard quality audio is only available on its lowest-paid tier. You can get the exact same quality on Spotify's Premium tier but without some of the complaints that users have about Tidal.
If you find yourself listening disconnected from WiFi most of the time, Spotify may actually be a better option for you.
Spotify
Though Spotify doesn't offer the high definition audio quality that Tidal does, it's just as easy to use, if not more so. 
Spotify's home page features links to your personal playlists, expert-curated genre-specific playlists, a Recently Played tab, and another tab called Made for You. This tab generates five or more Daily Mixes based on the genres you love.
As far as content goes, Spotify and Tidal have comparable music libraries, but Spotify has a vast podcast library as well, a significant advantage over Tidal. Podcasts are growing in popularity, and if you have a favorite podcast, it's definitely on Spotify. 
It's also constantly updated, meaning that bugs are rare, and you can download songs directly to your cell phone. And while audiophiles may get frustrated at the comparatively lower quality, lower data files mean faster audio, so Spotify is much less likely to get slowed down when using cell phone data to play.
High-quality audio is only as good as your broadband connection and your method of listening. If you're listening to high-quality music on a pair of cheap earbuds on a low-data Internet connection, you'll probably have trouble playing the music in the first place.
Exclusive Artist Content
Audiophiles tend to be major music fans, and music fans love exclusive content. When your favorite band or rapper offers new content exclusive to a service you're not subscribed to, you won't be able to add it to your streaming rotation. This can be frustrating if you hear the song elsewhere, fall in love, and can't access it later!
When it comes to exclusive content, both Spotify and Tidal have their own artist-focused programs. Tidal focuses on exclusive content from major artists, while Spotify pushes indie artists and podcasts. Here are the highlights of both service's artist programs.
Tidal
Tidal used to be much more exclusive in terms of the artists it hosted on its website. Up until 2019, it was the only streaming service to host Taylor Swift's music. Beyonce's smash 2016 album Lemonade was also a Tidal exclusive. However, most artists now host their entire discography on both Spotify and Tidal, including Taylor Swift and Beyonce.
Tidal's program that works with artists to provide exclusive content to their fans is called Tidal X. It uses streaming data to offer die-hard fans of different artists tickets to live shows, meet-and-greets, and other events. If you have the Tidal app, you can sometimes access live streams to concerts and festivals. The roster of artists on Tidal X includes Chance The Rapper, Kanye West, and Demi Lovato.
If you're a fan of major modern artists, you'll probably find that Tidal has more interesting exclusive content for you.
Spotify
Spotify has a few ways of presenting its exclusive content. For one thing, they've focused a lot, over the past few years, on acquiring exclusive podcast deals with celebrities and other personalities. They recently signed an exclusive deal with Ava DuVernay, and have had a popular exclusive podcast with Joe Rogan since 2020.
Spotify has had several programs meant to champion indie artists and rising stars instead of musicians who already have large fanbases. Spotify's RISE program has supported up-and-coming artists like Joji and Jorja Smith, and its latest program called RADAR focuses on budding international artists.  
Spotify also releases a series of covers from artists called Spotify Singles. These are usually features of indie artists who perform one original song live in Spotify's studio and one cover. They're only found on Spotify, and occasionally the series comes up with a smash hit, like Fall Out Boy's cover of Whitney Houston's "I Wanna Dance With Somebody."
In short, if you like podcasts or like to support new artists, Spotify might be the service you prefer. It won't give you as many exclusives from big names, however.
Which Is More Popular: Tidal or Spotify?
Audiophiles may scoff at the idea that popularity should play a part in their choice of a music streaming service. After all, if all you want is high-quality audio, why should you care how popular the app is?
The reason is simple: Apps aren't physical products, like record players or stereo systems. An app is only supported as long as the company that makes it exists, and it's only as good as the people making its software updates. If Tidal ever stops existing, you won't have access to any of that Master Quality music ever again.
Spotify is significantly more popular than Tidal. The last time Tidal reported the number of its paid users in 2016, it boasted only 3 million users, much less than Spotify's current 356 million, according to its company info page.
Though we aren't sure how much Tidal's user base has grown or shrunk over the past five years, we can assume that they haven't grown at the exponential rate that Spotify has. Read on to explore some of the reasons for that.
Tidal
As noted above, Tidal is a much less popular service than Spotify. Three million active users are hardly any when compared to 356 million. In fact, Tidal's claim that it has 3 million active users has been disputed after the Norwegian newspaper, Dagens Næringsliv, alleged that it had been inflating its numbers to the media in 2017.
Tidal has a bit of a bad reputation among musicians, who say that while Tidal claims that it's meant to empower indie artists, it only prioritizes established megastars. Pop artist Lily Allen and folk group Mumford & Sons have both gone on record criticizing the service. Such animosity within the music industry might turn off audiophiles.
Tidal lacks a free tier, in part because of its focus on fairly compensating artists. Unfortunately, this means that consumers who are on the fence about getting a paid music subscription are unlikely to give Tidal a try. On the other hand, consumers who give Spotify's free service a try may find that they like the service so much that they upgrade to the paid tier.
Without a free tier, Tidal is unlikely to ever reach the universal reach of Spotify.
Spotify
Spotify is the titan of the music streaming industry, with a massive user base compared to any other streaming service right now, not only Tidal. Spotify's app works well and is simple to use.  
The app is highly customizable, so you can listen to music however you want. If you like to make your own playlists, listen to a curated playlist in your favorite genre, or get personalized recommendations based on the artists you love, you'll find something to love on Spotify.
The platform also allows users to peruse their own listening data. Spotify Wrapped, a promotion released at the end of every year, gives users personalized statistics as to their own listening habits. If you love sharing the music you listen to over social media, sharing your Spotify Wrapped stats can be especially fun and revealing.
As mentioned above, Spotify recently announced a new lossless audio tier called Spotify HiFi. The details have not been released yet, but you can expect that if Spotify continues to gain popularity at the rate it has been, it'll continue improving its service and maybe its audio quality offerings.
Final Thoughts
For audiophiles who prioritize audio quality over everything else, Tidal is the way to go. While Spotify has a maximum quality of 320 Kbps, Tidal's Master Quality can hit 9216 Kbps. But Spotify is significantly more popular than Tidal and recently announced it'll soon release a higher quality audio option.
While Spotify HiFi isn't available yet, audiophiles should keep an eye out for news in the future. The tech world is always changing, and with the fierce competition between streaming services right now, odds are both companies will roll out new features, programs, and audio capabilities soon.