The name "audiophile" gets thrown around a lot when you're in the market for the best Hi-Fi equipment. However, not every product and brand ticks enough boxes to count as audiophile-quality. So, you may wonder what the best audiophile brands are. 
The best audiophile brands include: 
Focal 
Sonus Faber 
Marantz 
McIntosh 
However, the list provided here is by no means exhaustive as there are many brands on the market that shine in one or two audiophile products more than others. This guide lists the best audiophile brands for general and specific products. Read on for a more detailed view.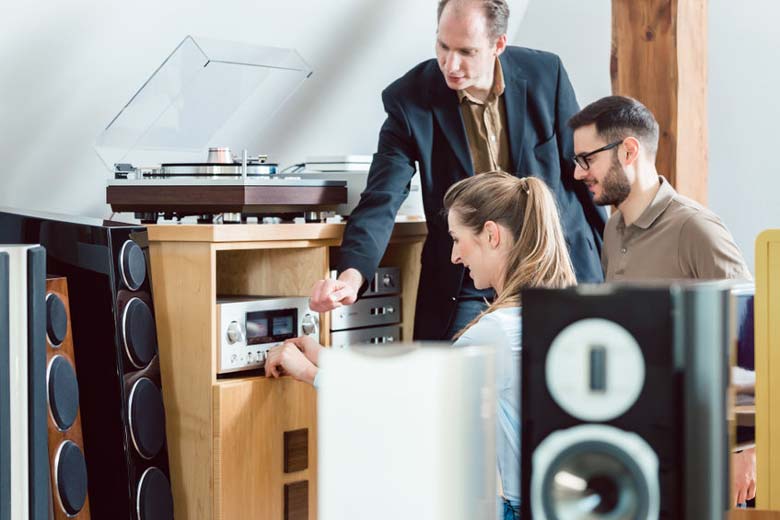 1. Focal
Focal is a reputable French company making high-fidelity audio equipment since 1979. Specializing in loudspeakers, headphones, and speaker drivers, they make some of the best products on the market. Their products are a blend of innovative technology and beautiful design. 
However, what makes Focal a popular brand among audiophiles is its high-end headphones. Although they have been around for a short time (since 2016), their over-ear headphones have taken the audiophile world by storm with their dynamic driver technology. 
One of their most famous headphones, the Focal Celestee (available on Amazon), is one of the best closed-back headphones with isolating qualities. It has an impedance of 35 ohms, which is low enough to match portable audio players. So, if you want to have your audiophile-quality music everywhere with you, you can't go wrong with these headphones. 
Thanks to the magnesium used in producing headphones and speakers, you can have a more neutral sound with low distortion and high accuracy. 
2. Sonus Faber
Based in Italy, Sonus Faber is another company dedicated to making sound equipment offering high transparency and natural sounds. The handcrafted speakers and headphones make this high-end speaker manufacturing company one of the best on the market. 
They make a wide range of speakers for every audiophile taste, with floor-standing and bookshelf models that add a flair of class and luxury to any Hi-Fi setup. 
Although on the pricy end of the spectrum, the company's flagship, Aida loudspeakers, can make you feel the real Hi-Fi sound. It comes in a pair, each having a rear-firing tweeter and midrange and controls installed on the rear panel. 
To offer the most natural and detailed sound possible, it features many innovative technologies, including: 
Zero Vibration Transmission 
Stealth Ultra-flex System  
Sound Field Shaper Technology 
3. Marantz
With over 70 years of experience in making home audio and Hi-Fi equipment, this American-Japanese company leads the way in producing high-quality products at reasonable prices. 
The company produces a wide range of products, including: 
Amplifiers 
AV receivers  
Turntables 
CD players 
You may feel that a company producing a wide range of products can't be reliable for offering a Hi-Fi experience, but Marantz has proved it wrong. 
That's because it has partnered with many reputable companies such as Philips and Denon to refine its technologies and offer high-end products that it's famous for. 
4. McIntosh
McIntosh audio is another famous brand that has been around since 1949. It produces a wide range of products, including: 
Preamps 
Audio systems 
Integrated amps 
CD players 
Speakers 
Tube and solid-state amplifiers 
Cables 
It's an iconic brand tied with American culture because of its consistent, signature designs that have lasted for over six decades. If you want to have a luxury Hi-Fi setup that increases in value over time, McIntosh is the way to go. 
Its handmade products, with its signature blue-light, metered faceplate, make you want to show off your setup while getting the highest quality sound. 
Other reputable brands that produce Hi-Fi equipment include: 
Dynaudio 
Evolution Acoustics 
Dali 
Nola 
Kudos 
Totem 
Davone 
Beyerdynamic 
Best Brands Making Audiophile Equipment
Although some companies always offer the best audiophile quality for various products, others excel in specific products but not others. For example, a brand that makes top-of-the-line speakers may not do well in the field of preamps. That's why we've provided the list of best brands broken down by each component of an audiophile system. 
Best Brands Making Audiophile Speakers
Many famous brands make audiophile-quality speakers, including JBL and Klipsch. However, the following are among the most popular brands. 
Bowers & Wilkins
B&W is world-famous for its high-end speakers that are durable and reliable to satisfy even the pickiest audiophiles. Their products' build quality mixed with signature technology have made the brand reign supreme since 1960. 
To catch up with the new technological advances, the company now builds wireless smart speakers that work with Alexa. The Bowers & Wilkins Zeppelin (available on Amazon) is a multi-room speaker that works with Bluetooth and features many visual attractions that look great on any shelf. 
And if you want to go old school, the B&W 606 speaker is a real game-changer. It's a passive speaker with a built-in woofer and can handle midrange and bass frequencies elegantly. 
Although it's a bookshelf speaker, it has large components that work excellently in creating the high-fidelity sound you want. 
Magico
Magico is another brand well-known for producing high-end speakers popular among audiophiles. However, it's not the most affordable brand for the average user. The most affordable model is the A3 while offering the same quality as other Magico models. 
It features Magico's signature aluminum cabinet with improved stiffness to minimize resonance and produce the most natural and detailed sound. 
Compared to other models, it's lighter and simpler but offers the same sound quality with the same driver units. The Beryllium-coated tweeter and the Nano-tech drivers create the best midrange and bass frequencies. 
With an impedance of 40 ohms and a sensitivity of 88 dB, this floor-standing loudspeaker won't let you down. 
Martin Logan
Like other names on this list, Martin Logan is also known for offering high-fidelity speakers using their proprietary technology. The Folded Motion tweeter technology and the CLX DualForce Bass offer deep and dynamic bass, building upon the original ESL technology (Electrostatic). 
The ESL speakers feature a thin diaphragm covered with conductive material placed between two grids that are also conductive. The sound is created when electricity moves over the grid and makes the diaphragm move. This technology creates no crossover, low distortion, and fast response. 
One of the best products made by Martin Logan is the Motion 60XTi, which is the flagship of the Motion series. It features all the successful technologies developed by MartinLogan engineers, including the original electrostatic acoustics. 
The signature XT ribbon tweeter and the multiple folding give the tweeter a diaphragm larger than the fabric dome. It combines high-quality sound with a retro design, making the set visually appealing and functional. 
Best Audiophile Brands Making Amplifiers
Naim and NAD are two famous brands making amplifiers. But the following brands are even better. 
Cambridge Audio
This British company has been around since 1968 and has been producing audiophile equipment since 2005. They use their proprietary technologies, including Class XD amplification and have won several awards for being the best stereo amps. 
One of the best products made by Cambridge Audio is the CXA81 (available on Amazon). With a 4.8 out of 5-star customer rating, it's proven to be one of the best audiophile amplifiers on the market. 
The two-channel stereo amp delivers 80 watts of power per channel and features a built-in DAC. It offers many connectivity options, including USB, Bluetooth, and coaxial. The Bluetooth connection makes it a wireless choice that allows you to play music via your smartphone, computer, or tablet. 
The sound is amazingly clear, detailed, and rich, making it an excellent choice at a reasonable price. 
Rega
Rega is another award-winning British company specializing in Hi-Fi equipment, including speakers and turntables. Its handmade products have been around since 1973, making it one of the most reputable companies in the world of Hi-Fi equipment. 
One of its best amplifier offerings is the Rega io (available on Amazon). Although it's an entry-level audiophile amplifier, it has Rega's signature quality that's consistent in all of its products. 
It delivers a transparent, rich, and clear sound with great speed, agility, and detail. Its minimal design bodes well with traditional audiophiles who prefer some good old features and a simple design but a detailed and crisp sound. 
That said, it doesn't have any digital connectivity options, limited to two line-level inputs, a phono input, and a headphone jack. However, this limited connectivity has contributed to its clear and transparent sound output because there are fewer components to introduce noise. 
Audiolab
Audiolab has been in the Hi-Fi business since the early 1980s. It has produced many popular Hi-Fi components, especially integrated amplifiers. However, they have produced other devices like CD players and preamps. 
Their most popular product, which led to their worldwide recognition as a reliable brand, was the Audiolab 8000A. Its combination of slim but quality design, excellent sound output with little distortion, and great treble and bass controls made the product stick out at the time. 
The company included the same features to offer the same reliability and sound quality across all its products. But they refined each feature to catch up with the latest technologies. The Audiolab 6000A (available on Amazon) is a true testament to this principle. 
This dual-channel mono power amp delivers 75 watts of power per channel and can drive a wide range of speakers. 
It has the same build quality that Audiolab is famous for, with a solid but slim case and an elegant finish. It amazes you with its tonal balance, clean and distortionless sound, and considerable punch. 
Best Audiophile Brands Making Headphones
Creative, Genius, Philips, and Aerial7 are among the big names in the audiophile headphone industry. But the following are our best picks. 
Sennheiser
Sennheiser is a popular and widely-known name among audiophiles, especially because it offers its products at a vast range of prices to cater to different budgets and tastes. The company also produces a wide range of products in addition to audiophile headphones, including: 
Wireless headphones 
True wireless earbuds 
Soundbars 
Home audio headphones 
One of their best audiophile products is the in-ear headphone, Sennheiser IE 800 S (Available on Amazon). It blocks all ambient noise and features proprietary XWB transducers. With its ergonomic design and ear adapter kit, it sits perfectly and comfortably inside the ear to deliver the most isolated sound in a small form factor. 
Amazon customers are thrilled by the punchy bass it delivers without fatiguing the ears. Made in Germany, these handmade headphones have a frequency response of 5 – 46,500 Hz and a sensitivity of 125 dB, making them a remarkable set for Hi-Fi experience. 
Grado Labs
Grado Labs is a New York-based company specializing in making handcrafted headphones. This family-owned business has been active since 1953, focusing on delivering high-quality sounds. In addition to phono cartridges, they make a wide range of headphones, including wireless and over-ear headphones. 
The Grado SR80x Prestige Series (available on Amazon) is one of the best open-back headphones for the price. This headphone is the modern version of the SR80 model that made Grado a reputable brand in the audiophile world. 
The modern drivers deliver even less distortion and a clear, clean, and more detailed sound. And all this extra power comes with a lightweight and comfortable body that doesn't strain your head as most open-back headphones do. 
Audio Technica
Audio Technica is another popular brand among audiophiles delivering Japanese-quality products, including cartridges, turntables, and award-winning headphones. They produce noise-canceling, truly wireless, and high-fidelity gaming headphones with their signature styling and design. 
The Audio Technica ATH-M50X model (available on Amazon) is a critically-acclaimed set made of high-quality materials like copper-clad aluminum wires and earth magnets. Beginner audiophiles and even some professional audio engineers love this product for its clear, accurate, and detailed sound with punchy and deep bass. 
The build is sturdy and comfortable, made of durable materials that will last for years. 
Best Audiophile Brands Making DAC
There are many different names in the audiophile DAC market, including Marantz, Moon, and Rega. But the following are our top picks. 
Chord Electronics
If you're not new to the realm of audiophile music, you must have heard of the Chord Electronics products. They have a wide range of Hi-Fi equipment, including streamers, preamps, power amps, phono stages, integrated amps, and most notably, DACs. 
The Chord Hugo 2 (available on Amazon) is one of their most popular models, although it may look a bit weird. It's compact and portable, although it's not that lightweight to carry around easily. It has an entire range of connectivity options, including: 
Digital optical input 
Digital coaxial 
USB 
Bluetooth 
Headphone outputs 
Stereo RCAs 
It also comes with four color-coded buttons to help you control the features more easily. 
But most notably, Hugo 2 is loved for its high-fidelity output with punchy and dynamic performance. It can handle every musical instrument impeccably, delivering a crisp, detailed sound no matter what you play. 
iFi Audio
iFi Audio is an innovative company producing a wide range of audio devices, most notably DACs. The iFi Zen DAZ V2, available on Amazon, is remarkable for delivering high clock speeds and high-capacity memory chips. 
It also supports a wide array of files, including PCM and DSD, allowing you to listen to different sources. Interestingly, you can use it as a digital preamp by switching between fixed and variable outputs. 
This featured-packed DAC delivers a smooth, clear sound with TrueBass technology, variable analog volume control, and PowerMatch adjustment. 
Best Audiophile Brands Making Turntables
Rega and European Audio Team are among the most recognized names producing turntables, in addition to the following. 
U-Turn Audio
U-Turn Audio is in Woburn, Massachusetts, making all their turntables by hand. Although they produce other sound equipment, including speakers and preamps, they shine in the turntable section. 
They test their turntables meticulously and use high-quality materials to reduce resonance and increase precision and minimize vibration with their signature belt drive that offers maximum stability. 
One of their best products is the U-Turn Audio Orbit Special (available on Amazon), with a built-in preamp that enables it to connect directly to amplifiers or speakers. The turntable is particularly stable because of the plinth made of hardwood. Vibration and noise are further reduced by the belt that makes the motor sit far from the turntable. 
It's also compatible with different cartridges because of its heavy counterweight. This feature allows you to upgrade your turntable with any needle or cartridge. The custom tonearm and anti-skate mechanism also provide more stability, making the turntable a perfect choice. 
Pro-Ject
Anyone familiar with the world of Hi-Fi music has heard of Pro-Ject products that cater to various tastes and budgets. While they make preamps, amps, headphones, and many electronics, they're unbeatable in the realm of turntables. 
Pro-Ject Debut Carbon EVO (available on Amazon) is an audiophile-quality turntable made with high-end technologies. It features carbon-fiber tonearm and sapphire tonearm bearings, making it low-friction and low noise. 
It also features heavy-duty metal feet that you can adjust to minimize vibration and put on any surface. It's also easy to set up, and you can play it out of the box, with no more extra things to add.