Whether you're out on a morning jog or just sitting back to relax, using headphones is a great way to enjoy your favorite music or podcast. Headphones allow us to enjoy excellent sound quality anywhere we go due to their portability, but their fit isn't always perfect. If you find that your headphones are too loose, there are a handful of things you can do to fix it. 
Here are 6 tips on how to keep headphones from falling off your head:
Experiment with different types of headphones to find the best fit
Make sure you're wearing your headphones correctly
Bend the headband to tighten fit or install additional padding
Wedge Q-tips or cotton swabs into the headphone hinges
Tighten zip ties around the hinges to secure them
Wear ear warmers over the headphones
This article will help you determine what type of headphones best fit you, how to wear them correctly, and different ways to make them fit more securely.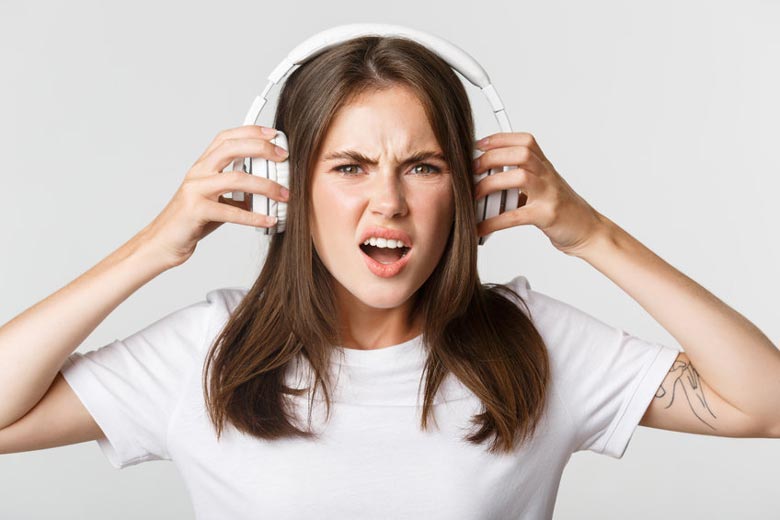 1. Experiment with Different Types of Headphones to Find the Best Fit
Headphones come in different varieties, each of which has a unique style, shape, and size. Some headphones will naturally fit you better, but you also have to factor in how you intend to use them to determine the best one.
There are four general types of headphones: 
On-ear
Over-ear
Earbuds
In-ear
Let's examine them in more detail to see which is best suited for you in terms of fit and function.
On-Ear Headphones
As the name suggests, on-ear headphones have two ear cups that go on your ears. A headband connects the ear cups, keeping them in place while using your headphones.
On-ear headphones generally provide good comfort and fit due to their adjustability and design. However, they aren't as portable as other headphones, so despite how well they may fit, there are better options if you plan on using them on the go.
Over-Ear Headphones 
Over-ear headphones have bigger ear cups than on-ear headphones since they rest over your ears and not on them. These headphones provide more comfort and are less prone to moving around since they are held in place by your ears, aside from the headband.
If you intend to use your headphones while stationary, over-ear headphones are hard to beat in terms of fit, comfort, and sound quality. However, their bulky design also means they aren't your best bet if you intend to use them while moving around.
Earbuds
Earbuds are headphones with sound drivers that rest on the edge of the ear canal. These headphones are incredibly portable due to their compact design.
Earbuds offer some comfort, but they might not fit as secure because there isn't much that holds them in place while you're using them.
In-Ear Headphones
Like earbuds, in-ear headphones have small sound drivers. But instead of resting outside the ear canal, they're placed inside it. 
In-ear headphones are just as portable as earbuds. However, they are less prone to falling off since they fit more snuggly in your ears.
Over-ear headphones will still provide more comfort and better fitment, but in-ear headphones are the way to go if you need portability.
2. Make Sure You're Wearing Your Headphones Correctly
If you already have a pair of headphones, you can still minimize the chances of them falling off by simply making sure you wear them correctly.
Regardless of what type of headphones you have, wearing them the correct way will significantly help ensure they don't fall off.
How To Wear On-Ear and Over-Ear Headphones
Despite being symmetrical, headphones have a designated orientation for which sound driver goes into your ears. You'll know which driver is for the left and right ear by looking for an L and R label.
Once you've figured out the orientation, make sure the headband sits on the middle of your head. Having the headband tilted to one side will add unnecessary weight to the ear cups, making them more prone to falling off.
If you're using on-ear headphones, make sure they rest on your ears securely without feeling too constricting. Placing the headphones towards the lower part of your ears will affect sound quality and compromise their ability to stay in place.
The sweet spot is usually where the earpads rest firmly on the outermost part of your ears.
For over-ear headphones, ensure the earpads surround your ears.
Try to center the headphones without any part of your ear protruding from the earpads. Placing the earpads around your ears will lessen the chances of them moving around and give you the most comfort.
Both On-ear and Over-ear headphones will offer a good level of adjustability. Adjust the height of the headphones so that the headband and earbuds rest firmly in place.
For wired headsets, you can run the cord through your belt loop or use cable clips to keep them from getting in the way for wired headsets.
The BBTO Earphone Wire Clips (available on Amazon.com) are durable plastic and incredibly lightweight and portable, making them a great addition to any wired headphone.
If you want to save a few bucks, you can also take the DIY (do-it-yourself) route and make the hooks using twist ties. Simply wrap the twist ties several times around the stalk of the earbuds, then form a curve with the remaining part of it.
How to Wear Earbuds and In-Ear Headphones
After determining their correct orientation, place earbuds snuggly on your ear's concha. Adjust the earbuds so they fit comfortably, and use the crevices of your ears to hold them in place.
Additionally, you can purchase accessories such as ear hooks to keep your earbuds from falling off.
The elago Ear Hooks (available on Amazon.com) are highly ergonomic and ensure your earbuds fit comfortably and firmly. They are compatible with AirPods 3, AirPods Pro, and AirPods 1 and 2.
When wearing in-ear headphones, pull your earlobes to widen the opening of your ear canal. Once the nozzles are snuggly in place, let go of your earlobes. Doing this will help your ears clamp down on the earpiece.
Some in-ear headphones have cords designed to go over or around your ears. Looping the wire around your ears will help prevent your headphones from falling off.
3. Bend the Headband to Tighten Fit or Install Additional Padding 
Despite their adjustability, over-ear or on-ear headphones may still be too big for smaller heads. If this is the case, you can make the headphones tighter by doing a simple hack.
Place the headphones on an object, like a stack of books, where they will loosely fit. Wrap the headphones with a cord or an elastic band to tighten them and hold them in place. Leave them there for 1 to 2 days, or until the headband is tight enough to fit your head.
This technique may or may not work depending on your specific model and what material it's made of etc.
Another option is to install additional cushions or padding for the headbands to keep them from moving while making the headphones fit tighter.
There are universal cushions that fit numerous headphones like the Geekria Headband Cover (available on Amazon.com); it even has a zipper for easy installation.
4. Wedge Q-Tips or Cotton Swabs into the Headphone Hinges
Many over-ear and on-ear headphones have hinges connecting the earpads to the headband that allow you to fold the headphones when not in use.
If your headphones tend to fall off because they are too wide, you can insert a q-tip in the hinges to keep them fully opening. Inserting q-tips in the hinges will make the headphones tighter and prevent them from falling.
You can also use cotton balls to achieve similar results. Simply force the cotton balls into the opening near the hinges enough to wear the headphones can't fully open. If you prevent the headphones from opening, they should be tighter against your ears. 
It's maybe not the best solution but it can actually work as a temporary fix.
5. Tighten Zip Ties Around the Hinges to Secure Them
You are also able to use zip ties to prevent the hinges from fully extending. If you wrap the zip ties around the hinges and tighten them, you should be able to secure the earpieces in place.
If they are tight enough, they will squeeze around your head tighter and may not fall off as easily. 
6. Wear Ear Warmers Over the Headphones
Another effective hack is to wear ear warmers over your headphones. Ear warmers may not be the most fashionable clothing, especially if you live in a warm climate, but they will undoubtedly keep your headphones in place.
This works especially well with earbuds, but it could also work with headphones as well. 
Key Takeaways
Try on a variety of headphones before purchasing one. Make sure to consider how you intend to use them, aside from making sure they fit well.
If you already have a pair of headphones, you can do the following to keep them from falling off:
Wear them correctly
Purchase accessories like ear hooks or headband cushions to make them fit more securely
Make them tighter using ear warmers, Q-tips, or zip ties