Smartphones have become such an indispensable part of our lives that we can do just about anything with them. Even listening to audiophile music on your iPhone or Android is possible with all the advances in the smartphone's hardware and software technology. So, you might be wondering how you can get audiophile-quality sound from your smartphone.
Here's how to get audiophile sound from your iPhone or Android:
Listen to hi-res files.
Use audiophile-grade music apps.
Get Hi-Fi headphones.
Buy a headphone amp.
Use a DAC.
Use wired equipment instead of wireless.
Although smartphones are so advanced that you can download and listen to audiophile-grade files, it's not enough. You also need other audio gear to get the best out of your smartphone. Read on to see how to get the best sound quality from your iPhone or Android.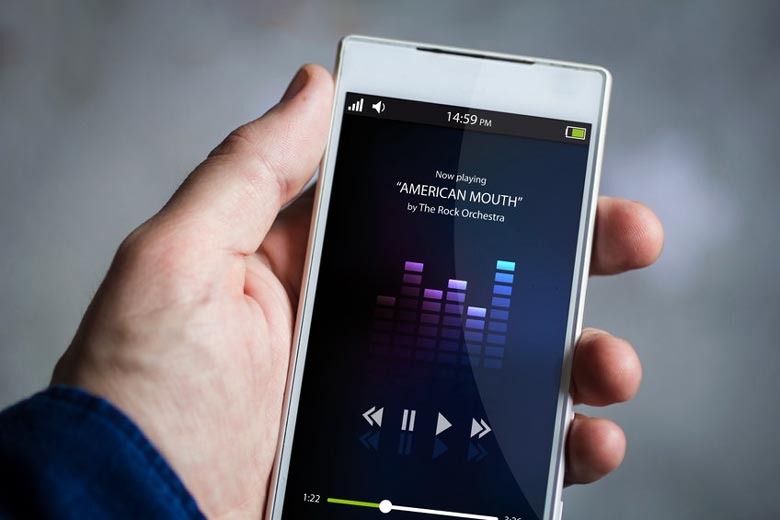 1. Listen to Hi-Res Files
The first element that determines how high-quality your music will be is the actual audio files you've downloaded to your phone. You could either download your favorite tracks or use a streaming service.
Let's explore each option in more detail to see what can give you the best sound quality.
Streaming Services
These days, you can use multiple streaming services to listen to audiophile-grade music at reasonable costs. These services offer different membership plans to give you access to millions of tracks. For example, you could have a limited free membership, free premium trials, or a paid subscription.
In addition, these services offer file formats with different sound qualities at varying prices. You need to get the hi-res files if you want audiophile sound quality from your Android or iPhone. 
Here are some of the best streaming services you can choose from to get audiophile-grade music:
---
Amazon Music
Amazon Music is one of the best music streaming services. It's affordable and offers different membership tiers for high-resolution music. It has a special discount for Prime members and offers CD-quality "High Definition" tracks in addition to "Ultra HD" quality at 24-bit/192kHz, the highest streaming quality available.
Amazon Music supports the all-important FLAC format and offers 75 million "High Definition" songs and over 7 million songs in "Ultra HD". It's compatible with different platforms, including: 
Not only will you get high-quality sound for your Android or iPhone, but you can also listen to HD tracks on your PC or Mac.
The service has a desktop app, a web player, and a mobile app that allow you to listen to hi-res files on a wide range of devices.
I recommend you to try it out for yourself, there's a free trial. If you don't like it, you can just cancel it at any time.
---
Tidal
No list of the best streaming services is complete without Tidal. Since it was launched in 2014, it has offered different streaming services. There are two different tiers nowadays, HiFi and HiFi Plus.
Tidal allows you to listen to over 80 million songs in lossless format and 1411kbps. And its Master quality songs in the HiFi Plus service offer the highest resolution between 2304-9216kbps. You can also enjoy Dolby Atmos Music and 360 Reality Audio to give you a more immersive listening experience.
In addition to offering hi-res music and millions of tracks, Tidal supports many devices, including iOS, Android, streaming devices, and PCs.
Tidal has been very popular among audiophiles for the high quality and for the fact that they seem to pay the artists more than some other platforms.
Tidal also offers a free trial.
---
Apple Music
Apple Music offers lossless streaming at a reasonable price and has become quite popular among both casual listeners and people with higher demands on audio quality.
Many people think that Apple Music only works with iPhone and Mac, but that isn't the case. Both Andriod and PC users can also take advantage of Apple's giant library of songs.
The file format used is Apple Lossless Audio Codec (ALAC), and it comes at varying qualities. The high-resolution files go up to 24-bit/192kHz.
Also, Apple Music lets you experience spatial audio with Dolby Atmos.
You can choose between over 90 million songs on Apple Music!
Another great option for streaming hi-res audio is Qobuz. You can read about the service a bit down this post.
---
Spotify
You may be surprised to hear that Spotify, one of the most popular music-streaming services, doesn't have a Hi-Fi tier yet. Currently, Spotify offers more than 80 million tracks streaming at only 320kbps, which unfortunately isn't acceptable for some audiophiles.
However, the service had promised to offer its hi-res tier in 2021 and then 2022, but it's not here yet. However, since Spotify has officially announced the Spotify Hi-Fi service, you might want to use it in the future.
Apart from the lower audio quality, many audiophiles (and others) really like what Spotify is offering in terms of user experience. It's probably the best streaming service when it comes to playlists, finding new artists, and music suggestions.
For that reason, some audiophiles actually have Spotify as well as another streaming service that offers higher audio quality, and use them both.
Download Hi-Res Files
In addition to streaming online, you may want to have a library of hi-res music for offline listening. The services mentioned above only offer online streaming or listening in the offline mode. But if you want a true offline music library, you can find online services that allow you to download the actual audio files.
These websites offer hi-res tracks with different qualities, bitrates, and prices. So, it's better to shop around to find your favorite song or album at the best deal.
Check out some of the most widely-used ones here:
Qobuz
Qobuz is among the websites that allow you to stream hi-res music or download audio files through its website or app. It has a library of more than 220,000 albums in audiophile-grade quality with two different bitrates of 24-bit/44.1kHz and 24-bit/192kHz.
You can find various audio file formats, including: 
The service also offers hi-res titles in 5.1 surround sound. However, the website doesn't allow you to download individual tracks, meaning you need to purchase full albums.
HDtracks
Launched in 2008, HDtracks has become an authority in offering hi-res titles with arguably the largest collection of downloadable items. What makes this website unique is the wide range of file formats and music genres it offers. Most websites that offer hi-res music for download have a limited file format selection — you can often only get FLAC.
On the other hand, HDtracks offers:
In addition, when you select a file format, the website allows you to choose the sampling rate too. The wide range of music genres, from jazz and classical to hip-hop and fusion, make it the go-to option for many audiophiles.
Bandcamp
Bandcamp is a bit different from other services — it allows bands and artists to directly manage what they offer on this website and how their tracks are priced. They can upload their tracks and albums in different file formats, including lossless audiophile quality.
You can even find free downloads for iOS and Android devices in FLAC, ALAC, AIFF, and WAV formats. Plus, the service allows you to purchase music to give others as a gift, and some of the albums and tracks are even available on CD and vinyl.
Physical Formats
While streaming and downloading music from websites can be convenient and gives you access to millions of tracks in the comfort of your home, many audiophiles prefer to forage their local music stores for CDs and vinyl. 
The music on CDs and vinyl is typically lossless, and you can purchase it at a much lower price compared to streaming services. In addition, some audiophiles believe that streaming services fail to deliver certain aspects of the music intended by the musician, even in the lossless formats. 
Plus, they think live streaming can sometimes be too much of a hassle when your internet connection is slow, especially when listening on a mobile device over cellular data.
But how do you get the physical format to your iPhone or Android?
Well, you can easily rip the FLAC files from the CD and transfer them to your smartphone without losing the audio quality, making it much cheaper than using online services.
2. Use Audiophile-Grade Music Apps
Having hi-res files on your smartphone is one thing and playing them is another. Not every music player app can play high-fidelity music — lossless music requires a compatible music player. That's particularly important when you play music on your smartphone because it's a major contributor to sound quality.
Here are some of the best audiophile-focused music apps for Android and iOS:
VOX
VOX is one of the best apps for iPhone and Mac, offering a plethora of hi-res formats, including APE, ALAC, WMA, WAV, etc. 
You can even access Spotify, Qobuz, SoundCloud, iTunes, and radio through it. This way, you can have a lot of music libraries in one place.
It also has a simple interface and is easy to navigate with few tabs and an intuitive design. The app's different control features allow you to manage your music from your headphones or with taps, swipes, and scroll gestures.
VOX also supports gapless playback, Sonos, and CarPlay. The app is free to download and use but to use all features available you need to pay for Vox Premium, which isn't too expensive.
I can absolutely recommend you to give it a try. Check it out here!
Poweramp
When it comes to the best Hi-Fi smartphone apps, Poweramp is one of the frequently mentioned names. It plays a wide array of audio formats, including:
FLAC
WAV
AIFF
DSD
APE and many others
It has a slew of features that let you customize your audio-playing experience, including:
A 10-band graphic equalizer
Bass and treble adjustment
Crossfade
Visual themes
Different volume levels
Despite this wide range of features, the app's interface isn't confusing or overwhelming.
However, this app is paid, with a 15-day free trial, and only supports Android devices.
Neutron
This app is specifically designed for audiophiles, offering a host of features thanks to their proprietary Neutron HiFi™ Audio Engine technology. You can play many different file formats, including: 
FLAC (8 to 32-bit)
AAC
M4A
WMA
ALAC
APE
MV
WAV
MPC and more
Neutron is available for both Android and iOS.
Average users complain about its complex interface that takes some time to navigate. However, that's an inevitable part of an audiophile-grade app like Neutron. It features a 32/62-bit audio engine and platform-independent audio processing, giving you a Hi-Fi experience regardless of your platform.
One of the most notable features of Neutron is that it can support both internal and external DACs. That means you don't need an external DAC if your smartphone has a robust internal DAC as the app can fully utilize it.
3. Get Hi-Fi Headphones
Even if you have the world's best smartphone with audiophile-grade features and apps, you won't get a Hi-Fi output if your headphones can't handle it. 
In fact, getting Hi-Fi output from your Android or iOS device depends on several factors, each having the same degree of importance. So, you can never underestimate the value of a pair of high-quality cans.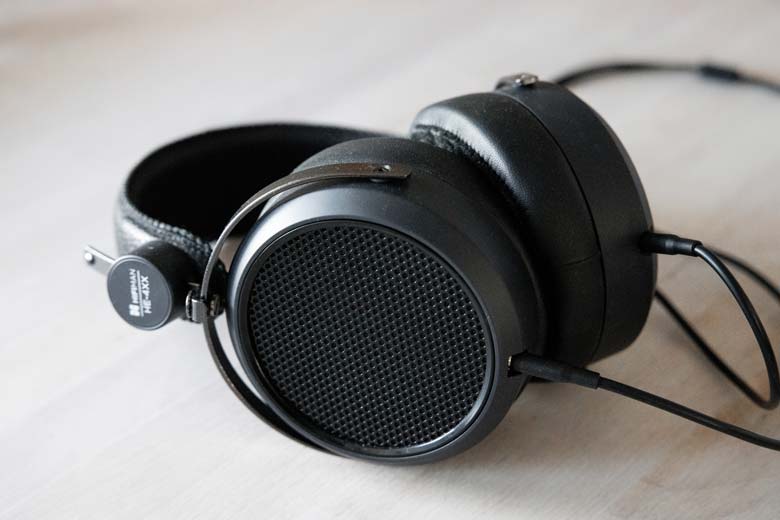 In general, you'll be picking between over-ear, on-ear, and in-ear headphones. The names are self-descriptive, and you're probably familiar with how they look and feel. All of them can be an excellent choice for portable audiophile music, so don't worry about that.
It's worth noting that headphones can have either an open-back or closed-back design. The difference is that a closed-back model is going to block out some of the noise around you, while open-back models are open and ventilated which means that they leak sound both in and out of the headphones.
If you listen in a quiet environment by yourself, you could choose an open model to get better comfort, a more airy feeling, and (generally) a more natural sound with a good soundstage.
Closed-back headphones will be the better choice if you want private listening among other people. They (and in-ear monitors) are the only option if you want to listen to music without too much interference from noisy things around you.
Listening to music with open-back headphones on the bus something like that isn't something to recommend. You will need to turn up the volume really high which can damage your hearing.
Anyway, if you are interested in over-ear headphones, we made a list of great models to choose from.
Do you prefer in-ear monitors? We also recommend a couple of popular IEMs as well.
Over-Ear Headphones To Consider
In-Ear monitors to consider
If Money Isn't a Problem
Isn't money a problem for you? The headphones below are some of the best closed-back headphones out there. They are definitely not cheap, but the quality is outstanding!
---
SENNHEISER HD 820
One of the best names in the world of audiophile headphones is Sennheiser. This brand is famous for its robust design and powerful performance. This model features glass reflectors and innovative frequency absorbers that can match the sound quality of Hi-Fi monitors. It offers an impressive level of accuracy, and they handle bass fantastically!
The German build quality leaves nothing to be desired. The earpads are soft and comfortable, resting seamlessly on the ears to minimize noise leakage. It also comes with a 4.4mm (0.17in) Pentaconn cable so you can connect it to your headphone amplifier.
While you may think that the closed-back design increases resonance, its vibration-damping headband makes it stable and reduces crosstalk.
The only downside is the headphone's high price tag, which is worth it if you want flawless audiophile headphones.
---
SONY MDR-Z1R
This over-ear audiophile headphone features 70mm (2.76in) HD drivers and a frequency response curve of up to 120kHz, well above the audible range. The all-metal housing ensures zero resonance and a sturdy structure. What's more, the extensive mid-range, great treble, and powerful bass make this pair of headphones an excellent choice for any audiophile listening session.
The all-metal, sturdy body doesn't necessarily mean they're uncomfortable or heavy. Quite the opposite: they're surprisingly soft and light while offering great isolation and a crisp, detailed sound that totally justifies the high price tag.
---
4. Buy a Headphone Amp
You might think that amplifiers are only for speakers, but depending on your headphones, it can be essential to have one if you want audiophile quality from your smartphone. Your smartphone has a built-in amplifier, but it can't compare to a dedicated headphone amp.
That's because built-in amplifiers are weak, especially those found in smartphones.
Like full-sized amps, headphone amps can be divided into tube and solid-state. Tube amps use glass vacuum tubes that produce a warm sound output. Solid-state amps use digital transistors that create a clear and crisp sound.
If you decide you need an amp, there are some characteristics you should check. The most important one is impedance, which is the headphone's resistance to an electrical signal. As you see, it's a feature related to both headphones and amps.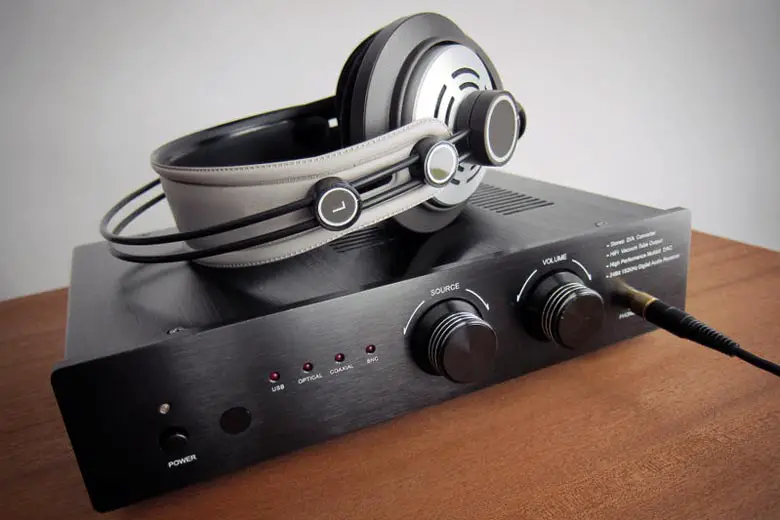 Impedance is measured in ohms — the higher your headphone's impedance, the stronger its resistance to an electrical signal, and the larger the need for a powerful amplifier.
Headphones can have an impedance of up to 600ohms. In general, if it's over 100hms, you should get an amplifier to have enough power to drive the headphones. 
Even if your headphones' impedance is low, you may want a dedicated amp for better sound quality.
Depending on your needs, you can choose between a portable and a desktop amp. If you want to listen to Hi-Fi music on the go, you should go for a portable amp, which fits into your pocket. Otherwise, you may want to choose a desktop amp that's more powerful and can drive more than one set of headphones.
Newer models, especially portable ones, have built-in DACs that reduce noise and interference, but more on that later.
A headphone amp sits between your smartphone and the headphones. It takes the low-voltage signals from your smartphone and raises the voltage to a level acceptable by the headphone. It works just like a full-sized amplifier, but it's less powerful.
Great Headphones Amps To Consider
---
iFi ZEN CAN
This standalone headphone amp has everything you need from an amp. IFi's flagship device offers an immersive, low-distortion, and noise-free sound. It has several connector options, including a 4.4mm (0.17in) Pentaconn, a 6.3mm (0.25in) headphone output, a 3.5mm (0.14in) line out, as well as RCA ports which allow you to connect the amp to a wide range of devices.
This headphone amp is strong enough to drive the most power-hungry headphones, like the Hi-Fi headphones you may use for your audiophile setup.
---
Monolith Liquid Platinum
This hybrid headphone amp consists of two tubes and solid-state circuits to give you the best of both worlds: the tubes' warm output and the solid-state's crisp sound. It offers multiple input and output connections to make it compatible with any device, including your smartphone.
This amp offers a clear, controlled bass and great midrange, with a smooth output. You can't go wrong with this powerful amp if you have high-end headphones. 
---
iFi Hip-DAC Portable
If you're looking for a powerful portable headphone amp/DAC combo, the iFi Hip-DAC is the way to go. As with most portable devices, it runs on batteries, which last up to 6 hours. It's light and slim, allowing it to fit easily into your pocket.
If you want an, even more, portable solution that doesn't need a built-in battery, you should definitely look at AudioQuest DragonFly! (More on that further down.)
The built-in DAC eliminates the need for another dedicated DAC. This way, it gives you a better sound quality by bypassing the built-in DAC in your smartphone.
This amp features TrueBass technology that boosts the bass, making it a perfect option for open-back headphones with a weaker bass.
---
5. Use a DAC
The DAC is another essential part of the signal chain in any audiophile setup. A Digital-to-Analog converter is a device that turns the digital signals received from the smartphone into analog signals your headphones can use.
All smartphones, tablets, laptops, and other devices that play digital music have built-in DACs, enabling us to listen to music without any external equipment.
But as you might've guessed, a built-in DAC is nowhere near as effective as a dedicated one. A DAC built into a smartphone has to be tiny to fit into the small form factor, so it can't deliver the Hi-Fi quality sound an audiophile desires.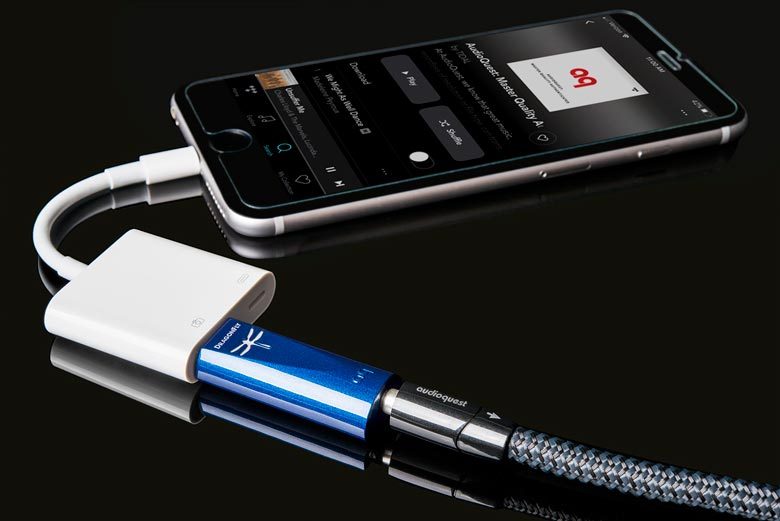 You can find portable and desktop DACs, depending on your needs. Portable DACs can be as compact as a dongle that connects to your smartphone through a USB port and wirelessly receives signals from your headphone.
If you choose a desktop DAC, make sure to select one with a wide array of connectivity ports that allow you to use different devices, including a laptop or tablet, if you need to.
Related article: Do You Need BOTH a DAC and an AMP?
Here are a few recommended external DACs that you can use with your Android or iOS smartphone:
---
iFi Zen DAC V2
This DAC by iFi is a compact and stylish unit that works both as a DAC/amp combo as well as a dedicated DAC paired with another amp.
iFi Zen DAC V2 is a popular model that has received a lot of great reviews and has got high scorings in multiple professional tests.
It's perfect for connecting to a smartphone, thanks to its USB 3.0 input. You could also connect it to any digital music player if you need to. Plus, it has balanced and unbalanced output ports that allow you to choose the connection based on what headphones you got.
Its innovative, new-generation design can support many different file formats, most notably DSD and PCM. It's also a full MQA decoder, which is perfect for use with a smartphone as you listen to hi-res and MQA-coded files received from streaming services.
Overall, it's an affordable DAC that can deliver a clear sound and compares to more expensive models.
---
AudioQuest DragonFly Cobalt
If you want to listen to your Hi-Fi music on the go, the AudioQuest DragonFly Cobalt portable DAC/amp combo is for you.
It looks like a dongle that connects to your smartphone via USB (or an Apple Lightning-to-USB adaptor for iOS devices).
The DragonFly Cobalt features an advanced chip that delivers a clear and natural sound while increasing its speed and reducing noise. It has a wide range of sampling rates, from 44.1 to 96 kHz, in addition to decoding MQA, which it can show you thanks to its color-coded LED lights.
However, that's not all this Dragonfly Cobalt excels at — it features a robust build quality and a small form factor that makes it extra portable without sacrificing sound quality.
If you don't need maximum power/quality, you could instead look at the DragonFly Red or Blue version.
---
6. Use Wired Equipment Instead of Wireless
In addition to the audio equipment you decide to add to your smartphone setup, the difference between wired and wireless can greatly affect the final sound quality. 
Since you use your smartphone as the primary music source, you may decide to go all-wireless for different reasons — you may like listening to music wherever you want or have an all-wireless set up to enjoy the latest technology.
However, audiophiles prefer wired connections across all devices to get the highest fidelity sound possible. Here are a few good reasons why you should go for wired equipment:
Reliability
Wireless devices offer a high level of convenience because there's no cable that could limit your mobility. So, they're necessary when portability is the first deciding factor. 
However, a wired connection is better if you have a stationary setup and only use your smartphone as the music source because you don't have any other choice. That's because there are no batteries to be worried about or Bluetooth connection getting lost. 
In addition, Bluetooth devices are more delicate and prone to failure than their wired counterparts, making them more sensitive to drops.
Price
Wireless headphones are more expensive than wired cans, though they can't compete with them in features and functionality. 
You can get a more advanced wired device with better capabilities by spending less on a wired device. In addition, since wireless devices work on batteries, you need to spend more once they reach the end of their lifespan.
Better Sound Quality
And finally, the most important factor for audiophiles is that wired devices deliver much better than wireless ones. As mentioned, wireless devices send signals via Bluetooth, which isn't as reliable as a cable. 
The chance of losing data from a Bluetooth connection is much higher than via cables. Naturally, the less data is lost, the better the output sound quality.
Final Thoughts
With smartphones present in all aspects of our lives, it's no wonder audiophiles want to get Hi-Fi music out of their Android or iPhone devices. Today's smartphones have advanced hardware and software that enable us to listen to Hi-Fi music.
Using other Hi-Fi equipment can make a big difference in the final result, allowing us to listen to true audiophile-grade music.