When you purchase new speakers, you may have heard the phrase "run them in." Now, you might be thinking that you don't need to do that. So, do Hi-Fi speakers actually need running-in?
Hi-Fi speakers need to be run-in to enjoy their full sound quality. Hook the speakers up as you normally would, or have them face each other and reverse the polarity. Play music at slightly higher than listening volume. The time to run-in speakers varies, but it's recommended for at least 36 hours.
Let's take a closer look at how to run in your Hi-Fi speakers.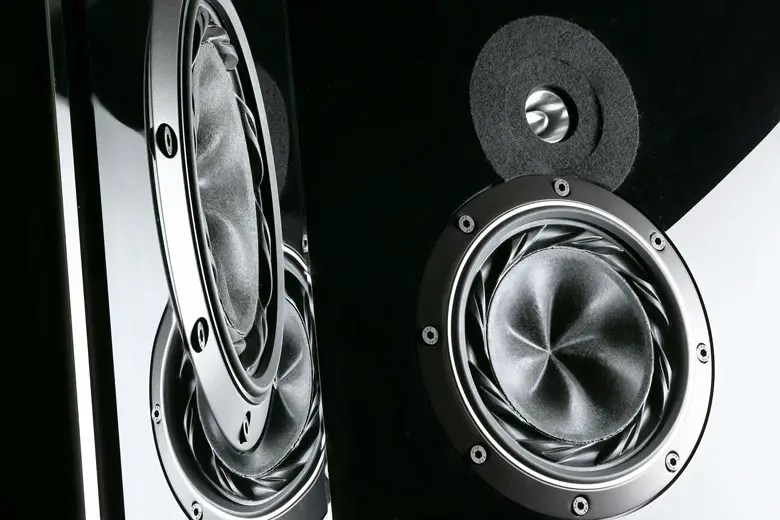 What Does It Mean To Run-In Speakers?
Running in your Hi-Fi speakers is essentially breaking them in the same way you would a new pair of shoes. Your new speakers have many brand new parts that haven't been moving yet, so the sound isn't going to be at its best at first.
Just like a pair of brand new shoes might not be so comfortable, speakers might sound high-pitched and squeaky if not run-in.
Do you absolutely have to run-in your speakers? No. Will it help? Absolutely. 
It's up to you to decide if you want to spend the time and energy to do it. While the process is straightforward and easy to do, many feel they don't want to wait.
Running-In Speakers Helps Break Them In
When you receive a new set of speakers, the inside parts need to be worked out to provide the best sound, which is why it's essential to run-in your speakers. Running-in your speakers will give the internal pieces more elasticity.
The sound your speakers make will change over time. This change in sound stems from the shift in parts and can be quite frustrating. Perhaps your speakers sounded great right out of the box four months ago, but now they don't sound so good. 
Running-in your speakers allows you to bypass that timeframe and enjoy the authentic sound your speakers have to offer.
There are layers of fabric, drivers, and other components of your speakers that shift and change as the vibrations run through the sounds you play.
Hi-Fi Speakers Need To Be Run-In
Some may tell you that your Hi-Fi speakers don't need to be run-in, but that isn't the case. Your Hi-Fi speakers will benefit from being run for several hours straight, a process that'll stretch out that spider fabric over the cone.
The more elasticity in this fabric, the better bounce back your cone will have, creating a better listening experience for you.
If you don't run-in your speakers, this shift in sound will happen regardless. However, it'll occur slowly and likely unevenly, causing you to hear odd distortions that ruin your listening experience. You may also believe your speakers have broken. They're probably not damaged and are simply broken in. 
Set Your Speakers up One of Two Ways
There are two ways for you to run-in your speakers. Both of these will get your speakers broken in, and they both take time.
If you're willing to put in the time, you'll feel confident that your speakers are putting out the best quality sound they're capable of playing.
Face the Speakers to Each Other and Reverse Polarity
The first way of running-in your speakers is to position them face to face with each other. Place them roughly 4in (10cm) apart. When connecting their cables, you need to reverse the polarity of only one of the speakers. 
To reverse your speakers' polarity, you have to switch the positive and negative connections of just one. Reversing the polarity will cancel the speakers out, allowing you to crank up the volume on the bass to get more vibrations in your speakers.
Connect Them and Use Them Like You Normally Would
The other option to run-in your speakers is to set them up as you usually would and use them regularly. Many believe that the sound of your speakers will adjust minorly, and it's actually your ears that are simply growing accustomed to the speakers. 
However, this method may result in sound quality you don't like. For example, one of the speakers may run-in at different speeds, causing them to sound unbalanced or distorted.
Use Specific Music To Run-In Your Speakers Matters
Many suggest that you should use a specific type of audio file to break in your new speakers. This music is multiple files that are typically 30 seconds long of super-low bass sounds and ultra-high sounds.
These frequencies work on stretching out the fabrics and membranes inside your speakers, which allow more flexibility and better sounds.
You also want to make sure that you don't blast your music too loudly. Play your audio for the duration of your running-in period at a slightly higher volume than regular listening. 
The Running-In Period Will Vary
The running-in period for a new set of speakers will vary depending on the brand and running-in method. If you are planning to reverse the polarity and have the speakers facing each other, this could take a minimum of 36 hours. 
However, some believe it takes over 100 hours to truly run-in your speakers. Others require you to run-in your Hi-Fi speakers for 50 hours. If you're unable to attempt long hours of continuous play, these timelines could seem overwhelming.
The key to properly running-in your Hi-Fi speakers is to continuously play music and sounds through your speakers. The best thing to do is read through your speaker's manual and give them your best efforts. If you can't run-in your speakers for 100 hours, give it at least 36 hours, and then just continue to use the speakers as you normally would.
Other Tips To Make Your Speakers Sound Great
Running-in your speakers isn't the only way to make your speakers sound great. There are plenty of other outside elements that can affect the way your speakers sound.
Consider the Placement of Your Speakers
The placement of your speakers will also change the way they sound. The further away a set of speakers are from your ears, the more the sound will be distorted.
You also don't want to sit too close or overwhelm your ears. If you're too close, you may notice that the speakers' vibrations are affecting your body as well.
Read more: Speaker Placement in a Small Room: The Complete Guide
Use Proper Support
Your speakers give off vibrations when they play. If your support system isn't stable or level, you can compromise the sound quality.
These vibrations can create a distorted sound due to the speakers' shaking or the movement of the support. 
Turn Off the Displays
As crazy as it sounds, turning off the display can improve your speakers' overall sound quality. This is obviously a minor adjustment, but it could make all the difference for you.
The reason for this is the electrical noise that displays tend to have. It's unlikely everyone will experience this in their average listening, but those who notice it would benefit from turning off their displays while using their speakers.
Take Care of Your Cables
Some suggest that keeping your cables off the floor will improve the sound of your speakers. While this isn't a proven fact, something you definitely should consider is to check your cables.
You want to make sure they aren't tangled and that they fit into their respective ports. Loose or tangled cables will cause a crackling sound as the speakers work to continue playback. 
Read our guide to improve your Hi-Fi sound to get even more tips!
Summary
Many believe that speakers don't need to be run-in to enjoy them. However, speaker sound quality changes over time. To enjoy the best sound, your Hi-Fi speakers actually do need to be run-in.