With the proliferation of wireless connectivity, it has never been easier to stream music from your phone or tablet to your Hi-Fi system. However, this convenience comes at a cost – the wireless transmission of music can introduce noise and interference, which only adds to the pain those of us who value quality over quantity already experience. With so many wireless headphones to choose from, picking out the best Hi-Fi headphones is easier said than done.
The best wireless HI-FI headphones are the Sony WH-1000MX3 Headphones. They're packed with easy-to-use features, produce excellent quality sound across several devices, and are incredibly comfortable to wear for a long time. 
If you're looking to get the best possible Hi-Fi sound, quality performance, and good battery life to last you through the day, check out our list of the best wireless headphones.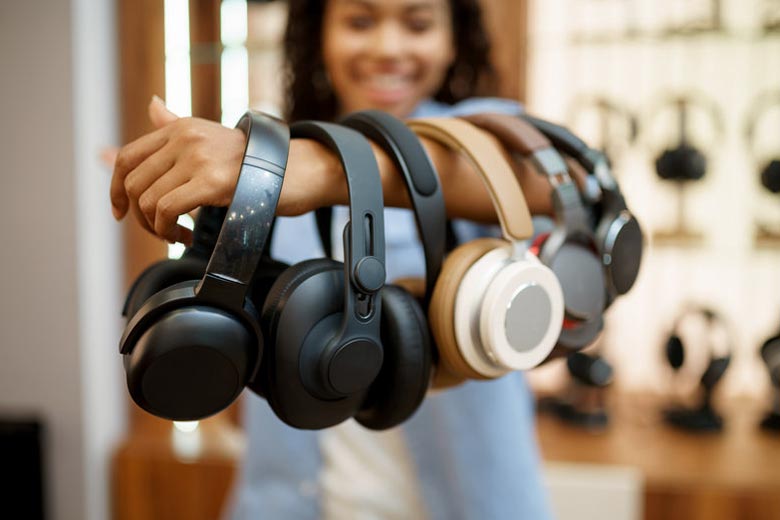 What To Look For in Wireless Headphones
Wireless headphones come in all tastes and sizes. Most brands take an enthusiastic approach to the quality of their products, while others focus more on the features believing that customers want more. 
However, the rapid expansion of the wireless headphone market has led to an explosion of near-identical headphones, making it more challenging to choose a pair you will be satisfied with.
So, which wireless headphone traits are worth your hard-earned cash? Let's find out:
Sound quality: This is perhaps the essential factor to look out for. The headphones' audio quality will depend on the quality of the drivers and other materials inside the cans. Rap and electronic music call for massive drivers (which is why so many companies make headphones just for R&B and hip hop). A set with high-performance mid-range drivers should be enough if you're more into classic rock or country.
Noise isolation: Noise isolation is the ability of a set of headphones to block out external noise. Although only a few seem to get its meaning right, it's a feature advertised by many wireless makers. If you use your headphones to listen to music while doing chores, you don't want the sound of the vacuum or the washing machine distracting you. Find a good pair of noise-canceling headphones with thick, large cups.
Comfort: Headphones are sometimes heavy investments, especially for professionals who depend on theirs heavily. It's only fair that your investment should be met by the level of comfort you need. Comfortable headphones tend to last long, with little or no adjustments required. I recommend spending a bit more money on a decent, comfortable pair of headphones if you plan on using them for a long time.
Battery Life: You'd never be caught with your headphones running low on charge. You want them to last as long as possible without stopping and recharging every few hours. A good rule-of-thumb is that your headphone's battery should have at least two to three hours' worth of playtime before the next charge.
The last thing to consider is what price range they fall into. If sound quality plays a central role in your decision, then be prepared to invest in some high-end headphones that'll offer superior comfort and decent performance for the time being. You can also go with slightly less expensive models as long as you ensure they have the essential features that matter most to you – e.g., noise cancellation.
That said, here are our top picks, which are all available on Amazon.com:
---
Audio Technica never fails to dazzle us with its long line of highly advanced yet fairly-priced products. Audio Technica ATH-M50x Monitor Headphones are just what you need if you're looking for something your pocket can bear. These headphones are incredibly lightweight despite the sturdy design and premium materials.
However, what lies behind the tough-looking shell? Here are a few features you might like:
Key Features
High-grade, comfortable ear pads
DC 3.7 V rechargeable lithium polymer battery keeps them running for up to 40 hours
90° swiveling ear caps
Bluetooth compatible
Includes a copper-clad aluminum wire voice coil, large-aperture 45 mm drivers, and rare earth magnets
Deep, accurate bass
The collapsible design adds to the portability. Simply fold the earcups inwards, and there you have it. When it's time to put them back on, unfold the cups. The circumaural design completely covers your ears away from the outside noise and isolates you into your own world.
What You'll Like
Excellent noise isolation
High-quality, durable materials keep the headphones alive for a long time
Clear, accurate, and high-quality bass
Added comfort
What You Won't Like
The closed design causes discomfort when heat builds up around your ears
No audio control options
Primarily made of cheap plastic
Verdict
Audio Technica ATH-M50x Monitor Headphones are an all-around best fit for music producers, gamers, engineers – you name it. Their performance, durability, and comfort are some reasons you'll love these headphones. If you're all about design, there's something in it for you too. Audio-Technica headphones are sleek and stylish, with a subtle touch that stands out from the pack.
However, if you're looking for more controls mounted on one of the cups, the next item on our list might just make the cut.
---
Sennheiser PXC 550-II wireless headphones are the perfect companion for audiophiles on the move. Don't let the price tag deceive you, though – these headphones pack a powerful punch for your tunes. The design reduces the surrounding ambient noise, while the built-in mic system offers higher clarity in your calls no matter what environment you're in.
Still not convinced? Here are some of the key Sennheiser PXC 550-II features worth your consideration:
Key Features
Adaptive noise cancellation automatically suppresses the surrounding noise
Rotating ear cups
Sennheiser smart control app adds to the flexibility of the controls and helps you personalize settings.
Features a smart pause feature that allows you to pick up from where you left off
Access to Siri, Hey Google, and Alexa voice assistants
More controls in the right earcup help manage your music and calls
The Sennheiser PXC 550-II is a lightweight pair with all the features you need to get through your day. It doesn't have as many premium features as other options in a similar price range. Still, the design looks excellent – reasonably basic but sufficient to get the job done.
What You'll Like
AI supports enhanced voice commands
Long battery life -30 hours
Sufficient padding on the earcups and headband provides extra comfort
Excellent sound quality
What You Won't Like
The high price doesn't justify the basic features
Feels bulky
Verdict
These headphones are tried-and-true, and they are reliable above all else. 
Still, basic features and a hefty price don't meet the true audiophile's dream. While the Sennheiser PXC 550-II Headphones pack some powerful tunes, you can find other options that beat its cost in the market. Our next candidate is a worthy shot if you're looking for a more durable pair.
---
JBL aims to provide fans with the best possible listening experience, focusing on quality sound, and it's a reputable brand that you can trust. That's what I found in the JBL TUNE 750 BTNC Headphones. Each pair looks and sounds great.
The JBL Tune 750BTNC headphones feature active noise-canceling technology, which will ensure you don't miss a moment of your favorite songs.
Key Features
Voice assistants (Google Assistant, Alexa, and Siri voice assistants) and more control buttons on the earcups for hands-free calls
Multi-point connection allows you to switch from one device to another.
The Bluetooth feature saves you from tangled wires.
Massive 40mm drivers
Long battery life of 15 hours (it only takes 2 hours to charge completely)
The JBL TUNE 750BTNC wireless headphones come with unique benefits and drawbacks. The sound profile is fantastic for most content, except in a noisy environment where the noise cancellation feature doesn't block out the noise as advertised. On the bright side, here are a few pros:
What You'll Like
Easily foldable and lightweight, which makes them the perfect traveling companion
Support a wired setup
Excellent sound quality
What You Won't Like
The headband is quite uncomfortable for long hours
The Active Noise Cancellation feature needs some more work
Blasts high volume bass, which can be overwhelming
It lacks a supported app for the headphones
Verdict
Overall, the JBL TUNE 750 BTNC Headphones are an excellent choice if you're looking for basic noise cancellation that works for a lower price. The build quality could use some work, and the bass performance also needs a makeover. However, with standard audio at medium to low volumes, you'll notice their high-quality design. 
These headphones are also built to last, so you won't need to replace them anytime soon. 
---
The Sennheiser RS 175 RF Headphones are wireless closed-back headphones that take your home entertainment to the next level. With its comfortable and superior fit, you can expect superb sound quality. 
These headphones also connect through multiple devices like TVs and handheld game consoles. Their precise transmission through walls allows for movement from one room to another.
Key Features
Crystal clear digital audio
A broad and extended transmission range of up to 328ft/100m in line of sight
Supports digital and analog inputs
Multipurpose transmitter
The multi-receiver transmission supports only up to two headphones simultaneously, allowing two people to connect and listen to the same music.
The Sennheiser RS 175 headphones offer a range of impressive features in an ergonomic package – Bass Boost and Surround Sound modes let you feel the music more deeply and enhance the sound even further with virtual surround speakers. The circumaural and closed design enables the noise cancellation feature to kick in effectively in a noisy environment. 
What You'll Like
Comfortable to wear for a long time
Lightweight
Excellent sound quality
High-quality, durable materials
What You Won't Like
Relatively expensive in comparison with other alternatives at the same price
Limited usability – you can connect only two headphones to the transmitter at a time.
Not readily portable – best for use at home
Short battery life (18 hours) could be better
Verdict
The Sennheiser RS 175 RF headphones produce good digital audio with crystal clear bass. They are the perfect pick for all needs – users get the advantage of sharing a TV screen with unique sound settings.
---
When it comes to listening to music from any Bluetooth-compatible device, no one does it better than Audio Technica. The Audio Technica ATH-AR3BT Wireless RF Headphones are on-ear wireless headphones featuring a built-in mic with volume controls built into the cup.
These headphones include newly-designed 40 mm drivers, which produce clear midrange and high frequencies and full bass. A mic and volume control switch is built into the left earcup for easy calls or playback control while also providing a standard wired connection when necessary or when battery power runs low.
Key Features
40 mm drivers
Near Field Communication and Bluetooth for easy connection to any compatible device
Built-in mic
Long-life internal rechargeable lithium battery lasting up to 30 hrs
Foldable design for easier portability
Easily adjustable soft ear pads and comfortable fit
External cable with mic for use when the battery is low or when using devices that do not support NFC and Bluetooth (wired devices)
The AR3BT is lightweight and sturdy while still being flexible. The earpads feature soft leather cushioning that snuggles softly on the ears. The up-down swiveling cups collapse nicely and quickly so that you can take them anywhere without any hassle.
What You'll Like
Good sound quality
It supports both wireless and wired connections
Fair price
Easy to carry around
Long battery life
What You Won't Like
It has no noise cancellation
Lest comfortable over a long period from the firm fit
Verdict
We recommend these headphones because they've great digital audio and bass, which is a significant factor in how good the music listening experience is. The long-life battery also provides an added advantage to its effective and smooth operation.
NFC headphones are wireless headphones that use a compatible device to communicate with. This easy connectivity is a convenient feature because you don't have to worry about pairing or connecting cables. NFC headphones, however, tend to be more expensive than other types of wireless hi-fi headphones.
---
The Bowers & Wilkins PX is one of the best wireless headphones you can buy. 
Its sleek and stylish design makes it stand out from other wireless headphones on the market. Each pair features an aluminum headband with leather cushioning that provides comfort and durability in one package. The ear cushions are also made from leather, providing a comfortable fit for extended listening sessions.
Key Features:
850mAh-Lithium Polymer lasts anywhere from 12-30 hours, depending on what features are active
Adaptive noise cancellation
Foldable design for easier portability
90-degree swiveling earcups
The audio quality on the Bowers & Wilkins PX meets the average person's expectations. However, the built-in DAC (digital-to-analog converter) (converts digital signals into analog signals) has something for any audiophile looking for a decent performance.
Built-in digital to analog converters process audio signals to minimize the loss of detail during transmission from the source device, such as your smartphone or tablet, to the headphones themselves.
What You'll Like
Great design & excellent build quality
Built-in DAC converter
Lasting battery life
Easy controls
What You Won't Like
Highly-priced
Exaggerated large size
The noise-canceling feature could use some more work
Verdict
Unlike many other products within the same price range, Bowers & Wilkins PX headphones offer many baseline features and a few spectacular ones. Versatility and build quality are what these headphones are best known for. You can use them simultaneously to listen to music on your smartphone and have an online conversation.
One of the most significant benefits of wireless headphones is that they allow you to listen to your music without compromising sound quality. Some models even have a built-in DAC (digital-to-analog converter) to enjoy better audio from your favorite tracks.
The downside to this convenience is that wireless headphones usually have poorer battery life than their wired counterparts. Although it may be a sacrifice you're willing to make for superior audio quality, this could be another reason why you need to invest in a wired option for some of your tunes.
---
Finally, we saved the best for last – the Sony WH-1000XM3 headphones. If you genuinely value quality over anything else, these headphones should help you get started. The noise-canceling headphones will cancel sound efficiently, on a plane, in the car, and even in the middle of a noisy room. 
These headphones also make no empty promises about sound quality. They offer fantastic clarity, even when listening to a thumping bass at high volumes. 
Key Features
Wireless freedom with great sound
Noise-canceling
Smarter than the average headphone
Very comfortable
Bluetooth specification
Noise-canceling isn't the only great thing about these cans. The bass performance is quite decent across all music genres. In addition, the smart listening microphone improves call quality, so you get many features in these headphones. 
Not much has changed in the physical appearance of the WH-1000XM3 since it was released. However, its noise-canceling system has significantly improved, but the chassis is still hard plastic.
What We Liked
Active noise canceling
Good quality sound
Very comfortable
Portability
USB-C charge port
What We Didn't Like
High price 
Some users say it may not be durable
Verdict
These headphones aren't just wireless but also connect to the internet and Bluetooth. It is also considered one of the most premium headphones on this list. 
However, one thing that might not be so great about it is its noise cancellation abilities – a feature I didn't find to be outstanding compared to other options listed here. However, it isn't worse than the other headphones, so you won't have to worry about subpar sound isolation. 
---
Wireless vs. Wired Headphones: Which Is Better for You?
When choosing headphones, there are two main options: wireless and wired. While wireless headphones are the more popular pick, many people still prefer traditional, wired headphones. 
Wireless headphones are better for you if you want the best sound quality and want your headphones to last. However, wireless headphones usually offer portability and convenience with decreased sound quality, so wireless is the way to go if you are on the move often. 
Wired headphones offer better sound quality, especially important for music enthusiasts. 
Wired headphones tend to be more durable than their wireless counterparts. They are typically more heavy-duty and can handle a battering lifetime better than wireless headphones. Even better, wired headphones are generally less expensive than wireless headphones since they don't require all the extra accessories that wireless headphones do.
On the downside, wired headphones are less convenient than wireless headphones. Conventional wisdom says that you are more likely to make a mistake when using a wire. You are more likely to trip on a cable or pull a hair out.
Advantages of Wireless Headphones
There's nothing quite like the feeling of tumbling down a rabbit hole into your favorite music. However, what if you could take that same feeling of freedom with you where you go? 
Fortunately, wireless headphones are here to make that a reality. These advanced Bluetooth headphones let you listen to your favorite tunes on the go without worrying about tangled cords.
Here are a few essential benefits of wireless headphones:
Portability: You can take wireless headphones with you wherever you go. You can listen to your music and take phone calls without being stuck with one device.
Easy Pairing: Many wireless devices, especially smartphones, have a Bluetooth or wireless connectivity feature that instantly pairs them with nearby Bluetooth devices, making it easy to connect your devices.
Battery Life: Most wireless headphones last anywhere from 8 to 40 hours, and some go up to 50 hours.
High-Quality Sound: Bluetooth wireless headphones use digital signal processing (DSP) to enhance sound quality. While this does affect the sound you hear, it means that your wireless headphones can sound better with the proper settings.
Noise Isolation: While many people prefer the sound quality of wireless headphones, others want the sound to be crystal clear on their music or phone call. With adequate noise isolation, you get the best of both worlds – the sound quality of wired headphones and the freedom of a wireless model.
Comfort: Wireless headphones are often lighter than their corded counterparts. You won't have wires tugging at your ears or pulling on your neck.
Compatibility: Bluetooth is a standard for wireless audio, so virtually all Bluetooth-enabled devices can use them.
Wireless Headphones Disadvantages
Wireless headphones are the future. They're more convenient, safer, and more cost-effective. You no longer have to be tethered to your device while listening to music or watching videos. However, they do have a few downsides to them:
More expensive: Wireless headphones are usually more costly than their wired counterparts. That is because the technology used to make them wireless is more advanced and requires more materials.
Limited range & proximity issues: One of the most significant disadvantages of wireless headphones is that they won't work if you're far from the transmitting device. Most headphone transmitters and receivers go bonkers if you stand 10 meters away from the signal source.
Battery life: Another downside of wireless headphones is that they require batteries. You need to recharge and occasionally replace the batteries in your headphones if you want to keep using them.
Sound quality: Even though the sound quality of wireless headphones is better than it used to be, wired headphones still have a slight edge. That is because wireless headphones need to transmit sound through the air, degrading the sound quality. Your connectivity could lose part of the signal during the transmission process.
Convenience: Wiring headphones is far more convenient than wireless pairing. With a wireless pair, you may need to navigate through your device settings if you're using Bluetooth. Wired headphones are simply plug-and-play on any device that accepts its input jack.
Wireless headphones are more convenient and boast some added advantages, such as near-lossless digital to analog signal conversion. However, they do carry a few more significant drawbacks. It is important to note that regardless of the kind of wireless headset you pick out for yourself, there will always be a tradeoff between convenience and audio quality.
Should You Go Wired or Wireless?
You should go wired if you want higher quality audio at a lower cost and do not mind being tied down by cables. You should go wireless if you often use your headphones out of your house and want something portable with slightly reduced sound quality. 
Wireless headphones are slowly but surely replacing their wired counterparts. The wireless headphones offer greater flexibility, more freedom, and convenience wherever you go. The truth is that there's no right or wrong answer to this question. It all comes down to what you're most comfortable with. 
Like any purchase, it's essential to consider your budget, how often you'll use the headphones, and what you'll use them for. If portability and convenience are priorities, go with a wireless set. However, if you're mainly going to be using them at home or for short trips, a lightweight wireless pair may be more convenient.
The best way to determine what you want is by trying out both types and seeing which pair you like the most. It's always nice to have one of each since both headphone types are best for different circumstances.
Conclusion
The market for wireless headphones is oversaturated, and it can be challenging to determine what brands and models to trust if you have a discerning ear. However, the headphones I've tested and listed above will give you great sound, unparalleled comfort, and a lot of flexibility regarding how you use them.