If you plan to stream vocals, instrumentals, and videos, play games, record podcasts, or mix sound efficiently, you need the best audio equipment, especially an effective microphone. But how do you know which one is appropriate for your needs?
The best microphones for live streaming music include Blue Ember and Shure SM7B. Like any optimal choice, they have a balance of several factors; They produce high-quality sound, filter out ambient noise and interference, offer multiple control settings, include peripherals, and are easy to set up. 
This article reviews 10 different products, weighing their advantages and disadvantages, and gives pointers on how to choose a microphone. We'll also cover the difference between XLR and USB microphones to help you pick the one that's right for you.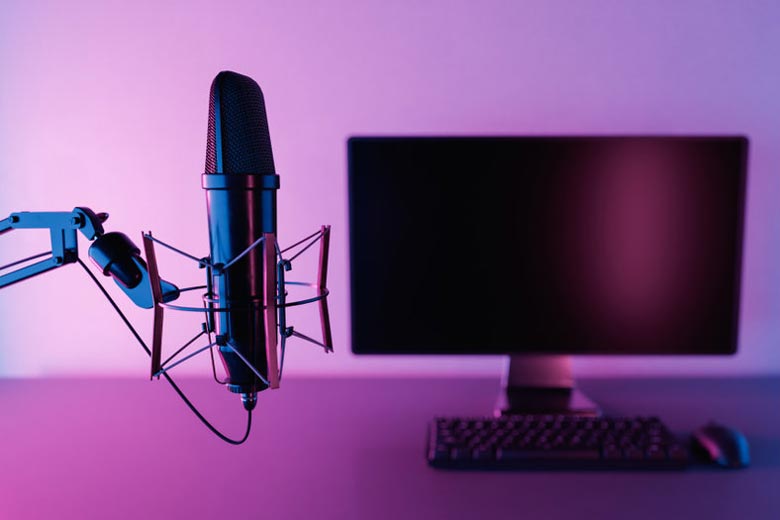 What To Consider When Buying Microphones
The most efficient way to choose a microphone is to tailor it to the nature of the stream you want to create. It's best to familiarize yourself with standard microphone features to make an effective comparison and an informed decision.
Purpose. What is the mic for? Do you want a professional quality microphone or simply an upgrade from a basic one? Or What kind of sound do you want it to capture: instruments, vocals, or special effects?
Output and sound quality. Your choice depends on how professional you want to sound. If you can afford it, go for microphones that offer both XLR and USB connectivity for better control over the quality of the analog-digital conversion
Frequency response. This refers to the range of voice frequencies (measured in Hz and kHz from the lowest to the highest frequencies) microphones pick up. The standard range is 20-20,000 Hz—what the human voice can produce.
Price. No-frills microphones are available for $30 or less. Professional ones are in the $100 to $200 range. Music streaming novices can start with cheap mics, then graduate onto advanced ones as their recording skills progress. 
Durability and reliability. Don't just look at the basic construction but also the electronic components because some mics are quite fragile. Most microphones aren't hardwired, so you don't have to replace the entire microphone if its cable stops working. Just get a new cable.
Connectivity and compatibility. If you're connecting to a computer, make sure it works with the operating system. Some mics don't work with newer Windows or Mac versions. Go for plug-and-play USB mics because you don't have to install drivers. If you have a soundboard or mixer, use an XLR mic. Some mics, especially XLR ones, need phantom power, so you have to buy a separate adapter for this.
Extras. Useful add-ons include a sturdy desktop stand, pop filter, volume control, field recorder (for portable recording and backups), and mixer. The last one balances out music and voices and creates effects like compression (reduction of an audio signal's dynamic range to sound natural) and reverb (echo).
Types of Streaming Microphones
It's not enough to pick the cheapest streaming mic with modest sound quality and correct connectivity. If you care about professional audio quality, you should get the best mic you can afford for your specific purpose.
For this, you need to know the different kinds: 
Condenser
These microphones get their power supply from an external source—like a battery or a pre-amp (an amplifier that converts weak mic signals into stronger ones to eliminate background noise and distortion)—or through the mixing board. 
Condenser microphones are primarily used in controlled studio environments because they're fragile and sensitive.
Their sensitivity allows them to record delicate sounds at high frequencies, as well as loud sounds.
Dynamic
These low-maintenance, durable, easy-to-use microphones have large diaphragms with magnets. Although their output is smaller than condenser mics, they capture tremendously strong signals.
They are suitable for recording keyboard music, brass instruments, and loud vocals.
Modular
These microphones come with multiple cable lengths, various microphone modes, and an "instant mute" module.
Select your mic type depending on what you want to stream and the duration of the music set.
Polar Patterns of Microphones
A polar pattern (aka directional property) is a microphone's capacity to capture sound from different directions. Each pattern will provide different benefits (or challenges) based on the situation.
Cardioid
A cardioid microphone (aka heart, kidney, or unidirectional) captures sound from the front and isolates undesirable ambient sounds and those coming from the back of the mic.
It is the most popular choice for live streaming because it blocks surrounding noise.
Hyper-cardioid and supercardioid mics are subtypes that have narrower sound sensibility points and a better capacity for blocking background noise. However, they are harder to position and aim accurately.
Omnidirectional
These microphones evenly capture sound from all directions. Unlike cardioid mics, you don't need to aim omnidirectional mics at the sound source.
However, they also attract all unwanted background sounds.
Bidirectional
Bidirectional (aka "figure eight") microphones capture sound from the microphone's two sides: the front and back.
They are appropriate for live streaming interviews because they pick up the speech of both the host and the interviewee if they're facing each other.
Stereo
Stereo microphones create a wide audio image. They pull in sound from the front and both sides of the microphone.
They are appropriate for recording live events when you want your audience to hear them in the same way they would in real life.
Examples are air shows, music performances, wedding receptions, racing tracks, or wherever you have a group of speakers facing the same direction.
10 Best Live Music Streaming Microphones
We chose the models that repeatedly show up in the guides and lists of the top audio specialists. Their presence in experts' recommendations and positive user reviews prove their caliber in the recording industry.
The Ember is a premium entry-level professional XLR studio condenser microphone for recording and live streaming from microphone maker Blue.
Pros
Pristine, premium, high-output electronics deliver a strong, clean signal, maximum clarity, and abundant headroom
Proprietary hand-tuned condenser capsule captures maximum detail and delivers a clear, open sound
Tight cardioid polar pattern minimizes ambient noise
Compact, understated design fits anywhere
Price is pocket-friendly
Works exceptionally well with home studio audio interfaces
Package includes a stand mount
Cons
Expensive
You have to supply your own XLR cable, 48-volt phantom power input, and audio interface for your computer.
The NT-USB from Australian audio equipment giant Røde Microphones is one of the most versatile studio-quality USB cardioid condenser microphones. It works in the office, studio, and basically anywhere.
Pros
First-rate for recording music and singing, plus sound mixing
Universal compatibility
Easy USB set-up
Zero-latency monitoring—the technique of directing the input signal to the audio card's output
Comprehensive input and source output control
Pop-free, noiseless, clear audio
High-quality mic and peripherals, like tripod and pop-shield
Cons
Expensive
Not the best choice for video game streamers
Limited color choice
The SM7B is an industry-standard vocal cardioid dynamic XLR microphone leading streamers and podcasters (like Howard Stern) use. Its wide-range, flat frequency response and outstanding bass roll-off produce smooth sounds sans interference.
Pros
It's a premium-class XLR mic for music, speech, professional long-form streaming, broadcasting, and podcasting.
Superlative audio output
Flat, wide-range frequency response
It has one of the best noise elimination systems in the industry.
It offers shock isolation via internal air suspension—no mechanical noises.
Mid-range emphasis switches
Its effective pop filter ensures no booming or popping noises.
Easy to mount/dismount for maximum control and flexibility
Classic cardioid polar pattern
Immaculate output without external noise
Easy to set up and manipulate
Detachable windscreen
Rugged construction
Cons
Expensive
Works better with external equipment, like microphone activators
Slightly bulky, so it's unsuitable for small spaces
The Yeti X is a hybrid of the Nano and the original Yeti. The manufacturer combined the best features of both models into one unit. The robust mic now sports an LED front panel for monitoring volume levels quickly. It is the favorite of many professional streamers and podcasters.
PC Gamer voted the Yeti X the best microphone for streaming and podcasting. Lifewire tagged the original Yeti as the "undisputed king of online content creation."
The fact that Blue microphones are always included in many product guides is a testament to their top-notch sound quality and brand integrity.
Pros
Tri-capsule array consists of three condenser capsules pointing to three directions simultaneously. This setup allows you to record sounds from almost any direction or situation, saving time and effort and ensuring a stellar sound output
Switchable multiple operation modes: stereo, cardioid, bidirectional, and omnidirectional
Best sound of all the Blue microphone models
Software offers broader flexibility
Settings include blend control, mute, volume, and gain (the mic's sensitivity in capturing sound)
Mute button is a handy feature for podcasting
Cons
An adapter is needed to connect it to the newer Macs
When using it with AirPods, there is a slight delay between speaking and the sound coming from the headphones.
Microphone is heavy at 3.5 pounds
USB cord has an uncommon type-A to mini-B connector
Multiple options might overwhelm beginners
The NW-700 is a professional condenser microphone with a cardioid pickup pattern. It ships with an adjustable suspension scissor arm stand, a table clamp, and accessories. Peripherals need to be bought separately, but the fab price and quality are worth it.
Pros
Great sound quality 
Cheap and durable
Easy to assemble
Offers decent overall quality for its price
Cons
Not professional-grade
It needs phantom power, which you have to buy separately.
The QuadCast S is a newer iteration of the famous and established Quadcast. The QuadCast S is one of the sleekest designed mics with a built-in pop filter for reducing unwanted frequencies.
It's marketed as a gaming microphone, but this just means it's one of the best if the gaming community endorses it.
Pros
Can withstand all manner of circumstances and setups.
Adjustable mic sensitivity
Multi-device and program compatibility
Suitable for the major streaming platforms
Customizable radiant RGB lighting with dynamic effects using the HyperX Ngenuity software
Integrated anti-vibration shock mount is highly effective in reducing unintentional noise.
Convenient tap-to-mute sensor with LED status indicator for preventing audio mishaps
Four selectable polar patterns
Large gain knob for minimizing accidental noise during an adjustment
Multiple polar patterns ensure versatility
Cons
Expensive
Some users had some problems with it not recognizing the graphics card during setup.
Others noticed a slight nudge in hissing sounds, requiring a pop filter.
Microphones that claim to do everything are rare. The Samson G-Track Pro is one of them. This professional USB condenser streaming mic records both instruments and vocals while streaming music. It is one of Samson's 11 USB sound recording devices.
Pros
Phenomenal output on every level
Triple polar pickup patterns: cardioid, bidirectional, and omnidirectional
Grip hinges and die-cast base ensure its durability and sturdiness
Front panel mixer controls: microphone level, instrument level, and headphone volume
Capture patterns and dual one-inch condenser capsules pull in clean, noise-free sounds
Indispensable for streamers, YouTubers, podcasters, singers, songwriters, and video content creators
Easy USB setup
Suited to any type of streaming
Cons
Expensive
Bulky and heavy
Needs more anchored support
The e945 handles specific circumstances wherein sound gets distorted or compromised, such as singing or performing under pressure.
This microphone has a compact, shock and impact-resistant mounted capsule that purges noise, producing better than average sound quality.
Pros
Super-cardioid pickup pattern filters on-stage signals that aren't part of the recorded sounds and simultaneously disseminates sounds in multiple directions
Neodymium ferrous magnet stand ensures the microphone's stability regardless of environment or climate
Produces a natural, clean response
Comes with a protective pouch
Metal construction ensures its strength and durability
Secured by a 10-year warranty
Cons
Consumes a lot of electrical energy
Needs plenty of space for mounting
This series is one of the most popular in the professional streaming microphone category. The cardioid condenser Audio Technica AT2020 and higher-level models offer a balance of affordability and fantastic sound quality. Prominent streamers like Pokimane, Dr. DisRespect, and Ninja use them.
Pros
Award-winning audio quality
Zero-latency monitoring
Reasonable price for superb quality
Durable
Included pop filter
Dual connection: XLR and USB
Studio-quality articulation and intelligibility are suitable for voice-over artists, singers, songwriters, home studio recorders, podcasters, and field recorders
Mix control combines microphone signals with pre-recorded audio for commentaries
Cardioid pattern and wide frequency range ensure coherent sound reproduction and external noise reduction—perfect for commentaries or streaming
Integrated headphone jack with volume control lets you monitor recordings without delay
The combo pack ships with headphones, a tripod mic stand, a nine-foot USB cable, and a soft storage pouch.
Cons
Noisy
Unstable, bulky, and heavy
A few users say it's unreliable
XLR-only input with the cable sold separately
You need a preamp for the USB version
Some users encountered problems with its connectivity to Windows 10
Requires a converter or audio interface
Needs a lot of gain to capture softer voices
The Zm-Mic1 is the best high-sensitive, compact, low-tier budget microphone for casual streaming. Zalman is a South Korean brand that has been around for more than two decades.
The Zm-Mic1 is sensitive enough to pick up basic sounds clearly with minimal background noise. It's possibly one of the cheapest.
Pros
Superb sound quality despite the incredibly low price.
Best for beginners
Effortless setup
Compact design
Three cable clips prevent tangles
Cons
Old-fashioned microphone jack
Limited options and components
Unsuitable for sophisticated streaming
Subpar sound quality compared to more expensive models
Iffy connection to the headset or sound card
XLR vs. USB Microphones
Universal Serial Bus (USB) is an industry-standard that instigates how connectors and cables connect, communicate, and supply power from one computer to another and from peripherals to computers. 
External Line Return (XLR) is the go-to standard for high-quality audio inputs because its cables carry a noise-isolating balanced signal that delivers exceptional sound.
All professional recording and radio studios and live performers use XLR.
XLR connectors were invented to pass large electrical currents smoothly while acting as standard connectors for most audio devices.
Recommended article: Can Phantom Power Pass Through TRS?
Regardless of your microphone's connection—USB or XLR—the analog audio has to be converted into a digital one. This conversion determines the sound quality. It occurs within an external audio interface, which an XLR studio microphone needs to work.
In contrast, conversion happens inside a USB microphone. The analog signal is turned into digital, then sent over USB. This limits the space and the conversion's processing power significantly. 
Unlike an XLR mic, a USB mic has a built-in audio interface, which records sound and plays it back through headphones.
However, there's nowhere to plug a guitar or synthesizer. What if you want to record several voices or instruments simultaneously?
For a more sophisticated setup, you need an audio interface and regular microphones. For direct recording or performance, a USB mic is sufficient.
Choosing Between XLR and USB Microphones
If you can't decide which mic may be best for you, I recommend you choose a two-in-one. 
For instance, the SM7B has a cheaper variant called the MV7, Shure's first hybrid XLR-and-USB microphone—a boon for podcasters.
The MV7 combines the best of both worlds with professional XLR adaptability and USB versatility for recording on the move with laptops and mobile devices.
It is for content creators who want to achieve a professional-grade production level but don't have the budget.
Conclusion
A USB mic is easier to use and offers better value for money, but an XLR studio mic has better sound quality because it connects to a professional audio interface.
We recommend getting a USB mic for starters, then upgrading to an XLR unit once your budget allows it and when your recording ability expands.
Don't discard the USB mic after the switch. Use it as a backup unit in case your XLR conks out. Besides, a cheap but efficient USB streaming mic is helpful for recording on the go or when on location.