Buying a headphone amplifier is an investment, but there are still many affordable options on the market. For under $200, you can find an amplifier that will boost your sound and increase the clarity of your music.
The 14 best headphone amps under $200 include: 
This buyer's guide will show you what to expect from each one, and walk you through what to look for when buying a headphone amplifier. Read on to learn more about the best headphone amplifiers on the market and what to expect from each device.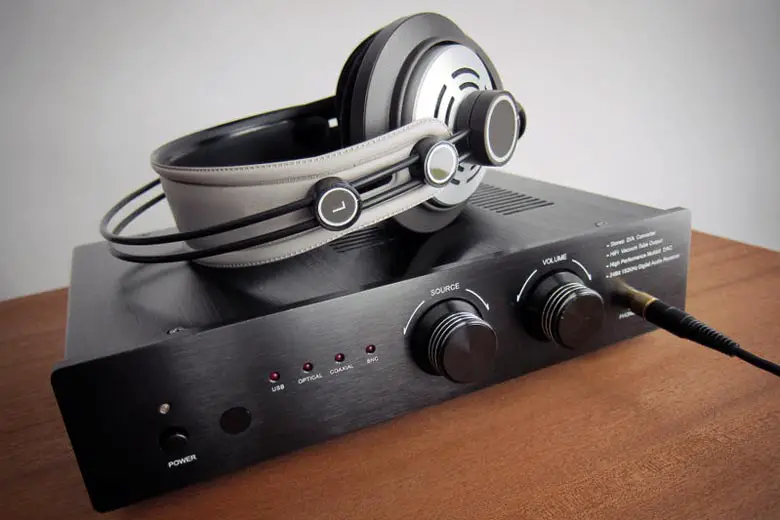 How To Choose a Headphone Amplifier
It's important to note that any smartphone or portable music player has a built-in amplifier, but they are less powerful than some of the external amplifiers that you can buy today and have a weaker performance. 
The goal is to provide your headphones with enough power to produce sound without any muddiness or distortion.
Once you've decided to purchase a headphone amplifier, there are many things to consider, like the impedance that you need, the sound quality you'll get, and whether or not you want a combination amplifier and digital-to-analog converter (DAC). 
The impedance that you need for an amplifier should be about 10% the impedance of the headphones you plan to use. 
You'll find these values listed in a value of ohms, which measure the way that electricity will flow through the device. It's important that the impedance of two connected devices is compatible, or else the power won't flow the way that it should. 
Beyond device compatibility, perhaps the most important characteristic of an amplifier is the sound quality that it produces. A good amplifier can reduce noise and improve clarity, which is especially noticeable at extremely loud or soft volumes. 
Some amplifiers will also have a built-in equalizer, allowing you to emphasize or deemphasize different frequencies.
Many amplifiers also have the added benefit of having a built-in DAC, which solves the problem of having to purchase an additional DAC if you want to replace the one built into your smartphone or other listening devices. 
Can You Find a Decent Headphone Amplifier for Under $200?
While it's entirely possible to spend thousands of dollars on a top-notch headphone amplifier, it's really not necessary to get high-resolution sound. 
There's a maximum quality perceptible to the human ear, and most people wouldn't even be able to tell the difference between a high-end amplifier and a budget one in their everyday listening.
That said, you should shop around for high-quality amplifiers, as ones that are badly made can introduce unwanted distortions or hiss into the audio due to loud circuitry.
The best amplifiers silence everything but the music and have great, granular sensitivity to the volume control. 
In an ideal headphone amplifier, there should be clarity at every volume. 
Top Headphone Amplifiers Under $200
You don't have to break the bank to find a high-quality headphone amplifier for your audio system, whether you're looking for a desktop amp or a portable amp.
Read on to learn more about the best headphone amplifiers on the market today that cost less than $200.
The Schiit Audio Magni 3+ is the third version of the Magni, bringing better sound quality and design than ever before. (For clarity, Schiit now refers to this model as simply "Magni," but it's the third iteration of the same model.)
This amplifier delivers a weighty, powerful audio quality, and is great for those new to headphone amplifiers looking for a first amp. 
It gives equal attention to the high, mid, and low frequencies for great balance, with only the necessary amount of coloration to bring the best out of the music. The soundstage delivered is wide and clear, with lots of energy. 
This amp powers on in just a few seconds, muting for a moment to avoid any electrical thumps coming through the headphones. It can be used by itself or as a preamplifier in a bigger system, although you'll find that you'll get the most out of what this device has to offer by allowing it to stand alone. 
It is easy to use, with a simple and clear switch that makes a satisfying clicking noise when turned on, and it has a great visual design, with a silver coating and a curved edge. 
There's a clear volume knob on the front, as well as a 6.3mm (0.25in) headphone jack. There are RCA inputs and outputs on the back, as well as a power jack, a power switch, and a gain switch.
The Schiit Audio Magni 3+ is sturdy and well-built, totally solid and durable. It stacks easily and is portable at the same time. It also comes with a wall-wart power supply, which delivers plenty of power, but can also be a bit hefty. 
This amplifier does not come with a built-in DAC, so it might be a good idea to invest in one if you choose this amp.
The Objective2 is known for having minimal noise, with no audible noise floor, or sounds of circuitry hissing in the background. Even with the most sensitive headphones on the market, the sound from this amplifier remains neutral and undistorted, with no additional distractions. 
Some people prefer an amplifier that adds some color, like a bass boost or a sharper sound, but this amplifier makes a great choice for someone who wants a blank slate for building on with headphones or other equipment. 
It simply boosts the volume and does so without distorting the sound.
The Objective2 is a simple, black metal box, very well-built and sturdy, which can be described as industrial. It's very straightforward and instinctive to use, and comes with a two-year warranty from the manufacturer, in case of any malfunctions.
This amplifier has controls on the front and the back that are all very simple to use. On the front, you'll find a power switch, a high-low gain switch, a volume knob, and a 6.3mm (0.25in) jack. On the back, you'll find a power jack and a pair of RCA inputs. 
The Objective2 amplifier comes with optional rubber feet for extra stability for desktop use, as well as a wall wart to supply extra power.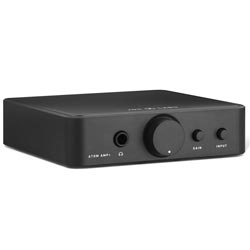 The JDS Labs Atom Amp is a high-power amplifier that pairs well with large, hard-to-drive headphones. 
The build is plastic but sturdy, like the resin that comes from a 3D printer. On the front, you'll find a volume control, a 6.3mm (0.25in) output jack, a gain selector, and an input selector. It also has rubber feet for added stability for desktop use.
The amplifier runs on 16 volts of power, which is important to match if you decide to add any additional external power supply. The power supply that comes with it is a large, weighty wall wart, which explains why it has the amount of power that it does. 
There is a small amount of noise associated with this amplifier, such as a small hiss, but that's true of most amplifiers that have this amount of power output. Overall, the sound quality is rich and warm, with excellent bass and sub-lows. The mid-range is neutral, and the width of the soundstage feels like it fills the room. 
The treble from this amplifier is energetic and sparkly, with no harshness, and balances well against the rich bass. 
It is for desktop use only, because it's dependent on a power outlet. However, it is very small and fits into almost any desk space, and requires a DAC unit for optimal output. 
The Cyrus Soundkey is a combination amplifier and DAC made by Cyrus Audio, a brand well-known to audiophiles and audio equipment enthusiasts. It has a robust aluminum casing and a 3.5mm (0.14in) headphone jack, which connects to Android or iOS devices, as well as Windows Visa+ devices. 
This amplifier has a low current, which preserves your phone's battery life.
It is mostly one solid metal piece, with a headphone port at one end and a micro USB port at the other end. It only gets moderately warm during usage, unlike many other amplifiers, and it doesn't draw a significant amount of power from a smartphone even when used at maximum volume. 
The sound from this amplifier is bright and clear, with good detail. The bass is short but impactful, which works well with fast-paced music. The midrange is clear, textured, and clean, and the upper midrange is neutral, which prevents any metallic tingle from coming through. 
The treble is clean and airy, and very nicely extended.
This amplifier is quite small, sitting at just a couple of inches long and about one inch wide. The soundstage of the Cyrus Soundkey is wider than it is deep and plenty wide for the price and its compact size. 
The driving power is also impressive for its size, as well as the sonic dynamics. Altogether, it's an impressively portable and powerful amplifier.
The FiiO K5 Pro DAC and amplifier is made of aluminum and is quite heavy, but suitable for a desktop unit. It comes with a volume wheel with lights around it, and several input options, such as: 
S/PDIF input 
USB input 
Line In for use as a preamplifier 
It also comes with gain selectors and a huge power output, so you can choose where to distribute large amounts of power while you're listening. It includes a 6.3mm (0.25in) output, an RCA output, and a universal USB driver.
The amplifier doesn't get very hot when it's being used and is very ergonomic, while the sound is clean and clear, with no odd bursts of noise, and a lot of neutrality overall. There is only a very faint background noise at zero attenuation, but this is so soft that it's not audible through most headphones. 
At maximum gain, the sounds are punchy and lively. 
The FiiO K5 Pro has a lot of driving power and works well with heavy-duty, large headphones. It has a 1.5-watt power output overall, and a 32-ohm impedance. 
The bass from this amplifier is rich and deep, with some warmth, and in the midrange, there's a lot of detail and texture. The treble is very natural, without much adjustment for clarity or cleanness. 
It has a very wide soundstage with a good amount of space between instruments. 
The Lotoo PAW S1 is a high-resolution portable amplifier, with a built-in DAC and a selection of DSP filters that allow you to tweak the sound. It is designed for efficient power use, so it doesn't draw too much power from your phone battery. 
The amp is made from aluminum, weighs just over 27g (0.06lbs), and is about 13mm (0.51in) thick. Its form is similar to that of a card reader, or a thumb drive, and is rounded and black, while the buttons are patched with silicone for grip and comfort. 
On the bottom of this amplifier, you'll find a USB-C socket and a 3.5mm (0.14in) jack, and on one side you'll find a small LED screen that shows the volume, gain mode, current bit rate, and filter selection. 
It has buttons on the side for easy navigation through screens, allowing you to switch instantly from one to the other.  
There is a slight amount of noise associated with this amplifier, which is more pronounced when used with a dongle and a smartphone. 
The FiiO K3 is completely made of metal, with rounded housing and an easy-to-use large volume wheel on the front, which is actually digital in the way that it works that won't cause imbalance at low volumes. 
On the front, in addition to the volume wheel, you'll find a 2.5mm (0.10in) headphone jack and a 3.5mm (0.14in) headphone jack, as well as a bass switch and a gain switch. 
You'll find a Line Out in the back of the amp for use as a preamplifier, a switch between USB audio 1.0 and 2.0, a USB-C input, a COAX output, and an optical output. 
Connecting both the 2.5mm (0.10in) and the 3.5mm (0.14in) outputs focuses all the output on the 2.5mm (0.10in) jack, but the optical output will keep playing sound regardless of what else is connected. This optical output allows you to connect a DAC or second amp to your PC and want to avoid the noise associated with a USB connection.
The volume wheel glows different colors according to different situations: 
Red when there are driver issues. 
Blue when it's working normally. 
Green when it's playing high-resolution files. 
It also comes with a bass boosting function, which is clear with minimal distortion. 
This function works well with bright headphones that need a thicker, warmer sound to balance it out. In addition to this rich bass potential, this amplifier provides a detailed midrange with good texture and a natural treble in both texture and speed. 
The soundstage of the sound from this amplifier is also good, very rounded, and deep. It can fill out a heavy, hard-to-drive pair of headphones, while still being very portable, despite originally being designed as a desktop device.
The FiiO BTR5 amplifier receives sound via Bluetooth and has enough tuning to make up for the losses in quality that normally come with a Bluetooth transmission of audio. It comes with a sleek design, with curved glass panels and a fingerprint-proofing coating. 
The frame is aluminum, and very lightweight. 
This amplifier has an LED screen that can be read under sunlight or in the dark, showing all the info you need, including pairing status, codecs being used, battery level, and volume, which allows you to navigate through different modes and filters, and tweak a built-in equalizer. 
The FiiO BTR5 has a 9-hour battery life and takes only 1.5 hours to charge, assuming you're using the 3.5mm (0.14in) output. 
If you're using the 2.5mm (0.10in) output, the battery will run out in more than 5 to 6 hours. 
On the top of the device, you'll find all of the analog outputs, including a 3.5mm (0.14in) jack and a 2.5mm (0.10in) jack. If you plug something into both of these jacks at once, you'll only get output through the 3.5mm (0.14in) side; it won't play through two outputs at once.
You'll find the power button on the right side of the device, as well as the volume control and a multifunctional button that handles playback functions, voice assistance, and phone calls. You'll also find a microphone hole that can pick up your voice for hands-free navigation and phone calls. 
There is also a FiiO music app that pairs with this device, which gives you access to a 10-band equalizer, filters, and channel balance configuration. 
The Audirect Beam is extremely compact and has significant driving power. It produces a warm, full sound, and is as small as a USB stick, weighing only 12g (0.03lbs). It's made of metal and comes in a number of different colors. 
This device works with Android and Windows 10 computers, as well as iOS devices. It has a 3.5mm (0.14in) headphone output and a Type-C connector, as well as a volume knob on the right side of the device. 
This amplifier gets warm during usage but doesn't become as dangerously hot as some other amplifiers on the market. It also has a low power rating, meaning that it doesn't draw too much battery power. But this doesn't effectively power hard-to-drive devices like large headphones. This amplifier is better used with headphones that are easier to drive.
The Audirect Beam decodes high-resolution files up to 32 bit/384 kHz and has a smoothly textured, bright sound, with solid and punchy bass. The clarity is great, and the sound is very clean and engaging. However, you'll find that adding an equalizer to the mix still won't allow you to really boost the bass with this device. 
The soundstage provided by this device is wider than it is deep, offering stereo clues but without layering and separation of sounds. 
The AudioQuest DragonFly amp has a 45-megawatt power output per channel, and an output impedance of 0.65 ohms, along with a 1.2-volt drive limit. It's also compact and portable, delivering a great amount of power for its size.
This amp is commonly sold alongside a compatible Dragonfly DAC, powered by a USB, and the two make a great set. Together, they provide a dynamic range of 116 decibels and are able to connect directly to a desktop or laptop computer, or through a dongle into a smartphone or other portable device. 
It's very sturdy and very durable.
The power available through this amplifier is three times the power provided by typical built-in headphones, and the quality of the sound is also much greater. The tone is neutral and very balanced overall, while the bass has density. Luckily, there's no compromise in the strength of the treble. 
The rendering of timbre is natural, with well-rendered decay and reverberation.
The midrange from this device is smooth and pure, composed and present. The midrange, bass, and treble integrate seamlessly into one another, preventing any jarring differences in amplitude from one frequency to the next. 
The Bravo Audio V2 amplifier is 3.25in x 3.25in x 2in (8.26cm x 8.26cm x 5.08in), perfect for a small desktop amp. Its clear plexiglass top and bottom panels expose the inner circuitry, a plus for any fan of electronics. 
It has red and blue LEDs for aesthetic effect, and a centrally located volume knob, as well as a stereo headphone output and a mini-stereo input. 
The back of the Bravo Audio V2 has an on/off toggle switch, and an input for the wall wart connection cable. The right side has a pair of RCA inputs. 
This amplifier is compatible with tubes from the 12AU7/ECC82 tube family and comes with a 12AU7 tube cable. It works well with hard-to-drive headphones because it delivers a lot of power. However, it is not very efficient and pulls a lot of power from its source, which gets quite hot while it's running. 
This amplifier requires a delicate touch when adjusting volume controls, especially at low volumes, and delivers a quick bass response and a dimensional soundstage. 
Overall, this amplifier produces a full sound but works better at higher volumes.
The Behringer MicroAMP HA400 is a compact, four-channel stereo headphone amplifier, powering each of the four outputs at their own headphone volume.
With this amplifier, you can expect a high sound quality at every volume, even the extreme highs, and lows. Practically every set of headphones is compatible. 
For more on the Behringer MicroAmp HA400, watch the YouTube video below:
The Monoprice 111567 is a desktop amplifier that provides professional-grade sound, with great clarity and subtlety, as well as a rich bass. 
It's all-metal, durable and compact, and has an LED screen. It also comes with a sensitive volume control knob, located directly on the front of the amplifier next to a 3.5mm (0.14in) headphone jack. On the back of this amplifier, you'll find RCA outputs.
This amplifier supports a frequency response of 10 Hz to 20 kHz, beyond what's able to be perceived by the human ear. 
It has a high current output that allows it to drive headphones with many different impedances, from 16 ohms to 600 ohms, and can be connected to a stereo amplifier or powered speakers through the RCA line outputs.
The Nobsound NS-08E has a unique design, with two visible vacuum tubes that improve the clarity of the sound while giving the device the look of a futuristic piece of laboratory equipment, which increases the power of the received sound signal, reducing the amount of impedance coming through. 
It's compatible with impedances between 18 and 600 ohms.
This amplifier provides minimal background noise, with a brilliant treble and a powerful bass, and can be used standalone or as a preamplifier along with other equipment.
This smaller device has a lightweight aluminum shell and is very solidly well-built, which makes for a great desktop amplifier that takes up little room. And, it comes with an 18-month warranty and technical support availability to prevent any losses in quality due to poor construction or misuse.