Choosing a great pair of gaming headsets on a budget isn't easy. There's a lot to choose from, and you can't try them all. You want the best gaming experience possible, but you probably don't want to break the bank to get it. Thankfully, several gaming headsets will meet your expectations without costing a fortune.
The best budget headset for gaming is the Razer Kraken X. They offer the best value for the money without compromising on build and sound quality. Additionally, they're very comfortable for everyday wear and feature a high-quality noise-canceling microphone.
In this article, we'll talk about what makes each pair of headsets special and how they perform when it comes to gaming.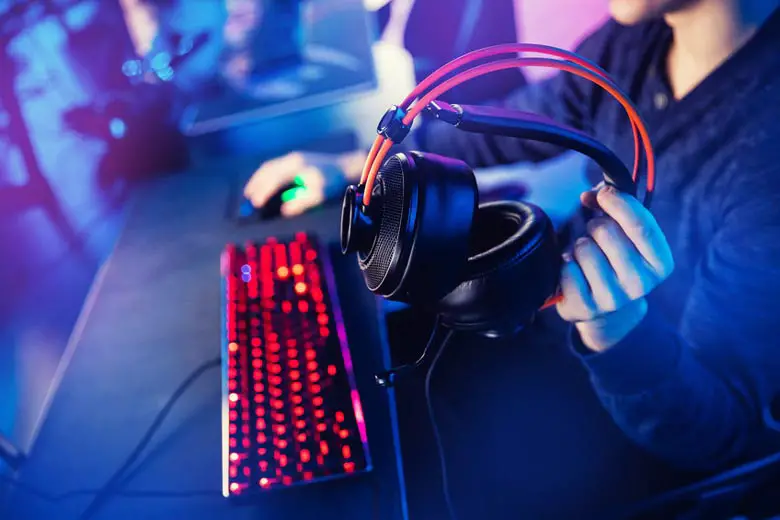 What To Look For in Your Next Gaming Headset
Being an avid gamer also entails choosing the best gear. Any pair of headsets can reproduce the sounds from your game. However, you want detailed, high-precision sound to spot your enemy without having to see them. 
That said, here's a brief list of what to look for in gaming headsets: 
The type you need 
Your budget 
Sound quality 
Noise cancelation/isolation 
Comfort and fit
Features (wireless, active noise cancelation, etc.)
What type of headphones to use for gaming?
There are three types of headphones you could use for gaming, in-ear, on-ear, and over-ear headphones. All of them can be really good for gaming, and which model you should choose depends on your own preferences.
But for headsets (headphones with a mic), the most popular option in gaming is the over-ear or on-ear headset.
In-ear: In-ear headphones are the smallest and most portable option, but they don't always offer the best sound quality.
On-ear: On-ear headphones are a good middle ground, offering decent sound quality and portability. 
Over-ear: Over-ear headphones are the largest and offer the best sound quality but can be less portable. 
Your Budget: How Much Do You Intend To Spend?
There's no doubt that a great pair of gaming headsets can actually improve your gaming experience. However, your dream headset doesn't always come cheap, meaning you have to settle for less. So, how much are you willing to spend on a headset? 
Most headsets range from around $20 to over $500. You'll get better sound quality from more expensive headsets, but plenty of great options are available at lower price points. Remember, it's important to find something that fits your needs and budget.
We have focused on gaming headsets for under 200 dollars in this article, but many of them are under 100 dollars and even cheaper than that.
Some of these headsets are under 50 dollars!
Sound Quality
Nothing beats quality when it comes to sound. How clear and detailed your headset sound will greatly impact your gaming performance.
If you're an audio enthusiast, you'll want to look for high-end headphones with great sound quality. But if you're just looking for something to use for casual listening, you can get away with a lower-end model. 
Noise-Canceling or Isolation
There's already too much noise in your games, and you definitely don't need any more seeping in through the foam cushions or the mic.
Noise-canceling or isolation are important features if you want to be able to block out background noise. Look for a headset with noise-canceling or isolation features. 
Comfort and Fit
The last thing anyone would want is a headset that keeps slipping all the time. Gaming headsets should be comfortable to wear, even for long periods of time.
Make sure they have a good seal so they don't let in too much outside noise.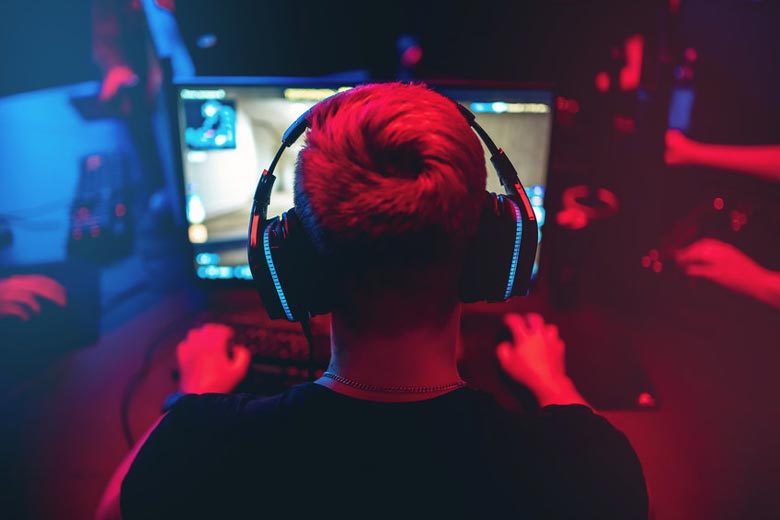 Features
Look for headsets with features that fit your needs. Some basic features, among others, include: 
Bluetooth connectivity 
Noise-canceling 
Adjustable volume on the device
Surround sound 
Multi-device compatibility 
Wireless headsets are becoming more and more popular, and they offer some advantages over wired headsets. They're more portable and don't have any cords to get in the way. 
Lastly, consider what type of games you usually play. If you're a competitive FPS player, you'll want a headset that can give you an edge over your opponents. For instance, a headset with surround sound will allow you to hear footsteps and other subtle sounds that can give you an advantage. 
On the other hand, if you're more of a casual gamer who just wants to enjoy their games, any good quality gaming headset will do. 
---
The first headset on our list is the Razer Kraken X. This headset is an absolute beauty from the appearance to the performance, yet to be experienced by any gamer looking for excellent audio quality, even on the go. 
Key Features
Lightweight and durable aluminum frame 
Powered by 40mm (1.6-inch) neodymium magnets for powerful sound 
Bendable cardioid microphone (non-detachable) 
7.1-channel surround sound 
Optimized for gaming, music, movies, and more 
The build quality is top-notch, with an aluminum mesh frame that feels lightweight and incredibly comfortable.
Soft foam padding lines each cup for maximum fit and stability; they'll stay in place no matter how much you move around. But that's just on the outside. 
Inside, the 7.1 virtual surround sound drivers let your ears pinpoint where all those enemy sounds are coming from while also providing clear voice calls between teams too busy strategizing to talk over their shoulders.
And that's because the headset features a cardioid mic bent right up near your mouth so that you can hear every word spoken. 
Each cup holds some serious 40mm (1.6-inch) neodymium drivers that provide a rich, immersive sound for music, movies, and gaming. It also has an excellent frequency range; immersive bass makes gaming even more thrilling. 
Pros
Very popular!
Excellent performance 
Highly durable 
Very comfortable and lightweight
Tangle-free cords 
Compatible with your PC, PlayStation, Nintendo Switch, and Xbox 
Cons
Lacks in-line controls 
Padding is not replaceable 
Mic sounds average at best
Wired connectivity only 
Verdict
Overall, the Razer Kraken X headset is a great pick for any gamer. The price is good for what you get. What I like the most is the durability and usability of this headset.
However, it would be great to have better controls and a better mic. 
---
Next on our list are the HyperX Cloud Alpha gaming headset. Now, don't let the thick, expanded headband deceive you. This headset offers great stereo sound, as well as some handy features for gamers.
Everything from the build quality to the performance means serious business, and they're usually sold for less than $100. 
Key Features
50mm (2-inch) drivers for superior sound quality. 
Detachable noise-canceling microphone 
Comfortable memory foam ear cushions 
Lightweight aluminum frame 
In-line controls
Compatible with PC, PS Vita, Mac, mobile phones, and more 
First of all, the 50mm (2-inch) drivers are great at producing deep bass and quality sound. Speaking of bass quality, the HyperX Cloud Alpha gaming headsets use a dual-chamber system to isolate the bass frequencies from the mid and highs.
They don't sound all cramped up or distorted like some other headsets on the market. 
A detachable microphone ensures you can communicate clearly with your teammates, and the passive noise cancelation ensures you won't be distracted by background noise.
The memory foam ear cushions are incredibly comfortable, even during long gaming sessions, and the lightweight aluminum frame seals the deal.
Durable yet lightweight, this headset offers amazing value if you want great sound backed by even better build quality.
Finally, the Cloud Alphas are compatible with various devices, making them perfect for cross-platform use. 
Pros
Next-level durability and comfort 
Powerful bass and clearly detailed mids and highs 
The detachable mic comes right off when you don't need it 
Overall excellent performance 
Cons
No wireless connectivity
Limited sound customization features 
Verdict
Overall, the HyperX Cloud Alpha gaming headset is a good pick if you're looking for something comfortable over long gaming periods. The mic could use some work to stop picking up external noises.
But, if superior sound and build quality are just what you want, this is the right headset for you.
---
Having your senses fully awakened is what it's all about if you're going to spot your enemy. The EPOS Sennheiser GSP 300 gaming headset reproduces sound cues in a rather peculiar way. 
We're not talking about virtual surround sound, no. Instead, what these cans lack in surround sound, they compensate with the unmatched-quality seal that keeps external sounds where they belong — outside your game. 
Key Features
Noise-canceling mic technology 
Multi-device compatibility (goes into pretty much anything with a 3.5mm jack port) 
Memory foam earpad for added comfort 
Mute microphone by flipping it up when not in use 
Volume controls included on the right ear cup 
Sound pressure level (SPL): ~114 
The EPOS Sennheiser GSP 300 Gaming Headset is all about simplicity. Apart from the balanced performance across all frequency ranges, you'll love the simple, ergonomic design on every inch. 
Pros
Lightweight and comfortable during long gaming sessions
Balanced sound
The noise-canceling feature makes room for clear conversations 
The closed design prevents sound from leaking out 
Cons
No surround sound 
The all-round plastic build is easy to break 
Not as durable as many other alternatives in the same price range 
Verdict
The EPOS Sennheiser GSP 300 headset is easy-to-use, from the simple yet elegant design to the fairly excellent performance. But, if your interest lies in something more suited to the game, check out our next candidate on the list.
---
If surround sound is right up your alley, then the Logitech G430 is right up your alley. With balanced sound and cups fitted with a comfortable, breathable fabric, you can wear this headset for hours on end without having to worry about your ears getting too hot. 
Key Features
Dolby 7.1 surround Sound
40mm (1.6-inch) neodymium drivers offer high-quality sound 
Foldable noise-canceling mic for clear communication 
Large, comfortable earcups 
Removable earpads 
Durable metal frame 
Perhaps one of the most critical features is the surround sound technology accompanied by the excellent bass from the 40mm (1.6-inch) drivers. Surround sound technology immerses gamers in a 3D sound bubble where you can track down your adversaries without actually seeing them. 
Then balanced sound and cardioid mic pattern delivers an unbeatable audio experience, while the personalized fit ensures maximum comfort. Plus, it integrates with the Logitech G Hub app for easy customization. The on-cable controls let you adjust your audio without ever having to take your hands off the controller. 
Pros
Incredibly comfortable, meaning you can game for hours without fatigue 
Simple, lightweight design 
Great Value
Cons
The plastic body could use some improvements 
Incompatible with phones 
Only come in a blue-and-black colorway
Verdict
One problem you have to worry about is the large cups, which don't grab tight onto your ears. If you move around a lot when gaming, this headset might not be such a great fit. But, overall, the Logitech G430 is a top-notch gaming headset worth your consideration. 
Note that surround sound won't work without the latest Logitech Gaming Software. If you're having trouble setting up the surround sound, follow this simple setup guide. 
---
Put on the ATH-ADG1X gaming headset to get lost in your favorite game. This all-metal, open-back audio system will give you high-quality sound with a comfortable fit and cool operation that won't get too hot or heavy for long hours of playtime. 
The ATH-ADG1X gaming headset offers advanced high-fidelity sound and a comfortable fit. They're light enough to not make your head sweat as you're thrown into the powerfully detailed sonic worlds of today's FPS (first-person shooter) and other types of games. 
Key Features
Detachable boom microphone 
Excellent sound quality with the 53 mm (2.08-inch) drivers and 3D Wing Support system 
Supercardioid mic for better isolation from external noise 
Super soft earpads for added comfort 
The ATH-ADG1X is an upgrade from the original flagship gaming headset from Audio Technica. With its premium gooseneck microphone and open-air design, this model aims to provide you with even more control in the voice chat while offering natural sound reproduction that has been optimized for your ears. 
They even come equipped with Embody's revolutionary Immerse™ software, which creates natural sound reproduction by analyzing ears for personalized listening environments, so they're always optimized just right. 
Pros
Detailed, accurate sounds for an enhanced gaming experience 
Mic windscreen blocks out breathing and talking noises for clearer conversations 
Very comfortable, lightweight design 
Cons
Pricey
Customer support could use some work 
Poor build quality 
These babies come without a case, meaning that all overweight luggage needs will have to be dealt with alongside any other heavy items brought along on trips. 
Verdict
The ATH-ADG1 is an open-back gaming headset, so they're not the best choice if you want to use them in places with a lot of noise. They also leak sound when used near others because their design makes it easy for sound to escape through your ear cups — not good in crowded environments. 
---
The HyperX Cloud Revolver S is well-designed and produces high-quality sound, no matter what you're listening to. With seven surround channels for games and immersive music experiences, the Dolby DSP creates an expansive stage that'll immerse anyone in their game with virtually no software required. 
Key Features
Certified by TeamSpeak and Discord 
Durable steel frame built to withstand the rigors of professional gaming 
A detachable noise-canceling microphone delivers clear communication in any environment 
Next-generation directional 50 mm (2-inch) drivers deliver deep, accurate bass 
HyperX memory foam ear pads are designed for long gaming sessions 
HyperX Cloud Revolver S is a wired gaming headset for PC. This one looks more sleek & sophisticated without having anything too flashy about itself, which can sometimes turn off some people when looking at their accessory pieces before purchasing them. 
Pros
Excellent build quality 
Great all-round performance 
Easy to use — simply plug and play 
Cons
The detachable mic could be more flexible
Bass may feel a little overwhelming 
Verdict
HyperX Cloud Revolver S is a high-quality gaming headset that can handle more than just sound. It offers a sleek design and provides crisp audio, perfect for competitive games like Vainglory or Call of Duty, where you need to stay informed about your team's status on the battlefield. 
---
The new Xbox Wireless Headset is also great but not perfect for gaming online with friends and chatting in crystal-clear stereo audio. The headset also features auto-mute and voice isolation technology to ensure you always sound your best. Its simple and intuitive design makes it easy to directly pair with any Xbox One or Xbox Series X/S console. 
Key Features
Frequency response: 20Hz–20kHz 
Weight: 312 g (11 oz)
Driver size: 40 mm (1.6 in)
Connectivity: Bluetooth® v.x or higher/Xbox Wireless/Wired via USB-C cable (included) 
Compatible with virtual surround sound with various spatial sound formats, e.g., Windows Sonic, Dolby Atmos, and DTS Headphone: X 
And thanks to its wireless design, you don't have to worry about getting tangled up in cords while gaming. The battery life is impressive, lasting up to 15 hours on a single charge. 
Pros
It has a beautiful design 
Supports wireless connectivity 
Lightweight and comfortable 
Great price 
Cons
Lacks a 3.5mm jack 
Only compatible with Xbox consoles 
Verdict
Microsoft has thrown its effort into developing this model designed for use across various Xbox One models. The lightweight design makes them comfortable enough that even long sessions won't cause pain or discomfort. At the same time, powerful bass-heavy audio will keep your ears satisfied without any need for EQ tweaking — just let go & enjoy what this headset has to offer. Their sound is up to par with headphones twice their price.
---
The Roccat Elo 7.1 USB headset offers great surround sound, so you can experience your games the way they were meant to be played. The noise-canceling microphone lets you chat with your teammates without worrying about background noise. 
And if you're looking for comfort, the Roccat Elo has you covered there too. This headset is lightweight and designed to fit snugly around your head, so you can wear them for hours without ever feeling uncomfortable.
Key Features
Ergonomic design for maximum comfort during extended gaming sessions
Large 50mm (2-inch) Nanoclear drivers deliver an incredibly powerful and immersive soundscape 
Detachable TruSpeak™ noise-canceling microphone ensures clear and concise communication with your teammates 
The Roccat Elo 7.1 USB Headset has a self-adjusting metal headband and rotating ear cup hinges for added flexibility, creating an airy fit that's perfect whether you're gaming.
They also come equipped with soft foam cushions so your ears won't get sweaty even after hours of use. On top of that, they also feature some serious precision-tuned neodymium drivers for excellent surround sound, unlike other comparable headsets. 
Pros
Excellent sound quality 
Comfortable and lightweight fit 
Great price 
Cons
Verdict
The Elo is also PC and Mac compatible, so you can enjoy its stellar sound quality no matter what game you're playing. The Turtle Beach Recon 50X is a good alternative if you're looking for a budget-friendly option. It's not as high-quality as the Roccat Elo, but it's still a decent headset. Plus, it's much cheaper than the Elo. 
---
Sony has established a good name in the audio industry, and that's because their products are nothing like what's already on the market. The Sony Pulse headset is one of the most popular gaming headsets today, and for a good reason.
Apart from the stylish, futuristic design, you will love the load of features built into these cans, especially for PS5 gamers. 
Here are the key features:
Key Features
Dual noise-canceling built-in mics 
Windows and macOS adapter 
Powered by a rechargeable battery 
3.5 mm jack included 
Mic monitoring button 
This Pulse 3D Gaming Headset is built to deliver an immersive experience. Powered by Tempest 3D Audio Tech, you'll be able to hear sounds all around you and get the edge on your opponents.
The thickly cushioned ear cups make it easy to game for hours on end without feeling uncomfortable. Plus, the built-in mic, master volume, and mic monitoring make it easy to stay in control during intense gaming sessions. 
Pros
Excellent surround sound 
Multi-device compatibility thanks to the 3.5mm jack 
Added comfort for long gaming sessions 
Beautiful design 
Great value for money 
Cons
Short battery life 
Questionable build quality (the plastic casing is easy to damage) 
No boom mic 
Cramped up external controls might be a little difficult to locate fast 
Verdict
The Sony Pulse 3D gaming headset offers great surround sound that really immerses you in the game. They're comfortable to wear for long gaming sessions with cushioned ear cups.
Although there are only a few sound customization features and the microphone noise handling performance could be better, this headset still impress with their booming bass and crisp highs. 
---
The Corsair HS60 Haptic gaming headset is a great option for gamers who want surround sound without spending much money. This headset offers great sound quality and a comfortable fit, so you can game for hours without worrying about your ears getting sore.
They also come with a haptic bass driver that produces vibrations, giving you a more immersive gaming experience. 
Key Features
Customizable haptic feedback — you can adjust the intensity of the feedback to suit your preferences. 
Corsair iCUE software to enable custom EQ settings 
Lightweight and comfortable memory foam for long gaming sessions. 
Crystal-clear sound — the 50mm (2-inch) drivers provide crisp, clear audio that captures crucial details in your games. 
The 50mm (2-inch) neodymium drivers provide rich, immersive sound, while the haptic bass delivers powerful bass that you can feel.
Haptic bass adds another dimension to explosions from grenades and rocket launchers. However, this isn't for everyone. If you get easily distracted by any form of tactile feedback, this headset isn't for you.
And with its plush ear cups and lightweight design, the HS60 Haptic is perfect for long gaming sessions. 
The Corsair HS60 Haptic headset features powerful Corsair iCUE software that allows you to customize your audio settings. The fully detachable, noise-canceling unidirectional microphone ensures clear communication with your teammates, while on-ear volume and haptic effect controls let you adjust your audio experience on the go.
Pros
Simple, ergonomic design 
Excellent haptic audio for low-frequencies 
Durable build quality 
Cons
Not very well balanced audio — a primary focus on the bass means other frequencies are not well put out by the device 
It does not support wireless connectivity 
Controls are somewhat difficult to find on the first days in use 
Verdict
We all know how important bass is to the gaming experience, and the Corsair HS60 Haptic does exactly that. However, other frequencies are equally important to your gaming experience, so unless you have something special for bass, you're probably better off with something that balances all the frequencies. 
---
Final Thoughts
So, there you have it, a list of the 10 best budget headsets for gaming. Whether you're looking for surround sound or stereo sound, we've got you covered.
So get out there and enjoy your games with great audio quality without breaking the bank.