If you're like me (and most Americans), you spend a lot of time in your car. And there's no better way to pass that time than by listening to some audio. An excellent investment for your vehicle is a high-quality audio system where your basic system will consist of a stereo unit, a subwoofer, an amplifier, and cables to connect them. 
One of the best car audio system for cars is the Kenwood Excelon DNX697S head unit, paired with Pioneer TS-A1370F speakers, as their upgraded features result in premier sound quality. Or, a Dual Electronics BP1204 sub paired with a Rockford Fosgate R2-500X1 amp is best for bass sound quality.  
In this article, we'll discuss what you should consider when deciding on an audio system for your car. We'll also discuss the various features to look out for, and we'll provide you with our picks for the best audio systems available today to help you find the one that's perfect for you.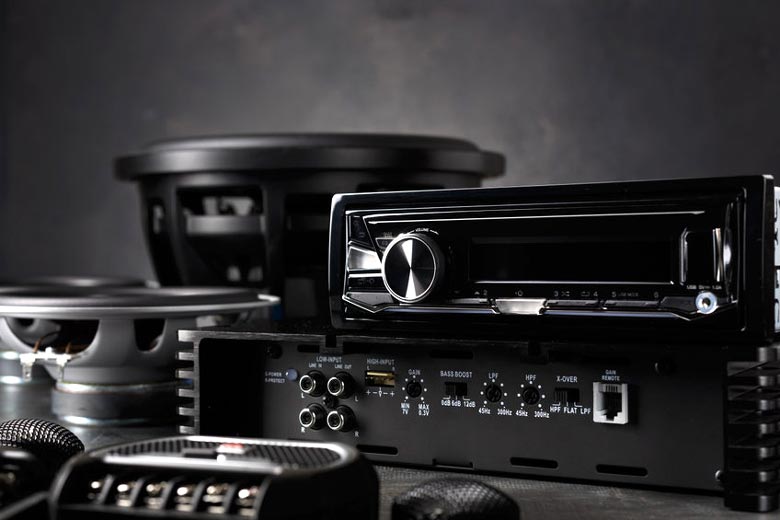 Components of Audio Systems for Cars
A few primary components make up a car's audio system, and each component impacts the overall sound and quality of the system. Audio systems vary greatly when it comes to functionality and quality based on how good each of their components are. First, let's look at what comprises an audio "system." 
Stereo Receiver/Head Unit
The head unit or receiver is the central part of your car's audio system. It's the control panel that's set in your vehicle's main dash/console area. 
This is where you access your car's entertainment controls, whether it's AM/FM radio or switching between your Bluetooth and satellite radio options. This is also where you control the volume or access the sound mixer to increase or decrease bass or treble for your preferred sound.
Any quality audio system for your vehicle should include a higher-quality head unit capable of supporting all functions of the system. These range in price and features, with some including backup cameras and navigation, while others are very basic and include only audio controls.
Amplifier
It's not possible to get the kind of sound quality you've heard in The Fast and the Furious movies merely by using a new head unit and bigger speakers; it's just not that simple.
You need an amplifier to boost the power of the audio signal to get the result you're looking for. 
Amplifiers go hand-in-hand with speakers. Even hearing aids and headphones have tiny amplifiers inside. If you want some bump in your trunk, you're going to need an amp with enough power to get the job done.
Subwoofer
Even though a subwoofer looks like a big speaker, they are not the same. A subwoofer sometimes called a "sub," is actually a type of woofer.
Woofers, including subwoofers, are loudspeakers designed to reproduce low-frequency sounds – AKA bass.
Subwoofers can be either active or passive, depending on if they have an internal or external amplifier.
Related article: Is It Illegal To Have Subwoofers in Your Car?
Speakers
Speakers are one of the most important components of your audio system. Speakers receive the electronic signal from your audio and turn it into mechanical energy through vibrations.
The vibrating air is what moves the audio signal from the audio device to your eardrum. 
Your audio system will use different kinds of speakers that specialize in different sound frequencies and mix them to produce the best quality audio in your car.
Speakers vary significantly in price and value, so we'll look at the different options to help you decide what's best for your vehicle. Many car speakers come in pairs.
Related article: Car Speakers vs. Home Speakers: The Differences Compared
Things To Consider When Choosing an Audio System
Besides just the individual components of your audio system, you should also consider the different features and functions available.
Even though many car speakers can sound very good, there is more to it than audio quality. Here are some of the most important and most popular features you should look for when making your decision: 
Available Inputs
That's just a fancy way of saying, "what shows up when you hit the 'source' button?" You need to consider what you will use your system for – do you listen to CDs? Bluetooth from your phone? Do you have an old iPod that you still like to plug in? 
Think about the other inputs and plugs available in your vehicle. If you don't have a USB port, you may want to consider getting one. The same goes for a standard headphone jack – even if you don't use it, you may have a passenger that wants to plug in a device at some point. 
It's also not just audio inputs – do you want to be able to play DVDs in your vehicle? What about a backup camera? If you're upgrading your audio system, think about the related features that you may want to add not just now but also in the future. 
Latest Smart Technology
Today, smart technology is more and more of a standard feature in new cars. If you're not already using integrated technology, now is the time to upgrade. If you are already using these features, you need to make sure that the equipment you select is compatible with your devices and can be controlled in a way that's convenient for you. 
Always ensure that the label corresponds with your preferred technology (Apple or Android) and that it has the appropriate connectors. You don't want to have to use an adapter cord to connect your phone to your brand new head unit.
You should also consider the other apps that you use to listen to music or stream audio. Some products are integrated with Pandora or other streaming services for optimized controls, so you don't have to always use your phone or device.
Don't forget about your phone and messaging technology here, either. Check for hands-free dialing and call features or even hands-free messaging technology.
Navigation & GPS
Your audio system will be able to do a lot more than play your 90's hits playlist if you select a unit with features to help you get from point A to point B. Much of what's on the market today include some form of turn-by-turn directions function or at least give you up-to-date traffic reporting. 
The better quality systems will have functions to update the maps more frequently to keep the information accurate. You may also want to just add an in-dash navigation unit for better quality GPS than what comes standard in most vehicles.
Look, Feel, and Size
It's important to consider the logistics of the audio system, like whether it will fit in the space you're intending. Also, look at the controls and the physical design. Is it user-friendly? Does it look how you want it to look? Is it so flashy that it screams "break the window and steal me!"?
Think about actually using the receiver to control your system. Touch screens are really cool, and they look super high-tech but consider the functionality of using them while driving. It's much easier to turn a knob or push a button than to scroll through menus while you're driving. That's another reason that voice controls are nearly a must when selecting your receiver unit.
Cost
When you're looking at these components and the features and quality of each, it's important to consider your budget. Many items vary in price considerably, be it based on quality or simply the brand name. So you'll need to decide what your priorities are for your audio system and weigh it against the cost.
Also, unless you're able and willing to take your car's interior apart, run wires, and install new speakers, you'll need to factor in the installation costs for your new audio system into your budget. 
The good news is that most audio systems shouldn't need any ongoing maintenance, so you're only looking at one, up-front expense when purchasing equipment and installation.  
Best Stereo Head Units for Car Audio Systems  
This head unit really does have it all. It has Apple CarPlay, Android Auto, and Garmin navigation. It's equipped with Siri voice control functionality, or you can ask for directions or tell Pandora to play your favorite song through your Android device.
The Kenwood DNX697S features a 6.8″ widescreen (16:9) clear resistive touchscreen LCD with LED backlighting. The high-contrast display will give you crystal clear images and text. The touchscreen has responsive technology depending on how you touch it, including swipe, tap, or hold. 
The high-resolution, high-quality audio is better than CD standard and will give you crisp and pure sound every time.
This unit has it all – it plays CDs, DVDs, includes A/V and USB inputs, you can play a phone or iPod, and it even has a MicroSD slot for media or map updates.
Why It Wins Best Overall
We highly recommend the Kenwood Excelon DNX697S as the stereo head unit, as it truly has everything you need. The functionality and versatility is superior to other options, and it's compatible with virtually any device. Users have rated this one 5 out of 5 stars for a reason. 
Single DIN receivers are smaller than double DIN and sometimes come with fewer features as a result. That's not the case with this Jensen J1CA9. This unit comes packed with the same functionality you'd find in your best double DIN receivers.
This unit supports Apple CarPlay and Android Auto. It's got apps like Pandora, IHeartRadio, and Spotify built-in for onscreen controls. This stereo has front and rear inputs for USB devices and supports a backup camera.
The Jensen J1CA9 boasts upgraded Bluetooth technology for easy pairing. The LCD touchscreen comes in both 9″ (22.9 cm) and 10″ (25.4 cm) options. 
With all of the functionality of this device, it's easily the runner-up to the best overall features unit on this list.
If you're not looking for anything fancy and just want to play audio from your Bluetooth device, then this is an excellent option for you.
It's got built-in apps like Spotify and Pandora that are ready to use, and USB and AUX inputs available (in addition to Bluetooth).
You can use your phone as a remote control for this unit. The downside is that it doesn't play CDs, so if you still like to play your mix-discs from 2005, this isn't the stereo unit for you.
With this equipment, you'll get a lot of bang for your buck because you're only paying for the audio control device without all the bells and whistles. 
Basically, all of the units have some form of voice control, but this Pioneer had some of the best product reviews from consumers out there regarding Apple CarPlay functionality. This unit also has Android Auto and Alexa compatibility. 
The Pioneer AVH-2500NEX will read your text messages to you so you can keep your eyes fully focused on the road. That means it's also an excellent choice for your teen's car if you're looking to upgrade. 
This unit also comes equipped with apps like Pandora and is Sirius-XM-ready. If your vehicle has a backup camera, it's got a hookup for that as well. This unit is a solid choice for its user-friendly interface and features.
Best Speaker Sets for Car Audio Systems
Best Overall: Pioneer TS-A1370F
These Pioneer speakers can handle up to 300 watts and come in 6 different size/shape configurations to fit your vehicle. Pioneer's "Open and Smooth" technology delivers balanced sound over high and low frequencies. 
The sound quality from these speakers is what makes them the best pick overall. Even with the volume turned up, they don't have the distortion that many other speakers have, especially at a similar price point. 
These speakers have drop-in installation and should be compatible with your existing wiring. Whether you opt to do it yourself or have it installed, it should be a quick and easy changeout with your current speakers.
Why It Wins Best Overall
The bottom line here is that you'll get the best of both worlds: quality on a budget and much better sound quality than what you get with the cheaper speakers that are on the market. 
Pioneer is a trusted brand and leader in the industry. They're known to make quality products that are compatible with pretty much any other equipment that you are using, so it's a solid pick that's sure to give you the results you're looking for. 
If you want to replace a blown speaker in your car or if you just want to switch out to something a little newer, these BOSS speakers might be right for you. For standard in-car listening, they'll produce great sound. 
This set comes with a Piezoelectric tweeter for better quality audio at higher frequencies. All of the speakers are made with high-quality, durable materials that are ideal for quality sound and can take the constant vibrations that your speakers will endure.
The biggest advantage to these BOSS speakers is that they're super easy to install. They received great reviews from consumers who decided to install them on their own, meaning you can save a little cash by swapping these out yourself.
Best Component Speakers: JBL GTO609C
These component speakers from JBL are a great all-in-one package to upgrade your car's audio system. If you don't want to purchase each individual piece, this is the right option for you. 
These speakers have JBL's high-quality oversized cones, which move more air than other same-sized speakers, which means more sound and more bass. These speakers also have JBL's patented mounting technology, making them easily compatible in many different vehicles. 
The quality of these speakers means that the audio packs a punch that you usually don't hear from speakers of this size. You get a lot of bang for your buck with this set. These are a great midrange choice for anyone who wants to upgrade from their stock audio system to something with a little more power and range. 
JBL knew what they were doing with this set of speakers. These 6.5″ (16.5 cm) coaxial speakers have carbon-injected cones that are larger than the industry standard. Because of this, they can move more air which translates into more bass.
The sound you'll get from these speakers is clear and crisp, even if you're driving on the highway or stuck in traffic with lots of ambient noise around. The UniPivot tweeter can be adjusted to direct sound to the listener for an optimal listening experience. 
The tweeter volume can even be adjusted to compensate for speaker placement or listening preferences, depending on the type of music and type of sound desired. 
These JBLs were built to amplify those low frequencies with high quality, and the result is excellent audio at all frequencies and clear bass tones without distortion.
Best Subwoofers for Car Audio Systems
Take one look at these Dual Electronics subwoofers, and you'll see why they're the best overall on this list. Besides packing a high-quality punch of sound, they look really cool.
These are 12″ (30.5 cm) subwoofers that peak at 1100 watts of power. They have a specialized tuned port and larger voice coils to improve output efficiency and provide you with consistent, high-quality, low-sounding bass without distortion. 
The woofers are enclosed in a carefully designed box with a curved plexiglass viewing window, illumiNITE design, and brushed aluminum cones. Not only do these subs sound amazing, but you'll also be eager to show them off. 
The enclosure is built to withstand the constant jostling in your vehicle, which means greater protection for your sound equipment. 
Why It Wins Best Overall
These Dual Electronics subwoofers are a solid choice because of the high-quality sound and the superior display case that they're built into. You're only paying for the equipment, not the upcharge that you'll pay on the big name brands. I would definitely recommend this set for your car's audio system. 
This Rockville subwoofer is 10″ (25.4 cm) of bass-pounding power but in a slim design that more easily fits into your vehicle. It has a built-in power supply and can take up to 800 watts of power. 
The Rockville comes with overload and thermal protection circuitry to help prevent any damage to the unit.
This is an all-in-one subwoofer that can easily fit underneath or behind your seat, something that other units cannot do. If you're short on space, this is a great choice. 
This MTX Audio is a set of 2-12″ (32.5 cm) subwoofers, enclosure, and a 250-watt amplifier.
This is an excellent option if you want your sound system to be ready to use right out of the box. 
The sound quality is excellent, and the enclosure gives your subwoofers durable protection from the bumps it will take in your vehicle. You may have to purchase the wiring for installing this unit separately. 
If you are looking for high-quality subwoofers and want to purchase an enclosure separately or have one already, these are a good choice. They're available in 5 different sizes and have 1200 watts of peak power.
These powerful subs can handle demanding use for extended periods. They're the best choice for someone who wants serious output power. It's a great choice for quality and value or if you want to customize your own box. 
Best Amplifiers for Car Audio Systems
The Rockford Fosgate is a 500-watt amp that's packed with features and functionality. Its design is optimized for use with subwoofers, and it comes with a remote control so that you can get the audio settings just right for whatever you're listening to. 
The internal wiring components make this a very efficient unit, which reduces the overall demand on your vehicle's electrical system. It's also equipped with short circuit and overcurrent protection to prevent any potential damage. 
Why It Wins Best Overall
For a powerful amp that will do just what you want, this is a smart choice. This amplifier will deliver more bass for your buck, and with 90% of consumers rating it 5 out of 5 stars, it's easily earned the "best overall" spot on this list. 
Purchasing each component of an audio system for your car can add up quickly, so some people want to budget their amp purchase and spend more on the speakers or head unit. If that's the case for you, then the Blaupunkt is an excellent option. 
This unit actually has higher maximum wattage than some of the other pricier amplifiers, but you save by not paying for a name brand or fancy features.
If you're looking for a standard amplifier that will power your subwoofers for max output, this is a solid choice.
This is your most basic option for an amp. It's small, max power 400 watts, and four channels. The great thing about this amp is its compact size.
If you don't have a lot of extra space or just want to power a smaller, single subwoofer, this is a great choice. 
Taramps is known for high-quality audio and low distortion, and TS 400X4 is no exception. Don't be fooled by its compact dimensions; this unit packs a punch and can keep up with larger, more powerful amplifiers. 
If you're looking for max power and max output, you should consider this Pioneer amplifier. It's a 4-channel, 1000 watt bridgeable unit with bass boost technology.
This amp can automatically turn on when you're ready to let the beat drop. 
With exceptionally clear sound and an easy-to-install setup, this Pioneer is a good option for anyone who wants to put out some serious sound volume.
This unit could be used with subwoofers and your factory car audio system as an upgrade. 
Final Thoughts
Buying an audio system for your car can be overwhelming. There are so many components to choose from and many things to consider. However, knowing the different parts and how they contribute to good quality audio will help you make the right choice.
The best thing to do is look at as many options as possible to get a feel for the equipment. That way you're likely to find the best option most suited for your audio needs.